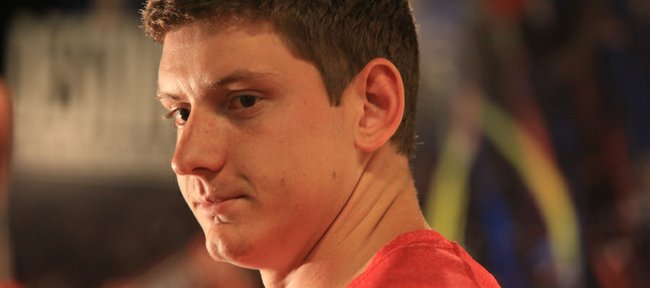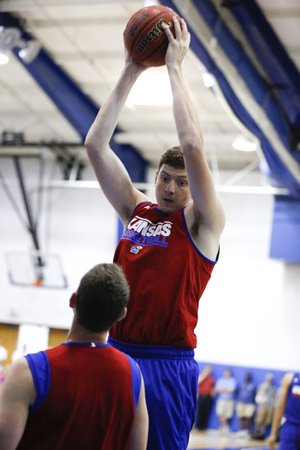 Patience has paid off for outdoors enthusiast Hunter Mickelson on hunting and fishing excursions in his home state of Arkansas.
It's a virtue that has also translated well into his red-shirt season as a basketball transfer at Kansas University.
"You kind of wait and wait and hang back and wait and show everybody what you can do next year," the 6-foot-10, 245-pound former Arkansas center said of practicing daily but having to sit out games for one season in accordance with NCAA transfer rules.
"It's more mental than anything," he added of the red-shirt process. "You just know it's not your time yet. You have to sit and take everything in and kind of learn and support everybody at the same time."
He hopes to strike during the 2014-15 season and directly contribute to winning games in what will be his junior campaign.
For now, he's content to battle KU's rotation big men at practice and, in the process, help them get better.
"One thing he does that really helps our other big guys right now is he is a terrific shot-blocker," said KU assistant coach Norm Roberts, who works with the big men at practice. "There are no easy baskets with him.
"He is one of those quiet tough guys," Roberts added of Mickelson, who set Arkansas' all-time freshman shot block record (72) two seasons ago. "He gives Joel (Embiid) and Tarik (Black) and all those guys fits inside. You can't get an easy shot over him because he's so long and has great timing to block shots."
Mickelson, who plays on the scout team at practice, guards 7-foot freshman sensation Embiid "about every day."
"As far as inside (play) goes, you've got to be ready for anything. He's really talented," Mickelson said of the Cameroon native. "He has tons of talent. He's a really good player, especially for as young as he is."
Mickelson said the challenge in guarding 6-9, 260-pound former Memphis player Black is trying "to keep him out of the lane, keep him off the block. He's a pretty big guy, pretty tough, so that's hard to do sometimes."
Another rotation big is Jamari Traylor, a 6-8, 220-pound third-year sophomore from Chicago.
"Jamari is a big energy guy. He's pretty strong, too, kind of the same thing with him and Tarik," Mickelson said. "You've got to keep him off the block. He's got quick moves, and I've got to stay down and not go for any fakes."
Perry Ellis, 6-8, 220-pound sophomore from Wichita, also is grouped with the bigs.
"You have to guard everything with him. He can shoot the ball from the outside as well as pretty good post moves inside," Mickelson said.
Like Mickelson, 6-10, 240-pound red-shirt freshman Landen Lucas is expected to be an integral part of the team down the road.
"Landen is really good. He is coming on," Mickelson said. "He can get down there and make some good moves and get his body into me."
While Mickelson is not afraid of contact, he also is known as a player who can drift outside and hit a feathery jumper.
"Hunter is a pretty good pick-and-pop guy from 15-feet, where he can really shoot," Roberts said. "He runs the floor well. When he is with our scout team, you put him and Justin (Wesley, senior forward) together along with Landen Lucas ... at times when we are going Red (scout) team vs. Blue (rotation players) team, it's a pretty strong front line going against our guys every day."
"When I'm on the scout team, I get to shoot a little bit," Mickelson said. "As far as my offense goes, we have big-guy drills we do every single day. I can improve that way, too."
Roberts said the red-shirt season will be productive for Mickelson, who, according to the coach needs to work on his footwork in the post.
"I think it's hard (sitting out) because he's a competitive guy," Roberts said, "but I think he's taking it in stride understanding he has to get stronger. Coming from the system he came from, it was guard-oriented, run and press, big guy take the ball out and run, screen. Here, we play inside-out. We want him to be more aggressive, look to score as well as set ball screens and do other things as well. I think it's something he enjoys and is excited about."
Mickelson returned to campus refreshed after the Jayhawks' recent holiday vacation.
"It was a good Christmas. I got to go hang out with the family. I got to see my brother play a few high school games, so that was cool," Mickelson said of Chase Mickelson, a 6-2 junior guard from Jonesboro Westside High, Hunter's alma mater.
Will the younger Mickelson become a major-college target?
"I don't know about that. He's improving, though," Hunter said. "He's getting a lot better."
As is Hunter at every practice.
"He gives unbelievable effort," Roberts said. "His personality is starting to come out, which is great. I think he has great upside because he can affect the game so much on the defensive end but also can affect it by being able to face up and shoot."