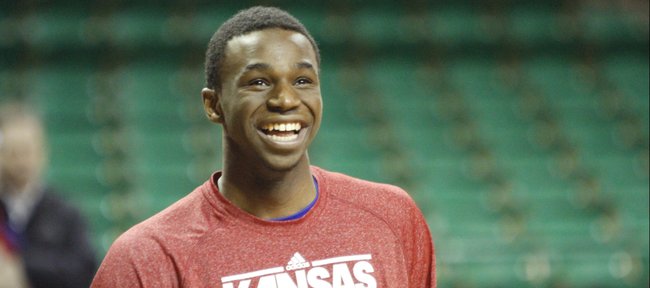 Kansas University freshman Andrew Wiggins has been named one of 10 semifinalists for the 2014 Men's Naismith Trophy, the Atlanta Tipoff Club announced Friday.
Four finalists for the Naismith Trophy, given annually to the nation's best college basketball player, will be announced March 23.
Earlier this week, Wiggins also was selected as one of 15 finalists for the Oscar Robertson Trophy, which is the U.S. Basketball Writers Association's national player of the year award.
In addition, Wiggins and KU teammate Joel Embiid are two of six finalists for the USBWA's Wayman Tisdale Award, which recognizes the organization's national freshman of the year.
Wiggins leads Kansas with a 16.3 points-per-game scoring average, the best among Big 12 freshmen and ninth overall in the conference. The Vaughan, Ontario, Canada, guard has made 35 three-pointers this season and is the team leader with 29 steals. Wiggins' 5.8 rebound average is third on the team and 18th in the conference. Wiggins also ranks among the Big 12 leaders in field goal percentage (11th at 44.8 percent) and free throw percentage (ninth at 75.9 percent). He is a two-time Big 12 Newcomer of the Week and was the Wayman Tisdale National Freshman of the Week on Jan. 28.
The last Jayhawk to be named a Naismith Trophy semifinalist was Thomas Robinson, who went on to be named one of the four finalists for the award in 2012.
Other semifinalists for this year's award are: Tyler Ennis (Syracuse), Nick Johnson (Arizona), Sean Kilpatrick (Cincinnati), Doug McDermott (Creighton), Shabazz Napier (UConn), Jabari Parker (Duke), Julius Randle (Kentucky), Russ Smith (Louisville) and Fred VanVleet (Wichita State).
No. 5 Kansas (22-6, 13-2) which has clinched at least a share of its 10th straight Big 12 Conference regular-season title, will travel to Oklahoma State (18-10, 6-9) Saturday for an 8 p.m. tip-off against the Cowboys on ESPN College GameDay.