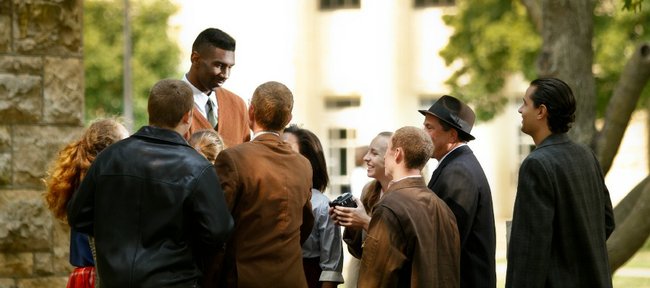 Nobody has yet reserved a spot on the Hollywood Walk of Fame for budding actor Justin Wesley.
Yet the Kansas University senior basketball power forward from Fort Worth, Texas, has certainly received local acclaim — from the 10,000 or so individuals who attended showings of the movie "Jayhawkers" Feb. 14-16 in the Lied Center.
"I must be really good at fooling people, I guess," Wesley said Wednesday in giving his first public thoughts since the premiere of the picture. He had been quieted by NCAA rules that do not allow him to promote showings of the film, just discuss his role in general.
"I wouldn't say 'surprised' is the right word," he added of all the positive comments he has received about his portrayal of Wilt Chamberlain in the Kevin Willmott production. "I'm grateful everybody enjoyed it and liked it. I'm glad my family enjoyed it. It was an overwhelming experience, a great experience. I'm just happy about it."
Wesley, decked out in suit and tie, was man of the hour at the initial showing. His KU basketball teammates and coaches attended the 7 p.m. showing the night before the KU-TCU game.
"It was definitely a circus," Wesley said. "A lot of pictures were taken, a lot of interviews I couldn't do that I wanted to do. But it was definitely wild, definitely a lot of people coming up talking to me. It was good. It was fun."
He acknowledged it was "weird" to take a seat with fans sitting in the aisles of the packed Lied Center, watching himself on the big screen.
"I was talking to my girlfriend before, that I was nervous nobody was going to show up. The exact opposite happened," Wesley said.
Once the movie started, "I was very critical of myself like I am always," he said. "The support from people ... I really appreciated it."
Wesley's performance received acclaim from the man who recommended him for the part — KU coach Bill Self.
"I told him I was proud of him," Self said. "I thought he represented us well, himself and his family. Think about it for a second. You ask somebody to be an actor who never acted. He was actually performing with professional actors. The guy who played coach (Phog) Allen is a big-time guy," Self added of Kip Niven. "The job Justin did was exceptional."
Self joked that Wesley actually didn't have to stretch much in portraying Wilt.
"That's pretty much how he is," Self said of Wesley resembling the stoic Wilt character in real life.
"I think I talk a little more than that (Wilt character in movie). I think I'm a lot funnier than that," Wesley rebutted with a big smile. "Coach came up to me afterward and said he was proud of me and congratulated me. That meant a lot."
Wesley was happy his performance met the approval of another person dear to him — his mom.
"She said I did well. For once, she wasn't hard on me," Wesley joked of his mom, Charlene, who attended the premiere.
Wesley, who will speak to the fans along with fellow seniors Tarik Black and Niko Roberts after Wednesday's Senior Night game against Texas Tech, said he's willing to continue his acting career.
"Kevin asked me if I'd be interested in doing it. I told him yes, so if he has any projects he thinks I'd fit in, I'd be more than willing to help him out with it," Wesley said. "People seem to think I have a talent to do it. We'll see what happens. I might roll the dice on it (as a career).
"It's definitely something I didn't see in theater arts class in elementary school," Wesley added with a grin.
Jayhawks honored: KU senior Niko Roberts and sophomore Perry Ellis have been named to the Academic All-Big 12 second team, the conference announced. First-team members have maintained a 3.20 or better GPA, while the second-teamers hold a 3.00 to 3.19 GPA.
Turner to visit: Myles Turner, a 6-foot-11 senior center from Trinity High in Euless, Texas, will make an official recruiting visit to KU for the Senior Night game against Texas Tech. He's ranked No. 6 nationally by Rivals.com. Turner will visit Duke on March 5. He's also considering Texas, Kentucky, Oklahoma State, SMU, Arizona and Ohio State.
On Wiggins: Self spoke about freshman Andrew Wiggins on Doug Gottlieb's radio show on CBS Sports Radio. "His consistency and his athletic ability are at an all-time high. I've seen more and more every day why NBA people have thought so highly of him. He's just a couple years away, in my opinion, from being one of the premier players in the world — on any level," Self said.
Self on how close he came to taking the Oklahoma State job when it last opened in 2008: "I thought about it because it's my home (alma mater in home state), and people there are nice. This was a situation we thought about it for 24 hours. We decided the timing wasn't right, and we were better off being here. This is where we wanted to be. It was kind of a unique situation to have so much coming at me that particular time so fast. It just took about 24 hours to step away from it and evaluate it."
Recruiting: KU signee Cliff Alexander Tweeted this about JaQuan Lyle (6-5 senior Huntington, W.Va. Prep), who completed a recruiting visit to KU on Wednesday: "Rock chalk we gotta get @jmamba5 to commit to the family." The country's No. 22-rated player is considering KU, Oklahoma State, Memphis and Oregon. West Virginia and Providence have also been involved ... Charles Matthews, a 6-5 guard from Chicago St. Rita, on Wednesday committed to Kentucky over KU, Illinois, Michigan State and Marquette.