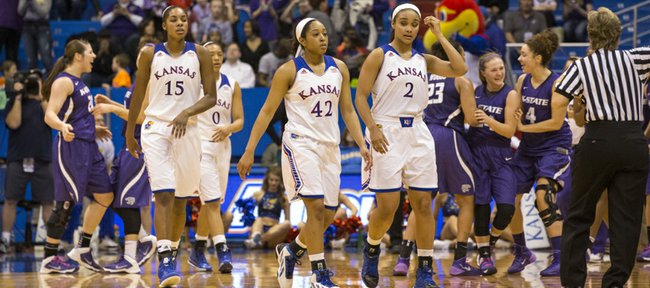 Document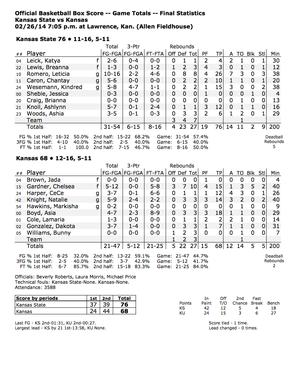 Basketball coaches like to say that you can't win a game in the first five minutes but you sure can lose one.
Wednesday night at Allen Fieldhouse, the Kansas University women's basketball team proved that to be true with an uninspired 76-68 loss to Sunflower Showdown rival Kansas State.
It actually was the first 6:24 of this one that buried the Jayhawks, who opened the game flat and passive at both ends of the court and found themselves staring up at a 21-0 deficit at the 13:36 mark of the first half.
"I couldn't be more disappointed, more upset, more frustrated," a despondent KU coach Bonnie Henrickson said after the loss. "We have always embraced our match-up and rivalry with them, and we didn't show up and just let them smack us around. I still can't believe that's how we started the game."
Henrickson said her assistant coaches told her the team was sloppy during a portion of its pregame routine. Evidently, that carried over into the game. To make matters worse, while the Jayhawks were lifeless, the Wildcats were anything but that, gaining momentum, energy and outright joy from each layup, jump shot and defensive stop that fueled the incredible 21-0 start.
"Being K-State, you don't come into KU without some fire in your belly," said KSU reserve Ashlynn Knoll, who scored 12 points off the bench, many of them coming during a critical stretch in the second half after KU had tied the game at 57.
Realizing her team was reeling right away, Henrickson called two timeouts before the first media timeout. The first came with KU trailing 8-0 at the 17:51 mark and the next at 16:18, with KU down 13-0. Asked if she sensed any sort of spark during the discussions during the timeouts, Henrickson said her starting five remained flat even then.
"Just a bunch of blank stares," she said.
Although their lack of energy and flow caused the Jayhawks to struggle and throw up several wild shots during the first six minutes, their porous defense was what seemed to bother Henrickson the most.
"It felt like shoot-around for them," she said of the Wildcats, who shot 57 percent for the game, 68 percent in the second half. "We had no defensive presence at any position on the floor."
Freshman point guard Leticia Romero had her way with the Jayhawks all night. She finished with 26 points on 10-of-16 shooting and added eight rebounds and seven assists in 38 minutes. Free State High graduate and K-State senior Chantay Caron chipped in 10 points for the Wildcats.

KU juniors Asia Boyd (18 points) and Natalie Knight (14) said they could not remember starting a game so poorly in their lives.
"I don't think even Baylor was like that the last few years," said Knight, lamenting Wednesday's improbable opening act.
As well as they played, nobody would have mistaken the Wildcats (11-16 overall, 5-11 Big 12) for Baylor in this one. But for that six-minute stretch to open the game, they looked unbeatable.
"We knew it got that high," K-State guard Kindred Wesemann (15 points) said when asked about the 21-0 lead. "But we didn't care. All we cared about was that we were ahead of them."
Except for a 20-second stretch of the second half — from 6:42 to 6:22 — that's where the Wildcats stayed the entire night.
KSU's victory snapped a three-game losing streak in the series and helped the Wildcats avoid being swept by KU for the second year in a row.
Wednesday's loss was a significant blow to both KU's psyche and its hopes of playing in the postseason. With just two games remaining in the regular season, the Jayhawks (12-16, 5-11) likely need to win both and then win at least a couple in the Big 12 tournament to have even a shot at being eligible for the WNIT.
Kansas will play host to No. 24 Iowa State at 7 p.m. Saturday in what will be senior night for CeCe Harper and Markisha Hawkins.