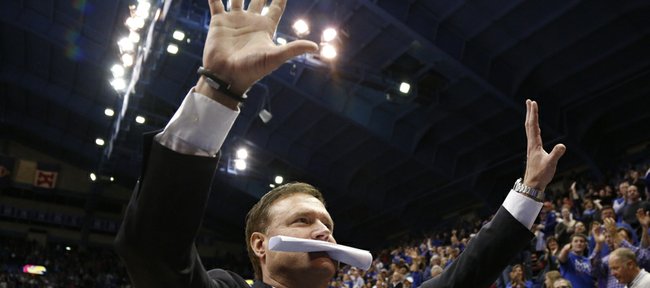 Kansas University's men's basketball players won't break out the T-shirts and hats until the day they wrap up the undisputed 2013-14 Big 12 regular-season championship.
The official celebration is on hold until five-loss league teams Iowa State and Texas, who trail KU by three games with four to play, are mathematically eliminated from the race.
The delay in the hoisting of the trophy, however, hasn't stopped folks outside the locker room and basketball offices from recognizing the fact KU (22-6, 13-2) can do no worse than tie for a 10th-straight conference crown.
"We received a lotta, lotta texts today from former players," KU coach Bill Self reported Tuesday on his weekly "Hawk Talk" radio show. "It's amazing to me how prideful these guys are in what's going on. It's pretty cool."
KU wrapped up at least a share of the crown by downing Oklahoma, 83-75, on Monday night in Allen Fieldhouse. Aside from Self and some players waving 10 fingers at the fans while exiting the court and the players dancing with KU assistant Jerrance Howard in the locker room, there has been little mention of the feat.
"It was a late game. I would say at my age, I probably celebrated by maybe staying up to 12:15 or 12 or something like that," 11th-year KU coach Self said Tuesday. "By the time you get out of the office and go home, it was 11:30 or 11:45. Cindy (wife) and I visited a bit, and I think it was time to hit the hay."
Self wants to make it clear he's thrilled that a team with three freshmen starters, one sophomore and a junior could win consecutive league title No. 10. KU's streak ties UConn and UNLV, who in the past won 10 in a row, and trails just Gonzaga (11) and UCLA (13) on the all-time list. The Associated Press notes that since KU began its streak of 10 in a row, no other school from a power conference has won more than six league titles.
"I'm really proud of them (players). They know I am, but I probably don't say it enough publicly," Self said. "That is a pretty special group of kids. To be 9-4 after nonconference and be 13-2 right now (is impressive). I don't think we should be satisfied or giddy or anything like that. I do think sometimes in our profession — I'm more guilty of it maybe than most — you don't take time to enjoy some things that are good feats. Not just winning 10 in a row, but being in a situation where these young kids, in a year the league is the most competitive it's been maybe since we've been here, top to bottom ... To have a three-game lead with three to play is a pretty great feat for a bunch of kids just trying to figure it out."
The Jayhawks, who could wrap up the undisputed title tonight if Iowa State and Texas both lose home games, will meet Oklahoma State at 8 p.m. Saturday in Stillwater.
"We're probably mentally tired as much as anything else," Self said Tuesday. "We took today off. The season is long, that's why I'm giving the guys tomorrow off, too. We'll watch tape and get busy Thursday and Friday. I've done it in the past. I don't know if it'll benefit us. The guys need to get their bodies recharged a bit."
Self on Tuesday again praised junior point guard Naadir Tharpe, who scored 19 points against Oklahoma. He had 12 of KU's final 18 points.
"I thought he put some young kids on his back late," Self said.
He also applauded Wayne Selden, who had 13 points the first half and finished with 15.
"Wayne was great to end the first half. I got mad at him second half," Self said. "(Isaiah) Cousins, who is a good player and good athlete ... we were pressing. All fans want me to press more, I know that. We were actually picking up fullcourt, Wayne gets on the wrong side of Cousins twice, he (Cousins) makes a couple great plays. That caused us to give up six straight points. I sat him (Selden) down and said, 'What is your deal?' He said, 'Coach, he's a lot faster than I thought he was.' I said, 'If you listen to scouting report, you'd know that going in,'" Self added with a laugh, then noted, "Wayne has been great."
Tourney talk: Self was asked if he'd like KU to be a No. 2 seed and play a No. 1 seed in Wichita State in the NCAA Tournament. "I would like to beat Oklahoma State in Stillwater. I don't care about that stuff now," he said ... "The whole thing about it is (in tourney) you worry about the next one. It very rarely plays out the way you want it to. People get beat. There are upsets. You can't hope for stuff like that. You've got to roll with it, but whatever happens would be fine with me."
Recruiting: The official recruiting visit of JaQuan Lyle ends today. Lyle is a 6-5 senior shooting guard from Huntington (W.Va.) Prep, who is considering KU, Oklahoma State, Memphis and Oregon. He is ranked No. 22 nationally by Rivals.com. He has said he will make a decision over his school's spring break, March 15-23. ... Charles Matthews, a 6-4 junior guard from Chicago St. Rita, will announce his college choice today (8:30 a.m. on the Chicago Sun-Times' high school sports website)
Rivals.com believes he will choose Kentucky over KU, Illinois, Marquette and Michigan State. He's ranked No. 11 in the Class of 2015.
Curie High update: The Chicago Public League is looking into possible ineligible players at Curie High School, which beat Whitney Young in four overtimes for the City League title on Friday. Noted Sun-Times writer Michael O'Brien on Twitter: "Good source telling me (KU signee) Cliff Alexander's eligibility has been cleared. So Curie may be punished, but Alexander likely won't be the reason."
Streaks: Yahoo Sports tried to put KU's streak of 10 straight conference titles in perspective. Most consecutive division titles in NBA history is 10 by Boston Celtics and Los Angeles Lakers. Current NBA division title streak is three by Miami, San Antonio and Oklahoma City. Most consecutive division titles in NFL history is seven by Los Angeles Rams. Current NFL division title streak is five by New England Patriots. Most consecutive division title streak in MLB history is 14 by Atlanta Braves. Current streak in baseball is three by Detroit Tigers. Most consecutive division titles in NHL history is nine by Colorado Avalanche. Current streak is five by Vancouver Canucks.