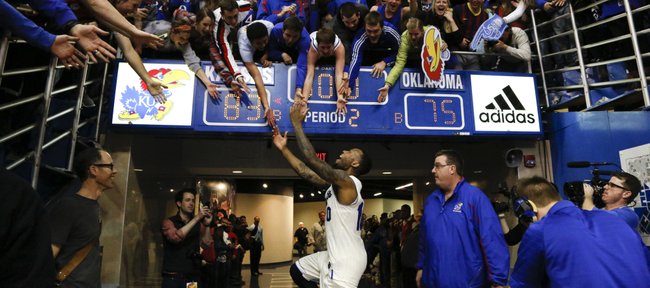 Photo Gallery
Kansas basketball v. Oklahoma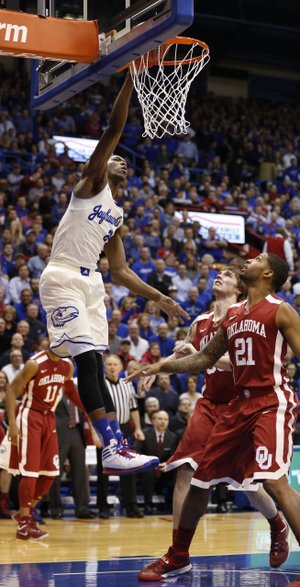 Images from Monday night's game between the Jayhawks and Sooners at Allen Fieldhouse.
Podcast episode
Kansas basketball coach Bill Self discusses how Kansas beat Oklahoma to win a 10th straight Big 12 title on Monday, Feb. 24, 2014.
Podcast episode
Kansas basketball players Naadir Tharpe, Andrew Wiggins and Wayne Selden react to KU's Big 12-clinching win against Oklahoma on Monday, Feb. 24, 2014.
KEEGAN RATINGS
KANSAS 83, OKLAHOMA 75
Bill Self exited briskly out the northwest tunnel of Allen Fieldhouse, hands up, palms extended high, at the conclusion of Kansas University's historic 83-75 victory over Oklahoma on Monday night.
The fans behind the KU bench and in the north student section stuck around after the 11th-year KU coach's ESPN interview to acknowledge ever-so- briefly one of the great accomplishments in school history — a 10th straight Big 12 regular-season title.
Though there was no official announcement at the final horn and no trophy ceremony — that will come if and when (22-6, 13-2) KU wins the crown outright — the fans, who had signs commemorating the feat, were well aware the Jayhawks had snatched at least a share of consecutive league title No. 10.
Iowa State and Texas are three games behind the Jayhawks with four games left to play. OU dropped out of the race as the Sooners trail KU by four games with just three left.
"We allowed Jerrance to dance for everybody. He's a helluva lot better dancer than I am," said Self, who let first-year assistant coach Jerrance Howard boogie to the "Nae Nae" dance in a giddy locker room.
"We talked about it (grabbing at least a share of 10th title). We didn't make a big deal of it. We'll rest up and try to win it outright in Stillwater (8 p.m., Saturday at Oklahoma State)," Self added.
There was no trophy in the building to commemorate the tie. 
"I said we'd do it when and if we win it outright," Self said. "Hopefully we'll be able to celebrate in Stillwater on Saturday."
He did concede that, "It's pretty cool. To get a piece of it or win it outright 10 years in a row means we've had a lot of good players come through here."
KU players Jamari Traylor, Joel Embiid and others, like Self, rejoiced with their arms stretched high, thanks in large part to junior Naadir Tharpe, who pretty much saved the day against a gritty (20-8, 9-6) OU team.
Tharpe, who finished with 19 points off 6-of-7 shooting with five assists and one turnover, scored 12 of the Jayhawks' final 18 points. He hit a driving left-handed layup to give KU a 71-66 lead at 3:08. That clutch bucket was followed by a tip in by Andrew Wiggins (15 points) at 2:44.
Tharpe also scored to up a 74-68 lead to 76-68 and up a 76-71 lead to 78-71. He calmly cashed four straight free throws in the final 33 seconds.
"Naadir closed the game the way point guards are supposed to close," Self said. "The last 10 minutes is as good as Naadir has played since he's been at KU. All teams that have a chance at having a great season have guys that can close, when you don't run offense and put the ball in his hands. It's what great teams have."
Tharpe, "wasn't going to let us lose," said sophomore Perry Ellis, who had 11 points and four rebounds.
Junior point guard Tharpe had just five points with three assists the first half as KU led, 42-33, at the break.
"I felt they started to play more on the wings and deny the ball to Jo Jo  (Embiid, 13 rebounds, 12 points) as well," Tharpe said. "The lane was open. I tried to be aggressive and make plays."
He's now won three titles in three years at KU.
"That's what we say every year, 'Big 12 champs,''' Tharpe said of the message coming out of the huddle at practice. "Past teams have been doing the same thing. We're happy we're able to do it as well.
"To be home and hear the crowd is beautiful," Tharpe added. "The great tradition here ... obviously they care about us."
As far as the actual game, Self said, "We were stale tonight compared to Saturday (85-54 win over Texas). That was a no-energy, tired team out there."
Yet this young team — freshmen Wayne Selden and Wiggins contributed 15 points apiece — managed to eke out a victory on a night the energy may have been lacking.
"It's the standard here," Selden, who had 13 first-half points, said of winning titles. "You have to come out and compete and we were able to do it tonight."
"To win the championship ... it's a great feeling on the court from start to finish," noted Wiggins.
Or as Self concluded, "It was a little anti-climactic because we still have three games left in the season. Right now all we have done is tie. It's pretty good to be 13-2 in this league," he noted.
NOTES: KU actually could clinch the outright title before Saturday, if five-loss teams Iowa State and Texas lose on Wednesday. Iowa State plays West Virginia in Ames, while Texas meets Baylor in Austin. ... KU is the fifth team in NCAA history to win 10 or more consecutive conference championships (UCLA, 13, 1967-79) (Gonzaga, 11, 2001-11) (Connecticut, 10, 1951-60) (UNLV, 10, 1983-92).