Monday, February 24, 2014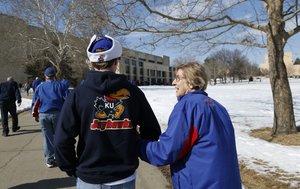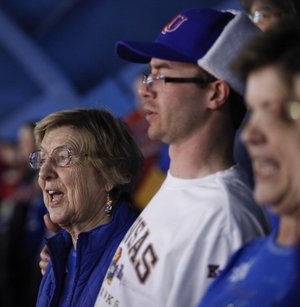 Retiree Rosalie Gerstner doesn't head south to escape the blustery Western Kansas winter. She heads east — for Allen Fieldhouse.
For five years Gerstner made the 300-mile drive from her house in Ness City to nearly every Kansas University men's basketball game, spending the night with her daughter in Ottawa or son in Baldwin City before hitting the road back home. Three years ago, she transitioned from basketball commuter to basketball snowbird.
Now, Gerstner, 80, rents an apartment from October to April and stays the whole winter. When the Jayhawks' season is over it's home to Ness City, where she grew up and raised her family and where her other three children still live.
"I thought it was something I would enjoy doing," she said of buying her season tickets after her husband died nine years ago. "I fully intend to do it, really, as long as my health holds out."
Florida? Pshaw.
It's got nothing on Lawrence's retirement scene, where Gerstner's between-games social calendar is packed with women's basketball and volleyball games, KU Athletics events, Welcome Club gatherings, Road Runners Club events, tai chi, bridge, mahjong and coffee with new friends.
Inside her studio apartment off Sixth Street, the decor is nearly all crimson and blue.
A recent visit found Gerstner in the middle of a busy week. The previous night she went to Hawk Talk, and that night was the women's basketball game.
"Aaaand," she says, "Friday night is the 'Jayhawkers' at KU."
From a photo- and memorabilia-strewn card table by the door, Gerstner plucks a snapshot of herself with basketball player Justin Wesley, which she hopes he'll sign for her at the film screening. Wesley, who plays Wilt Chamberlain in the "Jayhawkers" movie, is expected to be on hand with the rest of the team.
Even to "little old ladies" like herself, the young basketball players are always so kind and nice, Gerstner said.
Gerstner thinks there must be other basketball snowbirds in town, but she isn't sure who they are. If she meets any, she said, she might try organizing watch parties for out-of-town games.
Who needs palm trees, anyway?
From her seats in the rafters of Section 16, Gerstner loves the noise of the crowd inside Allen Fieldhouse. And the video before the players are introduced never gets old.
"That," she said, "is by far the best."