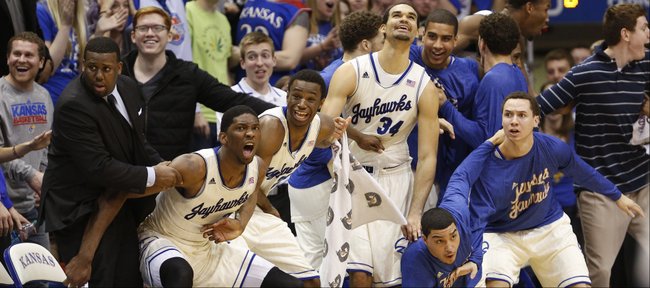 Photo Gallery
Kansas basketball v. Texas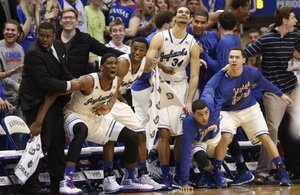 Images from Saturday's game between the Jayhawks and Longhorns at Allen Fieldhouse.
Podcast episode
Kansas basketball coach Bill Self discusses the Jayhawks' drubbing of UT on Saturday night, praising the team's defense and the overall play of Andrew Wiggins.
Podcast episode
Kansas freshmen Andrew Wiggins, Joel Embiid and Frank Mason talk about playing with pride in the Jayhawks' rematch with Texas.
KANSAS 85, TEXAS 54
The showdown between the top two teams in the Big 12 Conference turned into showtime for Kansas University's basketball team on Saturday night in Allen Fieldhouse.
Led by freshmen Andrew Wiggins and Joel Embiid, who had 15 and nine points and an assortment of vicious slam dunks the first half, and senior Tarik Black, who drew comparisons to Blake Griffin for his one-handed sky-walking slam in the second half, the first-place Jayhawks (21-6, 12-2) pounded the second-place Longhorns (20-7, 9-5), 85-54.
"This was a major game for us," said Black, who had KU's bench erupt in glee after his one-for-the-ages slam with 5:11 to play and the Jayhawks up, by 30 points. 
He actually took off outside the paint area, elevating his 6-foot-9, 260-pound body in a Jordan-esque move.
"They put a beating on us in Austin (81-69 on Feb. 1) and we're No. 1 and they are right behind us in the league race," Black added "Coach (Bill) Self is a feisty guy. He wanted to win for the conference race. He also wanted this for a personal thing. It was kind of a vengeance type thing. They beat us at their house pretty bad. We had to make sure it was just as bad. Really truly he (Self) wants to make it worse. That's the mentality we took ... of our coach," added Black, who finished with nine points and five boards.
As Black said, the victory was huge. Up three games with four to play, KU can wrap up at least a share of its 10th straight conference title with a win against Oklahoma (20-7, 9-5) on Monday night. Texas, like OU, is three games back.
"Coach said it was probably the most important weekend of the year to date," said Black, whose dunk came long after the outcome was decided. KU led, 46-18, at halftime.
"I have two other dunks that might compare," the Memphis transfer added. "I jumped over a guy vertically in high school. Two years ago in the Bahamas against Minnesota I had a nice little dunk where I caught a guy. I've heard Dr. J (Julius Erving) and Blake Griffin," he added of others who could pull off this type of dunk. "I'm blessed to be Tarik Black."
Black said because he's "blessed with athleticism," he knew he could get to the rim where he figured he could lay it in if he didn't have enough left in his legs to dunk. Or at the worst, he thought he'd get fouled.
"The one Tarik did the second half was extreme," said freshman backup point guard Frank Mason, who had 14 points off 6-of-7 shooting.
Starter Naadir Tharpe, who Self said did a great job defensively on Isaiah Taylor (1-of-14 shooting), had two points and five assists.
"I thought it was the best dunk we had all year," noted Self. "It was a pretty special play. I had no idea what he was going to do. He kept going up. That was a big-time play."
In the first half, Embiid, who finished with 13 points, seven boards and six blocks while being rested the final eight minutes, raced through the lane for a highlight-reel slam off a one-handed bullet pass from Tharpe. 
The 7-footer said he was fired up entering the game partly because of a play at UT in which he was pulled down by Cameron Ridley.
"The fact they didn't call the foul (at Texas)... I had a different mindset (Saturday)," Embiid said. "Like coach said, 'Just show them what you can do.' I feel like I did and my teammates kept feeding me. They had to trust me," Embiid said.
Wiggins, who had 12 points in a 14-0 run that gave KU a 24-10 lead, flushed a lob from Wayne Selden and had another rim-rattler following a steal by Jamari Traylor.
"Our guys (overall) have not played with the pride on the defensive end that they played with tonight. You play like that every game, you are going to be pretty good," Self said. "That's the best we've played defense all year in the first half."
Texas hit six of 29 first-half shots for 20.7 percent. Texas finished at 34.4 percent to KU's 51.7 mark. KU had seven steals.
"We were pretty dominant the first half. It's as consistently good as we've been at any time this year," Self said. "They played man. They played zone. We adjusted and played well against what they threw at us."
Why?
"Just our pride. We wanted to come out aggressive. We know last time we got embarrassed at their place. We wanted to do the same to them, win every possession," said Wiggins, who scored 15 points the first half off 5-of-7 shooting and finished with 21 off 7-of-12 marksmanship. He hit three of five threes and had six boards in 27 minutes.
"When I score early it brings confidence in my game. Especially if I get a three, I feel like I'm on fire automatically. I respect my teammates for getting me the ball where I needed it.
"I missed plenty of shots I usually make when we were at Texas so I tried to get extra shots up to prepare myself for this game. I was ready and fired up for this game," he added.
Tip for Monday's game is 8 p.m. in Allen Fieldhouse.