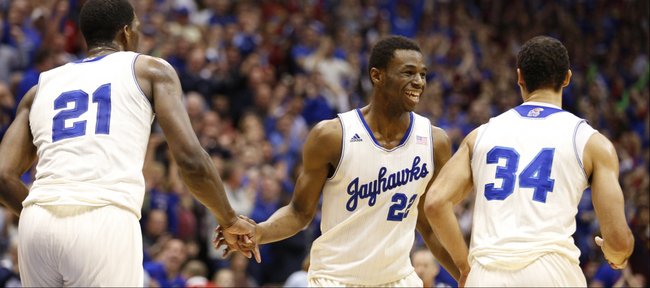 Photo Gallery
Kansas basketball v. Texas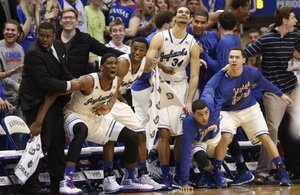 Images from Saturday's game between the Jayhawks and Longhorns at Allen Fieldhouse.
Podcast episode
Kansas basketball coach Bill Self discusses the Jayhawks' drubbing of UT on Saturday night, praising the team's defense and the overall play of Andrew Wiggins.
Podcast episode
Kansas freshmen Andrew Wiggins, Joel Embiid and Frank Mason talk about playing with pride in the Jayhawks' rematch with Texas.
KANSAS 85, TEXAS 54
Texas coach Rick Barnes said something to make Bill Self laugh as they chatted in the handshake line following Kansas University's 85-54 victory over the Longhorns on Saturday in Allen Fieldhouse.
"I don't remember exactly what he said," KU coach Self said after the Jayhawks upped their lead in the league standings to three games over five-loss teams UT, Iowa State and Oklahoma.
"We have a good relationship. He brings me Beef Jerky every time we play. I thought the Beef Jerky he gave me in Austin ... something was laced in it. Obviously it was not good because I ate half the bag before the game started," Self added of KU's 12-point loss to the Longhorns on Feb. 1 in Austin.
Wiggins 19th is today: Tarik Black grinned when asked what he'll give Andrew Wiggins today on Wiggins' 19th birthday.
"In my family the tradition is you have to take as many punches as your age or take one punch and that one punch is very hard. You have that option," Black said. "We'll see how it works with him. I might cut a deal. I might say, 'if you make these three three-pointers in a row, I won't get at you.' If not, sorry everybody," Black added.
Black loved the reaction of his teammates after his one-handed skywalking slam dunk in the second half.
"I saw a video. The bench went nuts. Those are my guys, my brothers. You know everybody is excited when Niko Roberts can hold Wayne Selden up," Black said with a laugh. "Wayne was climbing up his back."
Black said his own back locked up a bit in the second half. "I'm good," he noted of his physical health.
Rest: Self rested his starters the final eight minutes. KU meets Oklahoma at 8 p.m., Monday, in Allen.
"I want him (Joel Embiid, back and knee woes) to be healthy for Monday as much as we can," Self said. "Certainly we didn't substitute a lot but I knew we weren't going to put them back in (down stretch). Hopefully we will be a little fresher tomorrow heading into Monday."
A victory would assure KU a tie for its 10th straight league title. "We'll take nothing for granted," Self said.
Kenny G in the house: Former KU guard Kenny Gregory, who has retired after playing overseas since his college days, attended his first game in Allen Fieldhouse since he left KU.
"It's great to be able to finally get back to a game," said Gregory, a 35-year-old native of Columbus, Ohio, who played at KU from 1997 to 2001.
Asked at halftime what impressed him the most about KU, he said: "Defense."
The Jayhawks led, 46-18, at the break. Gregory, who made a lot of money overseas in his career, currently works with middle school players in Ohio.
Record set: Embiid, who had six blocks, passed Eric Chenowith (62, 1998) for the KU freshman blocks record. Embiid has 68.
"I'm happy for him. He deserves it," said Chenowith, who attended the game. "I thought it was a great game. I think that's the best I've seen Andrew (Wiggins, 21 points, six boards, 27 minutes) play. It was a fun game."
This, that: KU's 31-point win was its biggest margin of victory in series history. KU leads the all-time series, 23-8 with a 12-1 mark in Lawrence. ...  KU held Isaiah Taylor to 1-of-14 (7.1 percent) shooting, which is the lowest field goal percentage by a KU opponent with a minimum of 10 attempts since Washburn's Richard Griffin  went 1-of-16 (6.3 percent) on Dec. 6, 1993. His 7.1 percent is lowest by a Div. I foe since the 1988-89 season. ... KU went on a 32-5 run starting at the 15:28 mark and running over the next 11:26 minutes of the first half. KU started 1-4 from the field then hit 10 of 15. ... Wayne Selden had a career-best seven assists. ... Frank Mason had a career-high six field goals en route to 14 points. He had 15 against Duke.
Junior recruit in house: KeVaughn Allen, a 6-2 junior shooting guard from North Little Rock (Ark.) High, attended Saturday's game on an unofficial visit. He's currently ranked No. 90 in the Class of 2015.