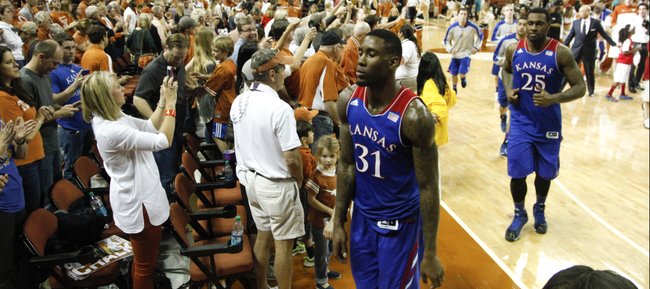 Today, Kansas University's basketball team can take a huge step toward claiming a 10th-straight Big 12 Conference championship.
The first-place Jayhawks, who possess an 11-2 record in league play, take on second-place Texas, which at 9-4 is a full two games back with five remaining.
"To me, it's not even about the league race Saturday," KU coach Bill Self said in previewing the 6:30 p.m. KU-UT battle in Allen Fieldhouse.
"It's about playing Texas and playing a team that's already handled us once. One of the residual effects is that it's big for the league race, but it's also just an opportunity for us to try to play better against a team that smacked us around pretty good."
KU's motivation today may simply be trying to atone for an 81-69 defeat to the Longhorns on Feb. 1 in Austin. The Longhorns, who like KU enter today's game with a 20-6 record, led by 15 points at halftime and 20 in the second half.
In other words, it never really was close.
"Our big guys should look forward to the challenge of going against their front line. They kicked our butt on the glass," Self said. "We never put any game pressure on them. They controlled that game pretty well."
The Longhorns, who were led by Demarcus Holland and Cameron Ridley who grabbed 11 and 10 rebounds respectively, outrebounded KU, 44-37.
"Holland wore us out, stole a lot of extra possessions for them," Self said of the 6-2 sophomore guard from Garland, Texas. "Cameron is a big guy (6-9 sophomore from Houston) and those sorts of things, but we've played other big guys in the past. We've played other big teams, too."
The Jayhawks, who are fifth in the league in rebounds per game at 38.1 (Texas is first at 42.0) have been out-boarded just four times all year, losing three times (Texas, Villanova, San Diego State) while beating Baylor in Allen despite being outrebounded by two.
"We get an opportunity to get the Longhorns back after they thumped us at their place," Self stated. "We'll be geeked up to play. They will be too."
Freshman center Joel Embiid, who needs one block today to pass Eric Chenowith and become KU's all-time freshman shot-block leader (record is 62), led the Jayhawks with 10 rebounds in that first meeting in Austin.
"I mean it's just us. At the beginning of the game, we just weren't ready to play and we lost," Embiid said. "It will definitely change on Saturday. We will be ready."
Point guard Isaiah Taylor and Jonathan Holmes led the Longhorns with 23 and 22 respectively. Wayne Selden had 21 and Perry Ellis 11 points for KU, which had a seven-game winning streak snapped at UT.
Slowing Taylor, 6-1 freshman from Hayward, Calif., could be pivotal tonight.
"He's one of the quickest guys in the league if not the country," KU freshman guard Conner Frankamp said.
If KU does win today, it could wrap up at least a share of its 10th consecutive league title Monday vs. Oklahoma (8 p.m., Allen). The NCAA Div. I record is held by UCLA, which won 13 straight league titles. Gonzaga had a streak of 11 league crowns snapped in 2012.
"It's a game that would definitely give us some serious breathing room," Self said of today's contest.
The apartments: KU athletic director Sheahon Zenger at Friday's athletic advisory committee meeting was asked about the status of plans to build a $17.5 million apartment building for KU basketball players and other students. On Tuesday, the university dropped its legislative request for bonding authority to build the apartments. The House Education Budget Committee last week rejected the bonding proposal.
"We've regrouped and will pursue other strategies (to raise the funds)," Zenger said. "That project is alive and well."
It is believed the apartment complex will be built by money raised from KU donors.
New job thrills Floodman: Banks Floodman, the new associate AD/executive director revenue development in KU's Williams Fund, spoke to the committee.
"I'm from Wichita originally and received undergraduate and graduate degrees (at KU)," Floodman said. "I'm a Jayhawk at heart and passionate about this place. This is a dream job for me. I'm very excited."
Floodman, a former KU football player, said the Williams Fund's first goal is to raise funds to pay for scholarships and travel for the Jayhawk student-athletes in all sports.
Tyshawn to Puerto Rico: Former KU guard Tyshawn Taylor, who is playing for Maine in the NBA Development League, will play for Atléticos de San Germán in Puerto Rico in April, once the D-League season is over, Zagsblog.com reports. Taylor is averaging 9.8 points and 3.3 rebounds for Maine.
Cliff vs. Jahlil: KU signee Cliff Alexander's Curie High team defeated Duke signee Jahlil Okafor's Whitney Young squad, 69-66, in four overtimes in the Chicago Public League final on Friday at Chicago State. Alexander, ranked No. 4 nationally, scored 20 points and grabbed 13 rebounds. The No. 1-rated Okafor, who had foul problems, scored 16 points.