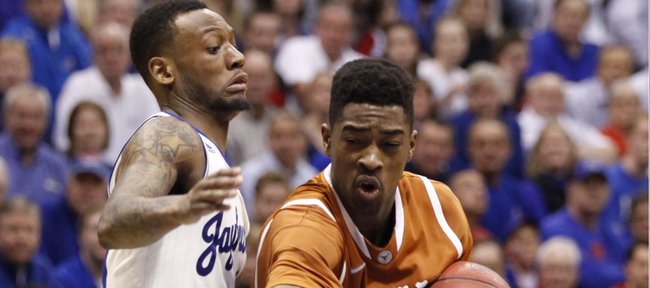 Photo Gallery
Kansas basketball v. Texas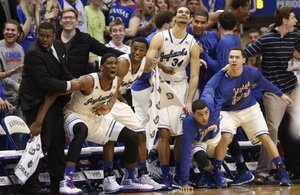 Images from Saturday's game between the Jayhawks and Longhorns at Allen Fieldhouse.
Podcast episode
Kansas basketball coach Bill Self discusses the Jayhawks' drubbing of UT on Saturday night, praising the team's defense and the overall play of Andrew Wiggins.
Podcast episode
Kansas freshmen Andrew Wiggins, Joel Embiid and Frank Mason talk about playing with pride in the Jayhawks' rematch with Texas.
KANSAS 85, TEXAS 54
In the first meeting between Kansas and Texas this season, Longhorns guard Isaiah Taylor looked virtually unstoppable and scored 23 points in pretty much any manner he wanted during a 12-point UT victory in Austin, Texas.
In the rematch, Saturday night at Allen Fieldhouse, the 6-foot-1 freshman from Hayward, Calif., was not as fortunate and finished with just five points on 1-of-14 shooting in 31 frustrating minutes.
Although the point differential between Taylor the terrific and Taylor the terrible was just 18 points, it impacted Saturday's game in a much bigger way and the Jayhawks steamrolled the Longhorns, 85-54.
"He missed some shots early," said Texas coach Rick Barnes of his young guard, whose first point did not come until 2:47 remained in the first half. "But what surprised me about him was he was one guy that didn't do what we needed done offensively. The way they were playing him, what they were doing and the counters that we had, we weren't getting it done."
Barnes later explained exactly what he meant and chalked up Taylor's inability to execute to his limited experience at the college level.
"His biggest thing that he's still continuing to learn is how to play against adjustments," Barnes said of Taylor, who also had five assists and two turnovers. "(He'd) give the ball up, they would deny him and he just stands. He's gotta learn to play without the ball. Actually, the last game, he did that a couple times. Why he didn't do it tonight, I can't tell you. But they did a good job with what they wanted to get done."
Eliminating Taylor as a scoring threat was a major focus for the eighth-ranked Jayhawks (21-6 overall, 12-2 Big 12), who used multiple defenders on the slithery guard and saw their efforts pay off. Of course, given that Saturday's meeting was the 21st all-time between Barnes and KU coach Bill Self — Self now leads 13-8 — none of that surprised the 16-year UT head coach.
"They didn't really do anything different than we expected them to do," said Barnes, whose team missed a golden opportunity to pull within a game of KU in the conference race and fell to 20-7 overall and 9-5 in Big 12 play. "We just lost confidence because of the way we were playing and it snow-balled."
The early meltdown, which turned an 8-3 lead for No. 19 Texas lead into a 28-10 deficit in just over 10 minutes, rendered worthless the rest of Taylor's night and turned what began as a showdown between top two teams in the Big 12 standings into a highlight clinic for Kansas.
"I think if we played Kansas again, we could beat Kansas if we do what we do," Barnes said. "But we have to do it. I don't think we have the margin of error that they do."
Because of that, along with a general lack of execution, 34 percent shooting, 11 missed free throws and an offensive output 23 points lower than average, Barnes left Lawrence compelled to borrow a line from Self.
"I think we should probably refund the fans," Barnes began. "What was the team that Bill talked about? Topeka YMCA? They probably would've given 'em a little bit better game because we sure didn't give 'em a game.... They beat us and they beat us good."