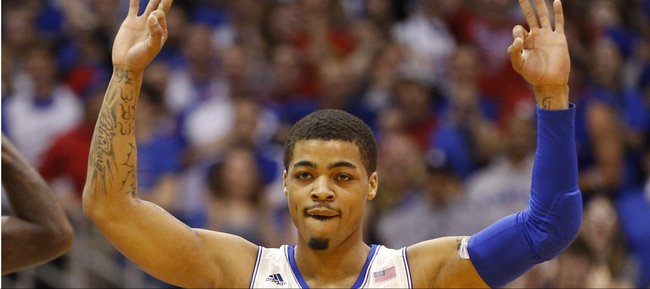 Photo Gallery
Kansas basketball v. Texas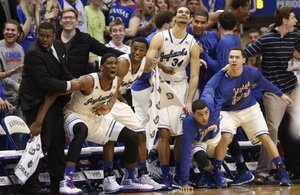 Images from Saturday's game between the Jayhawks and Longhorns at Allen Fieldhouse.
Podcast episode
Kansas basketball coach Bill Self discusses the Jayhawks' drubbing of UT on Saturday night, praising the team's defense and the overall play of Andrew Wiggins.
Podcast episode
Kansas freshmen Andrew Wiggins, Joel Embiid and Frank Mason talk about playing with pride in the Jayhawks' rematch with Texas.
KANSAS 85, TEXAS 54
Statisticians have a number for everything else, so why not decapitation execution? Translation: Stop the opposing point guard's dribble before he gets anywhere near the paint. Cut off the head and the body dies.
Since the nerds haven't yet found a way to quantify that important aspect of winning basketball games, words must do.
Kansas University's decapitation execution against Texas in Austin: Very poor. In Lawrence: Excellent.
One victory away from clinching at least a share of his 10th consecutive Big 12 title, Kansas coach Bill Self had never heard of the stat of the future, "decapitation execution," but he always has been a big proponent of "cutting off the head," of the other team by stopping the point guard's penetration.
"We decapitated better today," Self said.
KU junior point guard Naadir Tharpe couldn't get his shots to drop ­— he was 1 for 9 overall, 0 for 5 from three — but the Jayhawks didn't need him scoring to play their best game of the season, an 85-54 pulverization of Texas. The rest of the players made 59 percent of their shots and 44 percent on three-pointers.
On his final day as an 18-year-old, Andrew Wiggins took care of the points, outscoring Texas, 15-2, during a six-minute, first-half stretch. The defensive domination was initiated by the point guards, continued by Wiggins and Wayne Selden and punctuated by Joel Embiid (six blocked shots).
Tharpe's primary assignment was to make sure Isaiah Taylor didn't dictate the tempo and ultimately the outcome of the game the way he did in the Longhorns' 12-point victory in Austin. He did an excellent job of that and so did fellow point guard Frank Mason, who stood out at both ends, making 6 of 7 shots and scoring 14 points.
"I've been thinking about this game for a while to be able to guard him again," Tharpe said. "I definitely took it as a challenge because he played tremendous the first time."
Taylor made 1 of 14 shots Saturday, scored five points and had five assists and two turnovers.
"Naadir was fabulous, even though he didn't make shots," Self said. "He set the tone defensively. We kept them out of the paint for the most part in the first half."
Self was every bit as complimentary of Mason, saying, "Frank's shot it really well in practice, but he hasn't shot it worth a flip during games. He hasn't scored and he's just waiting to bust out."
Clearly, decapitation execution was the coach's central theme all week in preparation for this merciless revenge job.
"Coach is always telling me I need to be the one to cut off the head of the point guard, to be aggressive and lead the team," Tharpe said. "And Frank came in and did the same thing as well."
Mason, a point guard for the first time in his life, understands now more than ever the importance of the position.
"We knew that he was the key to their team," Mason said of Taylor. "It started with me and Naadir cutting the head off of the team and we knew they would struggle if we could do that."
Tharpe said he spent extra time with video coordinator Jeff Forbes and first-year assistant coach Jerrance Howard, who was in charge of the scouting report for this game, watching film of Taylor.
But it was more than just being prepared that enabled Kansas to blow away the nation's 19th-ranked team.
"I would say pride is a big key to every game, especially this game," Mason said. "At Texas, it seemed like we didn't have pride or anything going for us, so we wanted to come back home and let them know how we really play and who we really are."
Wiggins started nodding agreement when Mason started talking and didn't stop nodding until Mason had said his final word. The whole team was that harmonized from start to finish on a day KU opened a three-game lead over three teams in the Big 12 race nearing the finish line.