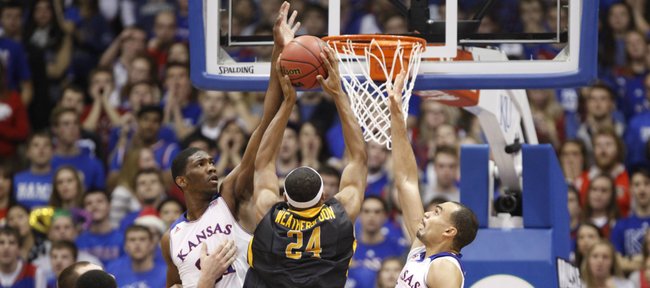 One blocked shot against Texas on Saturday would give Kansas University's Joel Embiid a school freshman record 63 rejections.
The 7-footer from Cameroon is primed to pass Californian Eric Chenowith, who will be sitting in the Allen Fieldhouse stands during the 6:30 p.m., game and also will attend Monday's 8 p.m., home contest against Oklahoma.
"I mean I think it's a great accomplishment for myself. I think I need to keep it up, keep blocking shots," said Embiid, currently tied with Chenowith, who blocked 62 in 1997-98. "I just have to have the mindset to block every shot."
Embiid ranks second to Baylor's Isaiah Austin (80) in the Big 12 in blocked shots. In league games only, Austin and Embiid rank first and second at 41 and 29 blocks respectively.
Embiid, who has ice applied to his sore back before and after practice and also does rehab exercises daily, exploded for 18 points and eight rebounds with one block while playing 32 minutes in Tuesday's 64-63 win at Texas Tech.
He'd missed the previous game against TCU while resting and rehabbing his back and sore knee.
"The last couple games I've not been blocking a lot of shots," said Embiid, who has six blocks in his last four games played. "I need to be a better rim protector and better defender. On offense, he (coach Bill Self) wants us to get angles on the post and score. I feel that's what I need to do more."
Of Embiid's shot blocking, Self said: "I would say Jo is good, but could be great, and there's still another step for him to take there."
As far as the freshman record, Self noted: "I think those records to me are pretty meaningless because the reason he's breaking the record is because he's playing more minutes than other freshmen have played maybe. (Jeff) Withey didn't play at all as a freshman. If he had played he probably would have blocked some shots."
Embiid has gotten some publicity for his pursuit of that record and for his strong freshman campaign. He's generally considered the No. 1 or 2 pick in the 2014 NBA Draft.
"I think I'm doing fine. I try to not pay attention to all that," Embiid said of national publicity.
Frankamp getting minutes: KU freshman combo guard Conner Frankamp played five minutes against Texas Tech on Tuesday after playing 13 versus TCU and 15 at Kansas State.
"I feel like it's expanding quite a bit," the 6-foot freshman guard from Wichita said of his role. He's had nine points, two assists and no turnovers in those three contests. "I'm trying to do the best I can out there and trying to make the most of the opportunities."
For the year, Frankamp has scored 37 points with nine assists to three turnovers in 19 games.
"It's tough. It's tough, but I'm trying to do what I can to get more minutes on the court," he said when asked how tough it was to be patient regarding playing time.
He said he's been working on his defense. "Then the offense kind of comes with playing hard on the defensive end, making open shots," he stated.
Title within reach: If KU (20-6, 11-2) beats Texas (20-6, 9-4), then stops Oklahoma (19-7, 8-5) on Monday in Allen, KU would clinch at least a share of its 10th straight league title.
"But the big thing is we can't talk about anything past Saturday because if it doesn't happen Saturday, it's a one-game lead as opposed to a three-game lead. Saturday is big," Self said.
Cliff vs. Jahlil: KU signee Cliff Alexander's Curie High team will meet Duke signee Jahlil Okafor's Whitney Young squad in the Chicago Public League championship game at 7 tonight at Chicago State's gym. It will be shown on ESPN3. Okafor is currently ranked No. 1 and Alexander 4 in the class of 2014 by Rivals.com.
Defense vs. offense: KU ranks second in the country in field-goal percentage (50.3 to North Dakota State's 50.4) and is not ranked in the top 50 in field-goal percentage defense (41.2). In the league, KU is fifth in field-goal percentage defense in all games; third in league games (41.6). KU is first in field-goal percentage in league games (51.3).
"Which one would I rather be good at? I would say I'd rather be good making it hard for people to score, because to me, no matter what your field-goal percentage is offensively, you're going to have some games like you had against Texas Tech that you're not going to make shots, and you've got to figure out a way to win those games when you don't make shots," Self said.