Tuesday, February 18, 2014
Photo Gallery
Kansas basketball v. Texas Tech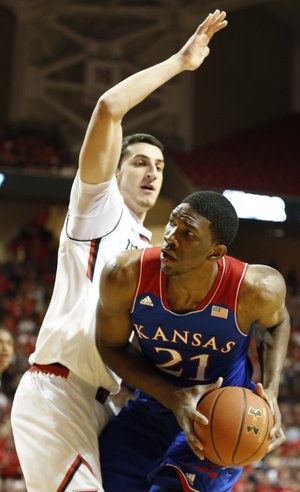 Images from Tuesday's game between the Jayhawks and Red Raiders in Lubbock, Texas.
Podcast episode
Bill Self praises Embiid, Wiggins after 64-63 victory at Texas Tech
KEEGAN RATINGS
KANSAS 64, TEXAS TECH 63
Lubbock, Texas — First-year Texas Tech coach Tubby Smith did just about everything a coach could do to set his team up for an upset Tuesday night in United Spirit Arena.
He has partaken in marketing efforts, handing out free tickets to students to revive interest in basketball. He had his team motivated to give its best effort. His switching defenses played a part in Kansas University having trouble running its offense to completion and finding consistent rhythm.
But he wasn't celebrating afterward because his efforts and those of his hustling players fell just short, 64-63, when Andrew Wiggins' follow shot feel through the hoop with two seconds remaining.
What did he tell his team afterward?
"There wasn't much to say," Smith said after a game witnessed by 12,667 spectators, including 4,338 students. "They're down. They're despondent because they didn't win. Tough loss. They felt like they played well enough to get the win. You always have to finish the game the right way to get the win."
About the last play, Smith said, "Good teams like Kansas make plays like that. Great players make plays like that. Andrew's a great player and great players make plays like that."
Kansas coach Bill Self said the crowd that turned out for Tuesday's game was something he hadn't witnessed in Lubbock since the early years of Bob Knight's reign.
"That's a compliment to our fans, to our student body, our administration, especially our marketing people," Smith said. "They've done a good job of getting out and spreading the word, even asked me to do some things. Our guys are playing well, playing hard. That's what they want to see. Tonight we came close to giving a complete effort as we have."
From this point, Smith said, "We'll try to build on how we played the No. 8 team straight up and ought to be able to play with anyone. Tonight we let a great player beat us. We had to figure out a way to limit his touches, make him play both ends of the court. He's such a talented athlete. You're not going to keep him down."