Tuesday, February 18, 2014
Photo Gallery
Kansas basketball v. Texas Tech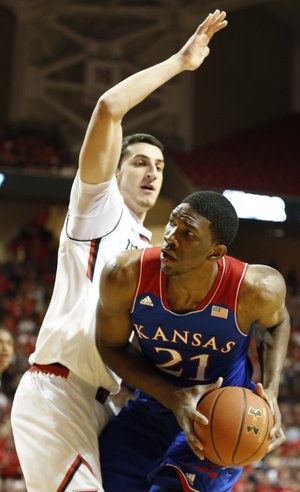 Images from Tuesday's game between the Jayhawks and Red Raiders in Lubbock, Texas.
Podcast episode
Bill Self praises Embiid, Wiggins after 64-63 victory at Texas Tech
KEEGAN RATINGS
KANSAS 64, TEXAS TECH 63
Lubbock, Texas — Kansas University freshman guard Wayne Selden wasn't lacking in confidence as he went up for a huge three-point shot attempt with 2:34 left and the Jayhawks down by four points to Texas Tech on Tuesday night in United Spirit Arena.
He put perfect touch on the ball, cutting the deficit to 59-58 in an eventual 64-63 victory.
Selden heading into that shot had made one basket in seven tries.
"Not at all," Selden said of perhaps being hesitant to fire away. "Coach (Bill Self) said the other day, 'A good shooter is not going to think about his last shot.'''
When was that advice offered?
"He said it recently," said Selden, who finished with six points and three rebounds in 33 minutes.
Wiggins mobbed: KU's players mobbed freshman Andrew Wiggins before jumping into the handshake line at the final buzzer. Wiggins' one-footer with 1.7 seconds left provided the margin of victory.
"Everybody seemed kind of surprised (that KU won). We were happy and excited for him," said sophomore Perry Ellis, who had four points in 26 minutes. "It was great for him and is going to be great for us moving forward."
"It was exciting for him. It was exciting for everybody," said Selden. "We battled. We fought hard. We felt like we deserved it. So many games come down to that last possession and we weren't able to come through with it. We did today."
Chenowith's take: Joel Embiid had one blocked shot, meaning he's tied Eric Chenowith's freshman block record. Chenowith had 62 blocks in 1997-98.
"I've been getting calls and texts lately telling me I still have the record," former KU pivot Chenowith said before Tuesday's KU-Tech game.
"A lot of people have been asking me if I'm upset my record is getting broken. To be honest with you, a part of me wants to keep it forever. The other part is I'm happy for the program. It means things are still progressing and doing well. Records are being broken. KU is winning. That's the important thing," Chenowith, a 7-footer from Villa Park, Calif., added.
Chenowith, who works in Beverly Hills as insurance producer for Parq Advisors (he works on insurance packages for pro athletes, entertainers and others), says he's thrilled for Cameroon native Embiid, who Chenowith has heard "is a really good kid who works hard."
"I've watched him a lot. He has tremendous upside," Chenowith said. "It sounds like he hasn't played the game very long. He's picking things up quickly. It helps playing for coach (Bill) Self obviously. From where he was when I first saw him on TV in November to where he is now, it's night and day. I don't think I've ever seen improvement like that so quickly.
"The sky is the limit. He has all the tools, all the ability in the world. I'm glad he came to KU and chose to be a Jayhawk."
Chenowith will be in Allen Fieldhouse for Saturday's game against Texas and Monday's versus Oklahoma.
"It's a dying breed, it really is," Chenowith said of the true center position in the NBA. "I saw Nick (Collison, Oklahoma City) play last week against the Lakers. It was cool to see Nick get in there and do so well.
"Roy Hibbert (Indiana Pacers) is an all-star? I don't see him being an all-star 10 years ago. Not even close," Chenowith observed. "Center is not even a spot on the all-star ballot for the game any more. The game has changed so much. It's gone away from the big man. There are still kids 7-feet tall all over the country. They've not stopped being 7-feet tall. The overall coaching on the high school level and AAU culture has come on so strong. Big guys that set screens, block shots and rebound are not the top priority on the recruiting trails these days."
Naismith finalists: KU signee Cliff Alexander is one of three finalists for the Naismith Trophy High School player of the year award. Alexander, 6-8 from Chicago's Curie High, is ranked No. 4 nationally by Rivals.com. The other finalists are: Duke signee Jahlil Okafor, 6-10 from Chicago's Whitney Young High, who is ranked No. 1 and Arizona signee Stanley Johnson, 6-7 from Mater Dei High in Santa Ana., Calif., who is ranked No. 3. Andrew Wiggins of KU won the award a year ago.