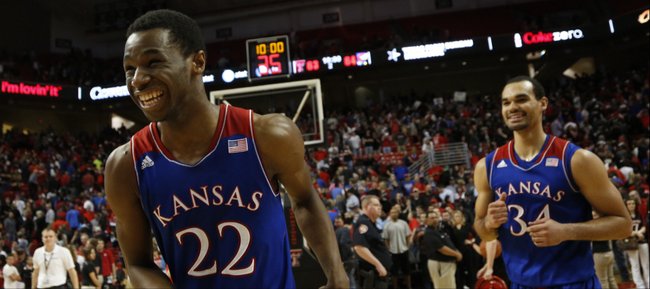 Photo Gallery
Kansas basketball v. Texas Tech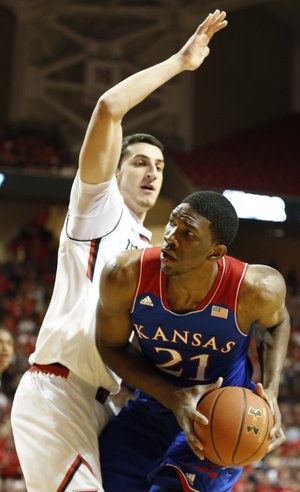 Images from Tuesday's game between the Jayhawks and Red Raiders in Lubbock, Texas.
Podcast episode
Bill Self praises Embiid, Wiggins after 64-63 victory at Texas Tech
KEEGAN RATINGS
KANSAS 64, TEXAS TECH 63
Lubbock, Texas — Kansas University freshman phenom Andrew Wiggins — who has already accomplished superhuman feats in basketball, evidenced by all of his driving and dunking highlights shown on ESPN's "SportsCenter" this year and last — added a first to his hoops résumé on Tuesday.
"It's my first game-winner ever. It's a great feeling, something I've dreamed about for a long time," said the soon-to-turn-19-year-old Wiggins, who sank a one-footer with 1.7 seconds left, providing the margin of victory in KU's 64-63 victory over Texas Tech before 12,667 fans in United Spirit Arena.
"I made some to tie," Wiggins added, asked if he really, truly had never before Tuesday provided the winning points just before the buzzer.
The 6-foot-8 wing from Canada picked up a loose ball in the lane on KU's final possession — after the ball was poked from KU center Joel Embiid. Seven-footer Embiid, who had 18 points and eight boards, had hit the baseline after accepting a pass from Perry Ellis.
"My heart was just racing. We get the ball to Jo Jo (on final possession after Tech made two free throws to take a one-point lead), one of our best scorers, and he delivered a great pass, and I delivered a great shot as the game ended," Wiggins said.
A consummate team player, Wiggins tried to describe the ball appearing at his feet a pin-point Embiid pass.
"Give the ball to Jo, let him go to work. He found me," Wiggins stated in explaining KU's final play, which followed a timeout at 12.0 seconds.
Embiid, who hit six of seven shots on a day he played 32 minutes, was willing to play along.
"I was trying to spin baseline, and I think he kind of slapped me," Embiid said of Tech defender Dejan Kravic. "I lost the ball. I think it was a pass, and he (Wiggins) got it and scored, and that was the play of the game."
Wiggins, who finished with 19 points off 6-of-11 shooting (6-of-8 from line), said he first thought about dunking the ball from such close quarters to the goal.
"It was slippery, like it slipped on the way up. I just had to guide it in," Wiggins said of the layup.
The ball actually kissed off the rim before dropping through to give KU its 20th win against six losses and 11th league win in 13 tries. Tech fell to 13-13, 5-8.
"It bounced high. I was worried about it, but it went in," Wiggins said.
Self wasn't sweating the fact Wiggins' shot initially hit iron.
"It would have been hard to miss that one even though it hit the back of the rim. I thought it was still pretty soft," said Self, whose team is storming toward a 10th consecutive Big 12 title. KU leads Texas by two games entering Saturday's 6:30 p.m. game against the Longhorns in Allen Fieldhouse.
"It was a six-inch shot wasn't it, or a one-footer?" Self added.
About the possibility of Wiggins dunking there, Self wasn't about to second-guess: "To me, he was up high enough. Whatever he did, he made the right play," Self said. "He went up strong tonight and tried to dunk several."
The Jayhawk players mobbed Wiggins on the court once a desperation heave by Texas Tech sailed past the backboard.
"It was a good feeling for what I did, the good play we did. It was good," said Wiggins, whose 19th birthday is Sunday.
Self cited one other specific shot, besides Wiggins' that fell in crunch time. Wayne Selden hit a crucial three with 2:34 left to slice a 59-55 deficit to one point. At that point, Selden had made one of seven shots and one of three from three. KU for the game hit just four of 14 treys.
"It was the biggest shot of the game other than Wiggs' tip-in," Self said. "He's 1-for-7, and we've got nothing going, screw around and allow them to go up by four. The game wouldn't be over, but we'd be close to dead if Wayne didn't step up and make that three."
For the night, KU hit 45.2 percent of its shots to Tech's 47.1. It was a workmanlike effort in finally subduing Tech, which led by five, 37-32, with 16:58 left.
"We didn't make shots this game. When you don't, you have to find another way to win," Wiggins said. "Defense, hustle plays, rebounding. Good players make good plays down the stretch. That's what we did."
Self agreed.
"Players make plays with the game on the line. That's what I've always told my guys," Self said. "Tonight we had some guys step up and make plays. Unbelievable in a game in which we couldn't score, they couldn't stop us late, and we couldn't stop them. Whoever had the ball last was probably going to win the game. That was a good road win."