Tuesday, February 18, 2014
Photo Gallery
Kansas basketball v. Texas Tech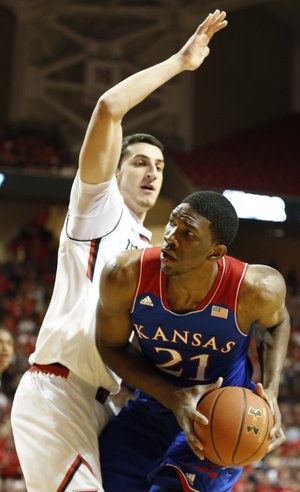 Images from Tuesday's game between the Jayhawks and Red Raiders in Lubbock, Texas.
Podcast episode
Bill Self praises Embiid, Wiggins after 64-63 victory at Texas Tech
KEEGAN RATINGS
KANSAS 64, TEXAS TECH 63
Lubbock, Texas — After the bumps and bruises that tend to gain steam through the night settle in, more will be known about just how close freshman Joel Embiid's long, graceful, athletic body is to a full recovery from knee and back injuries.
This much already is known: He was far enough recovered to play a huge role in Kansas University getting out of a United Spirit Arena with a victory.
In his first game back from a one-game rest forced by back and knee woes, Embiid matched a career high with 18 points and added eight rebounds and a blocked shot in helping KU defeat Texas Tech, 64-63.
Embiid moved noticeably better than in his last game, an overtime loss to Kansas State in which he played just 18 minutes.
The Jayhawks needed every one of his 32 minutes to edge a Texas Tech squad in the early stages of basketball revival being masterfully steered by classy coach Tubby Smith.
"I think I was about 90, 90 percent," Embiid said. And that was after nearly a full week of rest before rejoining practice.
KU coach Bill Self, closing in on his 10th consecutive Big 12 title, has seen too many amazing things from his center from Cameroon in his third year of organized basketball to express surprise at anything he does on the court. But he didn't see one thing coming.
"I'm shocked he played that many minutes because he hadn't practiced all week," Self said.
How much he'll practice in advance of Saturday's game against Texas and how far along his recovery is, Self couldn't say after the thrilling victory witnessed by 12,667 spectators.
"We'll probably know more how he feels tomorrow," Self said. "Even in practice, even though he's done everything, we haven't gone up and down, he hasn't got laid on in practice."
Embiid handled the physical play well against the driven Red Raiders and made six of seven field goals and six of eight free throws.
Embiid's biggest bucket came with 31 seconds remaining when he snared Andrew Wiggins' missed dunk attempt and slammed it home emphatically to put KU up by a point. His foul of point guard Robert Turner — a junior-college transfer who has made a big difference for Tech ­— enabled the home team to go back up by one.
Tech had done a pretty good job of doubling Embiid and forcing him to go to the middle, but on the game's final possession, he executed his move to the baseline, then had the ball knocked from him by Dejan Kravic. Wiggins threw it up and in, returning the favor Embiid had done him on the previous possession.
Embiid and Wiggins had to come up with huge nights because the rest of the starters combined to shoot 3-of-18 from the field.
"He was great, he was great this game," Wiggins said of Embiid. "His mobility and everything was back. If he doesn't get double-teamed, he scores or he gets fouled, so it was good to have him back."
Even if Embiid doesn't have a setback and Wiggins plays well again, KU will need more help than they received Tuesday night to even the score against Texas, a game that will be played in a wild Allen Fieldhouse.