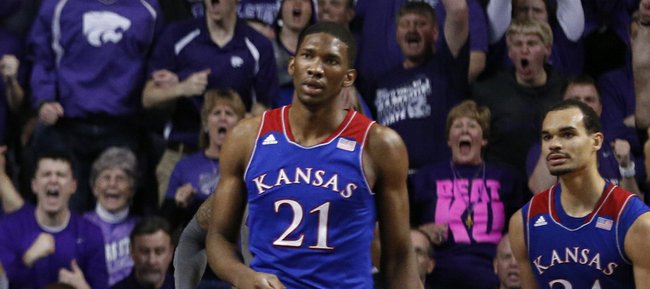 Kansas University basketball coach Bill Self said after Friday's practice that injured freshman Joel Embiid would not play Saturday at 3 p.m. against TCU at Allen Fieldhouse.
"He did not practice today so he will not play tomorrow," said Self, adding that he's anticipating that Embiid will play when KU travels to Texas Tech next Tuesday. "We're hoping he'll be able to practice by Sunday."
Embiid, a 7-foot center and KU starter, has been hampered by knee and back injuries during the past couple of weeks. He played just 21 minutes during KU's loss at Kansas State last Monday and has shown signs of the injuries impacting his play.
Self said earlier this week that Embiid suited up but did not participate in KU practices on Tuesday, Wednesday and Thursday, going as far as to say he did not even shoot free throws any of those days. He was suited up again on Friday but did not participate in any portion of practice.
"He hasn't done anything except get treatment," Self said. "Although (his back is) a lot, lot better, it's still not totally pain free."
Self did not say who would start in Embiid's place against TCU, but senior forward Tarik Black started the first few games of the season and has been dealt an increase in minutes with Embiid limited during recent weeks.
Sophomore forward Jamari Traylor also is expected to be back for Saturday's game. Self did not play Traylor on Monday because of unspecified disciplinary reasons.