Photo Gallery
Kansas basketball v. Kansas State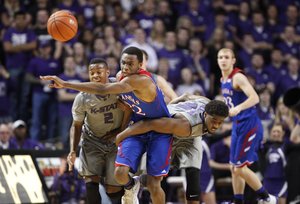 Images from Monday night's game between the Jayhawks and Wildcats in Manhattan.
Podcast episode
Bill Self after 85-82 overtime loss at Kansas State
Podcast episode
Naadir Tharpe and Perry Ellis on KU's overtime loss at K-State
KEEGAN RATINGS
KANSAS STATE 85, KANSAS 82 (OT)
Manhattan — Bill Self doesn't want Kansas University's basketball players interacting with opposing fans during games.
"We don't talk about the seating arrangement or how close fans are (to the court), but the whole thing is, you don't communicate with fans. It's water off your back and there's no communication between fans and players," Self, KU's 11th-year coach, said, explaining his long-standing policy in the wake of the Marcus Smart incident.
Smart on Sunday was suspended three games for pushing a Texas Tech fan near the end of Saturday's loss to the Red Raiders in Lubbock.
"Certainly that was a different situation at least from my view than a lot of situations that occur," Self added on Monday's Big 12 coaches teleconference. "The thing that has always concerned me most is the storming of the court (after games). You could have a bumping or something like that, that could escalate into something else. I've never addressed my team obviously about what happened Saturday in that respect in which it happened (in OSU-Texas Tech game), just in general: Don't communicate in any way shape or form with anybody that was there just to watch a game."
Self on Missouri football player Michael Sam informing the public Sunday that Sam is gay: "The thing I would say more than anything is there's a reason why Missouri had such a great season in football. Obviously they have good players. I'm not on the inside and know what goes on ... (but) when you have the confidentiality of your entire team in a way in which they did, that means you know they've got each others' back," Self said. 
The Tiger players did not leak the information to the media during the season, but instead let Sam speak publicly on his own terms.
"That's one thing to me that stood out. Secondly without knowing anything about the situation, it takes a lot of courage and guts for someone to stand up for their own convictions and how they feel and I certainly applaud what was done yesterday. I don't think anybody should ever have to live or hide behind who they are or how they feel so I certainly applaud that," Self said.
Jeannie to be in Lawrence: KU officials on Monday said actress Barbara Eden will attend Saturday's KU-TCU game in Allen Fieldhouse. Her husband is a KU graduate. Eden, 82, is best known for the starring role of "Jeannie" in the series "I Dream of Jeannie."
Some banners in Bramlage Coliseum on Monday: "Stop Waving Our Wheat," "I Still Hate Jeff Withey," "Doom."
It means a lot to alums: Former KU player Tommie Smith, who lives in Topeka after growing up in Kewanee, Ill., watches closely when the Jayhawks play the Wildcats.
"I was actually contacted by K-State before I was by KU. I still have a little Wildcat thing I throw around the house," said Smith, a member of KU's 1974 Final Four team. "We always want to be the state champs. A couple years ago, K-State put out a T-shirt about being Texas state champs. That didn't go over well. We go to Manhattan ... it's our intent to win because we own the building (Bramlage). We go there and do what we have to do. We have a lot of confidence in that building."
Spradling likely will play overseas: Kansas State senior Will Spradling told the Journal-World at Big 12 Media Day that he plans on a career in pro basketball.
"My goal is to play overseas and play as long as I can and hopefully come back and coach," said the K-State point guard/business administration major (with a management option) out of Shawnee Mission South.
"Obviously coach Weber (Bruce, KSU) has helped me with that a lot and I've talked to him about it a lot. I try to keep good care of my body, get in the ice tub, do what I can. Hopefully I'll be able to play a while."
Respect: Players from Kansas and Kansas State may be rivals, but they are not enemies. Typically, the players serve as counselors at some of the same camps during the spring and summer months.
"I've worked with a lot of them: Perry (Ellis), Naadir (Tharpe), Frank Mason, Brannen Greene, Tarik Black ... there are a lot of them I worked with," said Spradling. "It's always fun to work with them. We don't really bother each other.
"We get along just fine. Obviously when we get on the court and put jerseys on, it's a different story. Off the court we get along. We interact a lot," Spradling added.
Spradling took a 1-7 record vs. KU into Monday's game. 
"It's a great rivalry ... the fans, the students, everybody gets pumped up for it," Spradling said of KU-KSU. "Obviously the environment makes it fun (but) I'm pumped up for every game."
Recruiting: Self's recruiting strategy is to sign the best players possible, no matter where they are from. In his 11 seasons at KU he has signed Kansans Conner Frankamp, Wichita; Perry Ellis, Wichita; Travis Releford, Roeland Park; Tyrel Reed, Burlington; Brady Morningstar, Lawrence. He also inked Brandon Rush of Kansas City, Mo., and Ben McLemore of St. Louis.
"In games like K-State or whatever, it's nice to have some local kids that grow up understanding the rivalry and that kind of stuff," Self said.
"I'm a big believer that, hey, the best players don't always make the best teams. The best players that play together the best make the best teams. We've had some great blend guys that came from the state of Kansas, great blend, whether it be Travis (Releford) or Tyrel (Reed) or Brady (Morningstar), that the ball moved a little better when they were in there, or they were able to make sure that they piggy-backed screens or went ball-side of every curl. Maybe those don't translate to be big things, but those are plays that win basketball games.
"I've been real pleased with who we've been able to recruit. I hope there are good players in our state every year. I wish we could get a kid out of here every year because I do think it adds something to your program to have some local flavor."
Ellis considered KSU: KU sophomore forward Ellis had Kansas State on his final list of schools.
"I never talked to the coach who is there now, (Bruce) Weber. I talked to Frank a lot," he said of current South Carolina coach Frank Martin. "They have a good program, good people also, but I just ended up deciding to go to KU."
Gipson is talented: KSU's Thomas Gipson, a 6-7, 265-pound junior from Cedar Hill, Texas, took a 11.7 scoring, 6.5 rebound average into Monday's game.
"Gip's a big part of our team," said frosh guard Marcus Foster. "He's a leader for us. He shows us the right way to go. I told him, 'You're going to have a good game Monday' because he deserves it. He works hard every day in practice and pushes us."