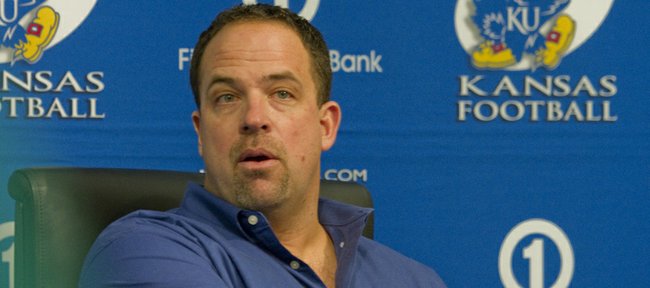 New Kansas University offensive coordinator John Reagan has a plan for the KU football offense.
What it is exactly and how it will function this fall remains a work in progress. But during his first meeting with the media on Monday, the former Kansas assistant who returned to Lawrence after a four-year stint at Rice offered up a few hints about which aspects of offensive football would be most important to him and the Jayhawks.
"You have to be able to run the football," Reagan said. "I think if you're a much more talented team than everybody else you play, you can wing it all over the field. I don't think that fits everybody. I don't think that fits necessarily the mold that we have."
So the emphasis at Kansas will be on setting the tone with the run, taking care of the football at all times and putting the Jayhawks' play-makers in the best possible position to make plays from the first quarter to the fourth.
Without naming names, Reagan quickly analyzed the offensive pieces he inherited by talking about what he liked.
"We've got play-makers here," he said. "That's one thing I'm very excited about. There's some skill talent that will be fun to work with and fun to let them show their talents."
Reagan said he was thrilled to have multiple options at quarterback, which figures to be a three-man race between 2013 starters Montell Cozart and Jake Heaps and UCLA transfer T.J. Millweard.
"What I'm anxious to see is how those guys perform this spring," Reagan said, "and to see who gives the team — not the offense, the team — the best chance to win."
As far as the guys up front, who will protect KU's quarterbacks and pave the way for those skill guys to get going, Reagan believes there are enough players in place to make pleasant his other duty as offensive-line coach.
"There's no question that the ability's there," he said. "I gotta do the best I can to put 'em in the right position, both tackles, guards, centers, and with play schemes and protections."
With his return to Kansas with a new title representing an exciting next step in his coaching career, Reagan said one of the best parts about his second stint in Lawrence is that it provides the opportunity to be closer to his 9-year-old son and 11-year-old daughter, who live in Lawrence.
"It was torture not being in the same town with them," he said. "So, yeah, I could envision myself coming back. I had no idea how it would happen."
Now that it has, and with the busiest recruiting days behind him, Reagan said he was "excited" about more closely evaluating the talent he has and putting together an offense designed to bring back the production that Reagan was a part of the first time he wore crimson and blue.
"During that time here, I felt like we did some things that were pretty special," said Reagan, who helped coach KU's offensive line and running game to three bowl appearances during five seasons. "You'd like to say you're going into spring ball with an idea of exactly how it'll turn out. If I said that, I'd be lying. Because I don't know that I have a full picture right now."
Weis alters staff duties
Early Monday, KU head coach Charlie Weis released the details of staff changes that will alter the duties of Weis, running-backs coach Reggie Mitchell and wide-receivers coach/recruiting coordinator Rob Ianello.
"I have decided to adjust our staff," Weis said in a press release. "Reggie Mitchell will return to a position he is very familiar with as our recruiting coordinator. Rob Ianello will move to an off-field position as director of research, spending most of his time on recruiting. Coach Reagan and I discussed several alternatives and have decided to have me handle the wide receiver position at this time."
Mitchell served as the recruiting coordinator at Kansas for two years under Turner Gill and also held the title at Michigan State from 2000-04 and Illinois prior to joining Gill's staff.
Weis, who has handled every offensive position during his career, worked closely with KU's wide receivers at the end of the 2013 season in an attempt to pull better production out of a position that has struggled with drops, getting open and making plays since his arrival.
Asked if having the head coach as a position coach within his offense would make him uncomfortable, Reagan didn't blink.
"No. Not at all," he said. "I don't have any concern about it whatsoever."