Monday, February 10, 2014
Photo Gallery
Kansas basketball v. Kansas State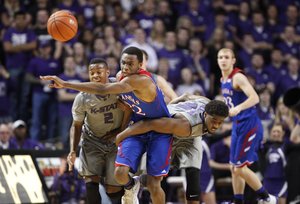 Images from Monday night's game between the Jayhawks and Wildcats in Manhattan.
Podcast episode
Bill Self after 85-82 overtime loss at Kansas State
Podcast episode
Naadir Tharpe and Perry Ellis on KU's overtime loss at K-State
KEEGAN RATINGS
KANSAS STATE 85, KANSAS 82 (OT)
Manhattan — The last time former Kansas State Wildcat Jordan Henriquez felt this much joy inside Bramlage Coliseum was Valentine's Day 2011, when his KSU team knocked off Kansas University for the lone victory of his career against the Jayhawks.
Monday night was not quite as sweet as that one for Henriquez, a 2013 KSU graduate who sat behind the Wildcats' bench and watched his former team scrap and claw its way to an 85-82 overtime victory, but it was close.
"It's a great feeling seeing these young guys go out there and tough it out to get this win," said Henriquez, who blended into the scene around him that included frenzied fans rushing the floor and people, young and old, taking pictures and sending texts on their cell phones. "It's just incredible."
The 6-foot-10, 250-pound Henriquez, who left KSU as the school's all-time blocks leader (210), always was one of the more emotional players to don K-State purple during the past decade. So it stung him as much as anybody to go through his final two seasons in Manhattan without a win over Kansas. Asked if what he witnessed Monday night at all made up for coming up short during his final two seasons, the big guy let out an even bigger smile and nodded his head without hesitation.
"It does," he said. "It's always been about family here at K-State, from the minute I stepped foot on campus even to now when I come back. It's always a great feeling to come back home, and this just made it even better."
Henriquez, who now plays for the Rio Grande Valley Vipers in the NBA's D-League, said he felt the best for the older guys on the K-State roster who won't have to end their careers with the same sinking feeling he did.
"This team has a lot of young guys and they're going to make mistakes," he said. "But they stayed together and found a way to finish it out tonight. I give credit to the seniors who were able to finish their careers off right by getting this one at home. It's huge for them to know they split one-and-one with Kansas."
As for the game itself, which K-State controlled most of the way thanks largely to a ton of timely layups and a bench that outscored a deeper KU squad, 30-26, KSU coach Bruce Weber was more than a little disappointed that his team allowed Monday's game to get to overtime in the first place.
"We just made some really bad decisions down the stretch," Weber said. "But you gotta give Kansas credit. They didn't quit and they just kept coming at us."
Weber's message to his team before the final five minutes was simple.
"Between the overtime and regulation I just said, 'Guys, look at me, you guys have worked too hard to let this thing slip,'" Weber said. "Before the game, we talked about character and letting that be the deciding factor, and we played with a lot of character."