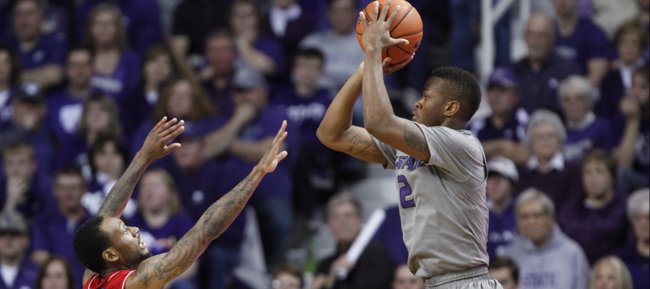 Photo Gallery
Kansas basketball v. Kansas State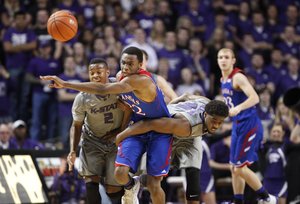 Images from Monday night's game between the Jayhawks and Wildcats in Manhattan.
Podcast episode
Bill Self after 85-82 overtime loss at Kansas State
Podcast episode
Naadir Tharpe and Perry Ellis on KU's overtime loss at K-State
KEEGAN RATINGS
KANSAS STATE 85, KANSAS 82 (OT)
Manhattan — Down nine points Monday night in Bramlage Coliseum, 19 fewer seconds remained than when the Kansas University basketball program faced the same deficit and staged its greatest comeback ever in San Antonio six years ago.
In a remarkable flurry spurred by reserve Brannen Greene, KU forced an overtime again, but lost this time, 85-82.
The lineup Kansas coach Bill Self used for the final four minutes of regulation seemed at the time like such a desperate move. He sent five skilled scorers on the floor, leaving Andrew Wiggins as the only player with a strong defensive reputation in the lineup.
Remarkably, it worked, and in the final 1:53, Kansas won on the scoreboard, 10-1.
Naadir Tharpe, Conner Frankamp, Brannen Greene and Perry Ellis, all better scorers than defenders, joined Wiggins on the court for the final four minutes of regulation.
The bold move paid off because Greene, in a span of six seconds, slammed home a Tharpe miss, stole the ball under the basket and scored, and because Wiggins made such a remarkable play, a left-handed tip of his own miss after he instantly bounced off the floor with a blurry second jump.
Self said there might be, "three guys in basketball who can make that play and he's definitely one of them."
Except for that wild flurry, it was Kansas State's determined, savvy  team that made the most good basketball plays.
K-State freshman guard Marcus Foster made such savvy decisions, executed such smooth moves, and played through pain, re-entering the game to a rowdy ovation on his way to a 20-point night. Senior guard Will Spradling was at his very best.
KU's inability to defend the goal, seldom a problem through years of rosters jammed with tall, rugged defenders, spelled doom against the relentless Wildcats.
Unless and until Kansas freshman center Joel Embiid returns to form and with a sound knee, protecting the basket will be an issue. That's not good for a team that doesn't always do a great job of stopping penetration from the point.
Embiid was limited to 18 of the game's 45 minutes.
"Jo's beat up," Self said. "He's beat up. I'm not going to make excuses for him because if you're out there, you've got to perform. Certainly, he needs some time off. He'll get some time off."
Self, who kept Jamari Traylor welded to the bench as a disciplinary measure, was quick to point out that "both teams were beat up."
K-State's Omari Lawrence winced up and down the court waiting for a whistle while fighting the severe pain of a cramped leg. KU's Tarik Black twisted his ankle.
Kansas State hit KU with its best shot and a well-behaved, wild crowd spurred its tough team on and stepped in to supply the smelling salts after a nine-point lead vanished in the final 113 seconds of regulation.
It was an exhausting battle for both sides and the team that fought the hardest for the longest won it.