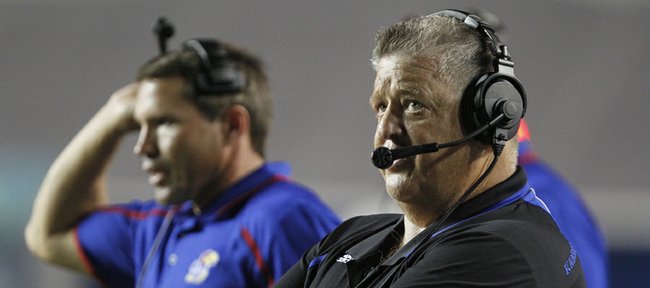 Nobody's leaving and nobody's coming, but the Kansas University football program is shaking up its coaching staff, KU coach Charlie Weis announced via press release this morning.
Former KU wide receivers coach Rob Ianello will move to a new position as director of research. Running backs coach Reggie Mitchell will add the title of recruiting coordinator and Weis will take over the wide receiver position vacated by Ianello.
"I have decided to adjust our staff," Weis said in the release. "Reggie Mitchell will return to a position he is very familiar with as our recruiting coordinator. Rob Ianello will move to an off-field position as director of research, spending most of his time on recruiting. Coach (John) Reagan (KU offensive coordinator) and I discussed several alternatives and have decided to have me handle the wide receiver position at this time."
The changes come as no surprise to most, with the past — both recent and distant — serving as a hint toward what was to come.
Before moving into his exclusive role as the Jayhawks' running backs coach the past two years, Mitchell worked as the recruiting coordinator at KU for two seasons under Turner Gill. He also held the recruiting coordinator title at Michigan State from 2000-04 and again at Illinois from 2005 until his return to Kansas.
As for Weis taking over wide receiver duties, the third-year KU coach worked very closely with KU's receivers toward the end of the 2013 season in an effort to pull some production out of a group that struggled mightily with drops, getting open and making plays in the passing game. Although the statistics did not show dramatic improvement following Weis' more hands-on approach with the position, several KU receivers said Weis' presence made them better receivers and added that he taught them a lot about how to play the position, particularly about running proper routes.
During his lengthy coaching career as both a head coach and an assistant, Weis has experience coaching wide receivers at the NFL level, most recently in 1996 with the New England Patriots.
With Reagan now in charge of running KU's offense, Weis will have more time to focus on his new position group while also handling all of the duties required of the head coach.
Added Reagan: "Coach Weis and I discussed our approach moving forward. I decided, and we have agreed, that the best immediate answer is to have Coach Weis handle the wide receiver position."
Ianello and Mitchell will move into their new roles as soon as possible, while Weis will have to wait until the start of spring practices — March 4 through April 12 — to begin working with KU's wideouts.