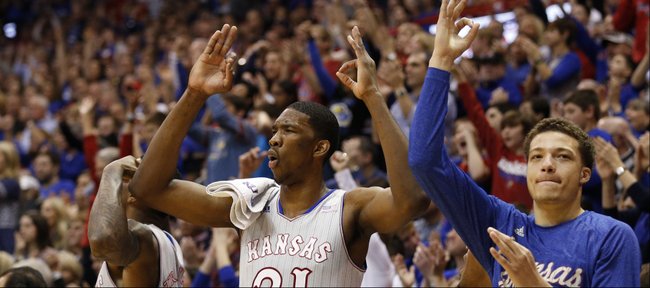 Photo Gallery
Kansas basketball v. West Virginia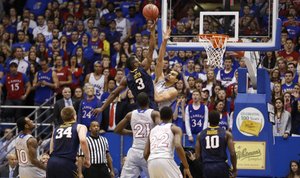 Images from Saturday's game between the Jayhawks and the Mountaineers at Allen Fieldhouse.
Podcast episode
Kansas coach Bill Self praises the team's bench for its performance versus West Virginia and talks about the upcoming Big Monday game at Kansas State.
Podcast episode
Andrew Wiggins, Wayne Selden and Tarik Black discuss KU's bench, the way Black and Jamari Traylor play together and how Selden and Wiggins are trying to become standout defenders.
KANSAS 83, WEST VIRGINIA 69
KEEGAN RATINGS
Tommie Smith isn't surprised his good buddy, Rick Suttle, missed his train from East St. Louis, Ill., to Lawrence for Saturday's 1974 Final Four team reunion in Allen Fieldhouse.
"What else is new? I know him well. I roomed with him. He said he had some premonition he wasn't supposed to be here. I said, 'Rick, please,''' Smith said with a laugh after the Jayhawks' 83-69 victory over West Virginia.
"It was fun. Old folks always have fun," Smith, who is retired and lives in Topeka, added with a laugh.
Members of the team that competed in the Final Four 40 years ago watched the game from behind the KU bench and were introduced during a first-half time out. They dined in the fieldhouse after the game.
"I thought they did a great job," Smith said of the Jayhawks. "West Virginia had some great shooters. They were making a lot of threes (4 of 13 first half; 6 of 23 overall). We were sitting here saying, 'That's not going in, then ooh (the ball went in)," Smith added. "Our guys played hard to the end, did a good job of defending people on the three."
Those from the team in attendance: coach Ted Owens, grad assistant Bob Flickner and players Cris Barnthouse, Bob Emery, Dale Greenlee, Tom Kivisto, Roger Morningstar, Smith and Donnie Von Moore. Polly Miranda, wife of assistant coach Sam Miranda, attended.
"It's been wonderful," said Owens. "It was a good game. West Virginia has some really good guards that make it difficult. They (Jayhawks) did a great job."
Of having the '74 team in town, KU coach Bill Self said: "It's cool. I hope I'm around when they bring the '08 team and '12 team back in 2035 or 2040, whatever it is. It's cool to see coach (Owens) come back. He's still connected with all of his players. It was a special team, a great year for Kansas basketball. It was good for our players to witness that."
He's OK: KU center Joel Embiid tweaked his back in the closing moments. "He came down funny on the other end when he got fouled. That's why I was going to sub for him. He's fine," KU coach Bill Self said.
Noted Embiid: "It's all right. It's OK. I just landed (funny). It's fine."
Embiid had 11 points and 12 boards with three blocks in 17 foul-plagued minutes.
"That's what I told him, you didn't play a lick and get 11 points, 12 rebounds and three blocks. That's good production for a guy that doesn't get a chance to play a lot," Self said. "Today I'm not sure there was a drop-off when Tarik (Black) was in the game."
KSU next: The Jayhawks have a quick turnaround with a game against rival Kansas State at 8 p.m., Monday, in Manhattan.
"Coach said, 'Everybody focus. Don't do anything dumb (in celebrating Saturday's win). We've got to get ready for this next one on Monday,''' said Jamari Traylor.
Crossover move: KU freshman Frank Mason had a spectacular layup past Gary Browne in the first half.
"It was a pretty good move," Mason said. "I had to focus on finishing the layup, finishing the play."
Mason decided to do some pushups by the scorers table before checking in the game in the second half.
"I just felt like doing some. It's the first time I did it," Mason said. Will he do it again? "Maybe. I don't know," he stated with a smile.
Bruise Bros.: One reporter suggested Tarik Black (11 points, four boards) and Jamari Traylor (seven points, three boards) be called the "Bruise Brothers."
"I don't like it. If somebody wants to give me a nickname, I'll roll with it. I'm Mari. He's TB, or Tarik. That's pretty much it," Traylor said, smiling.
Noted Black: "It's a cool nickname and it fits us. We go out there and play hard. We do, however, have more than just two of us. I'm surrounded by players who play physically. We have a lot more people to add to that nickname."
The legend: Bob Huggins is 0-7 all-time against KU; Bill Self 3-0 against West Virginia. "He's a legend to me," Self said of Huggins. "He's done a good job with that team. That is definitely an NCAA caliber team."
This, that: KU has won 111 consecutive games against unranked opponents in Allen Fieldhouse dating to the 2006-07 season. ... Self improved to 525-169 overall as a head coach. ... KU had 46 points in the paint, highest total of the conference season and the most since scoring 50 against Toledo (12/30). ... KU improved to 16-0 when leading at halftime. ...   KU forced nine West Virginia turnovers in the first half, short of the Mountaineers' season average for an entire game (9.7). WVU had 14 turnovers, which tied for its third-most of the year. ... West Virginia had 48 shot attempts, a Mountaineer season-low and the fewest by a Jayhawk opponent. ... Black logged 21 minutes after playing 23 in Tuesday's game against Baylor, a total of 44 minutes after playing 48 in his previous five appearances  ... Embiid swatted three shots to move to 60, two behind Eric Chenowith (62, 1998) for the KU freshman blocks record. Embiid now has a blocked shot in 17-straight games.