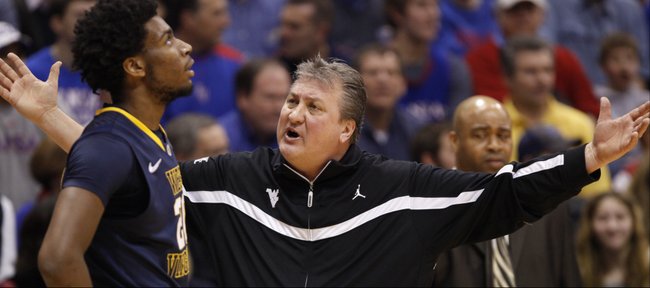 Photo Gallery
Kansas basketball v. West Virginia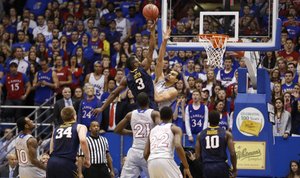 Images from Saturday's game between the Jayhawks and the Mountaineers at Allen Fieldhouse.
Podcast episode
Kansas coach Bill Self praises the team's bench for its performance versus West Virginia and talks about the upcoming Big Monday game at Kansas State.
Podcast episode
Andrew Wiggins, Wayne Selden and Tarik Black discuss KU's bench, the way Black and Jamari Traylor play together and how Selden and Wiggins are trying to become standout defenders.
KANSAS 83, WEST VIRGINIA 69
KEEGAN RATINGS
Despite the 14-point final deficit and Bob Huggins' obvious disappointment that followed, Saturday seemed like a pretty good day for West Virginia basketball.
Sure, the Mountaineers lost to first-place Kansas University, 83-69, but they played the Jayhawks tough throughout both halves and did so under the energetic and watchful eyes of some of the loudest visiting fans ever to invade Allen Fieldhouse.
With the bulk of the blue-and-gold-clad Mountaineers supporters stacked three or four rows deep in the rafters of the southwest corner of the arena, the loud-and-proud WVU fans that made the 900-mile trip to Lawrence let their presence be known throughout the game. The Mountaineers players heard them.
"It helped us," said WVU junior Remi Dibo, who finished with seven points and three rebounds in 17 frustration-filled minutes. "I think it just shows how supportive the people of West Virginia are of their players. One thing's for sure, I got support from it. And it was great to feel that in a hostile environment."
While the Mountaineers (14-10 overall, 6-5 Big 12) never were able to force the Jayhawks (18-5, 9-1) to play their style, they also never really went away until the final couple of minutes. And every time they made a run to cut into Kansas' lead or take one of their own, their fan base that also included several screamers who sat directly behind the WVU bench roared with approval. Heck, these people were so ready to make an impact on Saturday's game, they even risked the icy glares they got from the home fans and let loose with cheers and jeers while the Jayhawks were shooting free throws.
"We're having so much fun here," said a Mountaineers fan in a blue WVU jacket who had been tagged in the back with a bright and bold Jayhawk sticker.
As for the nuts and bolts of Saturday's game, Huggins said his team's loss boiled down to two things — turnovers and a tough time finding offense.
"It was hard to score," Huggins said. "We just had some guys that didn't play very well today. But that happens sometimes. We had the game where we wanted it, but we turned it over too many times. Fourteen's too many for us."
Saturday's loss was a measuring stick of sorts for Huggins' squad, which was run out of Allen Fieldhouse in last year's meeting, 91-65.
"Overall, we are a better team than we were," said WVU guard Eron Harris, noting that the Jayhawks are the cream of the crop in the Big 12. "(This game was) 10 times better than it was last year. I am proud of my teammates and I can't wait to play them again at home."
Junior guard Juwan Staten (22 points on 7-of-12 shooting) led the Mountaineers in scoring and Harris added 17, most thanks to three consecutive three-pointers midway through the first half. Harris scored just four points in the second half, when KU gave that defensive assignment to freshman forward Andrew Wiggins.
"They're a good defensive team," Staten said. "They're a well-coached team. I mean, it's Kansas. They don't really beat themselves. They played like they were supposed to play today."