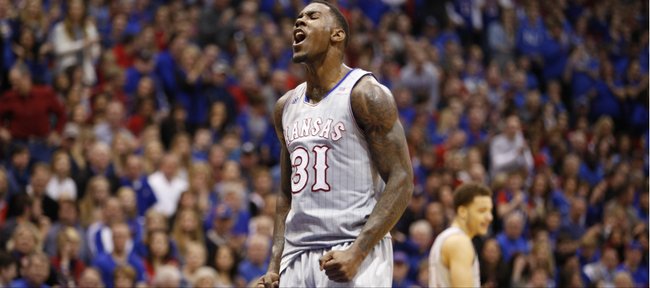 Photo Gallery
Kansas basketball v. West Virginia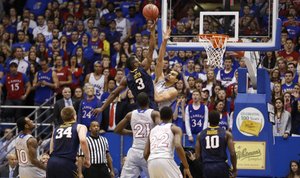 Images from Saturday's game between the Jayhawks and the Mountaineers at Allen Fieldhouse.
Podcast episode
Kansas coach Bill Self praises the team's bench for its performance versus West Virginia and talks about the upcoming Big Monday game at Kansas State.
Podcast episode
Andrew Wiggins, Wayne Selden and Tarik Black discuss KU's bench, the way Black and Jamari Traylor play together and how Selden and Wiggins are trying to become standout defenders.
KANSAS 83, WEST VIRGINIA 69
KEEGAN RATINGS
West Virginia brought so many winning qualities into Allen Fieldhouse on Saturday afternoon, midway through the Big 12 season.
The Mountaineers had a winning road record, a veteran coach (Bob Huggins) who knows how to motivate his men to play their hearts out and, most significantly, relentless guard Juwan Staten. He put Naadir Tharpe on his hip and took him wherever he wanted to take him.
Joel Embiid, the one gigantic advantage Kansas had on West Virginia's short frontcourt, picked up two quick fouls.
The Mountaineers had so much going for them, but it never felt as if they had a realistic shot because Kansas has so many players to turn to when things aren't working out for a few of the starters.
When Embiid headed to the bench, Tarik Black brought his broad shoulders onto the court.
There went KU's automatic No. 1 option for easy buckets. Black couldn't replace that, but he brought so much else, was such a force at both ends, that Embiid wasn't missed.
Staten so exhausted Tharpe and still had so much left on the defensive end that KU's junior point guard had a tough time getting anything going offensively.
Enter a fresh Frank Mason (five points, five assists, no turnovers), a little quicker and a lot stronger than Tharpe. Mason made Staten work harder and ran things well offensively.
Tharpe, playing sometimes with Mason, had so much left in his tank at the end of the game that he played beautifully down the stretch, feeding a fresh Embiid and putting the finishing touches on an 83-69 victory that included an 11-3 sprint to the finish line.
Andrew Wiggins (38 minutes) was the only KU player to log more than 28 minutes.
West Virginia co-stars Staten and Eron Harris combined to outscore their teammates, 39-30, and played 78 minutes.
"It's a real asset," Wayne Selden said of KU's bench after a hot shooting day that resulted in 17 points. "It really showed tonight, how Jamari (Traylor), Frank, even Brannen (Greene), everybody was able to come off the bench and give us a spark of energy and get us rolling."
KU coach Bill Self shows deep faith in his reserves and that resulted in them playing with ever-growing confidence.
"No matter who's on the court, we should be able to do the same things," Selden said.
Embiid's foul trouble and Ellis' flat performance led Self to pair Black and Traylor, who so often seem to bring out the best in each other.
They combined to play 39 minutes and produce 18 points and seven rebounds. They shot a combined 6 for 6 from the field and 6 for 9 from the line.
"We're just used to practicing with each other every day," Black said of the chemistry that he and Traylor exhibit. "We're used to hanging out with each other. It's just a friendship and a bond that everybody has on the team. Ours is just a little higher because we're used to practicing with one another every day."
Black pointed out how KU's depth makes the team more difficult to scout, even for a team such as Kansas State, which faces its in-state rival for the second time Monday night in Manhattan.
"Every night everybody doesn't play all the way to their abilities," Black said. "So some people take over some nights and some people take over other nights. In scouting us, there are some weapons that they haven't seen yet at their full potential when we played them that might shine next time we play them and we're expecting to shine when we play them."
Improving at a rate as fast as a starter represents a tough challenge for players coming off the bench, but it's clear KU's strong bench steadily is getting stronger.