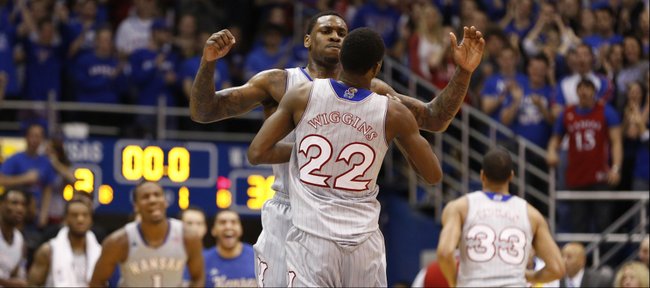 Photo Gallery
Kansas basketball v. West Virginia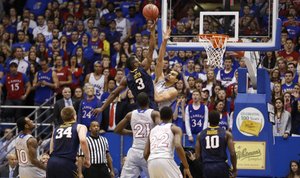 Images from Saturday's game between the Jayhawks and the Mountaineers at Allen Fieldhouse.
Podcast episode
Kansas coach Bill Self praises the team's bench for its performance versus West Virginia and talks about the upcoming Big Monday game at Kansas State.
Podcast episode
Andrew Wiggins, Wayne Selden and Tarik Black discuss KU's bench, the way Black and Jamari Traylor play together and how Selden and Wiggins are trying to become standout defenders.
KANSAS 83, WEST VIRGINIA 69
KEEGAN RATINGS
Huntington (W. Va.) Prep basketball coach Rob Fulford offered some words of wisdom to Andrew Wiggins — his most famous pupil of all time — during an otherwise relaxing dinner on Friday night in Lawrence.
"We joked with him about his drives to the basket and finger-rolls. I said, 'If I see one finger-roll tomorrow, coach (Bill) Self won't have to say anything to you because I'll be cussing at you from the stands,''' Fulford said with a smile after watching Wiggins score a team-leading 19 points in the Jayhawks' 83-69 victory over West Virginia on Saturday in Allen Fieldhouse.
"I thought he played real aggressive today," Wiggins' high school mentor added, after attending his first game in KU's tradition-rich building.
Fulford was able to witness a pair of vicious dunks from the 6-foot-8, 200-pound Wiggins, who at times has been a bit tentative in finishing around the goal.
Wiggins slammed an in-bounds pass from Frank Mason 4 1/2 minutes into the game. He completed the first half scoring by flushing a Brannen Greene miss to beat the buzzer and give the Jayhawks a 43-36 lead at the break.
"He's playing really well. He's playing within the team," Fulford said of Wiggins, who hit six of 14 shots (0-3 from three) and seven of 10 free throws with four rebounds, three assists, three turnovers and two steals in 38 minutes.
"They (Jayhawks) are really good. They have so many weapons on offense, he doesn't necessarily have to score a lot. He's taken the role of being the lockdown defender and transition guy. He getting better in the halfcourt," Fulford added.
Wiggins' work on defense was a hot topic in the interview room after the Jayhawks improved to 18-5 overall and 9-1 in the Big 12. West Virginia dropped to 14-10, 6-5.
West Virginia guard Eron Harris cashed three consecutive three-pointers — the first over Wayne Selden and the next two over Wiggins — to give the Mountaineers a 20-17 lead with 11:34 left in the first half.
Harris didn't make another shot the rest of the game. The 6-3 sophomore hit three of 10 shots overall, three of nine from three with eight free throws in as many tries.
"It was one of those things, not that he took it for granted, but he wasn't as close as he needed to (be)," Fulford said. "Harris hit his first two jump shots. After that he couldn't get one off. The kid didn't make a shot the rest of the game.
"He's an elite defender," Fulford added of Wiggins. "I think that's the biggest part of his game people don't realize and give him enough credit for."
Fulford recalled that Wiggins routinely asked to guard the opponents' best player. "All the time. Every game," Fulford said. "He wanted it."
For his part, Wiggins said he made a simple adjustment after Harris hit those three early threes.
"I had to guard him closer and be more aggressive. I tried to turn him into a driver instead of a shooter," Wiggins said.
KU coach Self and Mountaineers coach Bob Huggins were impressed. 
"Andrew did a good job guarding him," Self said.
"Wiggins did a great job," Huggins agreed.
As far as Wiggins' offense ... "I try to be aggressive and get into the lane. I do what I can to draw contact and get to the foul line," he said, the aggressiveness something both Self and Fulford always want to see.
Wiggins was joined in double figures by Wayne Selden, who scored 17 points off 5-of-7 shooting (3-of-5 from three); Joel Embiid, who had 11 points and 12 boards, and Tarik Black, who had 11 points and four boards.
Embiid scored six points, Naadir Tharpe three, Selden two and Wiggins one in a 12-1 run that upped a 69-65 lead to 81-66, and finally put away the pesky Mountaineers late.
"Wayne had a super game," Self said. "Naadir (Tharpe five points, four assists) was good the second half. Wiggs had a good game. Perry (Ellis, eight points, five boards) was better the second half. Joel was better late. The whole thing is, West Virginia is good. If you told me before the game we'd win by 14, I'd say we'd have to play very well," Self added.
Self said reserves Frank Mason (five points, five assists), Jamari Traylor (seven points, three boards) and Black were the three players he'd rank as MVPs of the game.
"They were the main reason we had the lead (at halftime)," Self said. "I thought our bench played really well."
KU will next meet Kansas State at 8 p.m., Monday, in Bramlage Coliseum in Manhattan. After that, it's TCU on Saturday in Allen with just four home games total remaining in Wiggins' KU career.
"My first game here ... it was great," coach Fulford said. "I didn't want him to be at Kansas and me not get an opportunity to see him play in Allen. It was an honor for me to come out here."