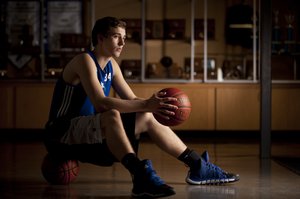 Zach Linquist has made a habit out of striking out hitters and fighting for rebounds as a baseball and basketball player at Perry-Lecompton High, but on Oct. 2 he met an unfamiliar and more challenging opponent.
Linquist was diagnosed with a rare and still unknown form of leukemia.
The news of Linquist's diagnosis hit his teammates, friends and family hard, so hard that some of them did not believe it when they found out.
"I didn't really take it serious at first," Drew Scrimsher, a basketball and baseball teammate of Linquist's, said. "He wouldn't joke about that so much, but it was hard to believe. I talked to his dad and his girlfriend and found out it was true. I was the relay between the school and Zach and what was going on."
Linquist spent four days in the hospital following his diagnosis and has received treatment over the past few months.
Following his release from the hospital, Linquist had to take eight pills a day, but that has since been cut to one. He will also have a bone-marrow biopsy every three months.
The 6-foot, 3-inch senior missed three games earlier this basketball season but has no intention of spending extensive time on the bench from here on out.
"Sometimes it just hits me like, 'Wow, I'm a lot weaker than I used to be,'" Linquist said. "I still battle through it. It is just something you got to think about and get through. You can't stop."
Linquist had a port in his chest until two weeks ago. Perry-Lecompton basketball coach Jeff Hawkins said it has been tough to monitor Linquist's practice and playing time because he won't let pain keep him off the court.
"There have been times where we've seen him get hit in his port, and he will just make this face like, 'Oh, man, that hurt,'" Hawkins said. "I will say, 'Linq, you alright?' He'll say, 'Yeah, I'm all right.'
"'No, no sit down.'
"'No coach, I'm all right. I want to get in there and play.'
"'Sit down.'"
Hawkins played guard at Kansas University from 2002-2006. He took Linquist to the Jayhawks' Jan. 13 victory against Iowa State and gave him a tour of the locker room. The experience allowed Hawkins to reflect on his playing days and relate them with coaching Linquist.
"I've been sometimes quoted by coach (Bill) Self saying, ''Hawk, was just tough. He was so tough,'" Hawkins said. "I look back and I'm thinking, 'Coach Self is sitting here calling me tough, but I don't know if I'm as tough as what I think he's saying I am.' That kid right there, Linquist, that's the definition of tough."
Linquist has inspired his teammates, and many of them are raising funds to offset his medical costs. Scrimsher and a few other basketball players were in Linquist's entrepreneurship class, which had a variety of fundraisers for him.
"We did 'Wiener Wednesdays,' and we also sold at homecoming. We made around $700 for Zach just off selling hotdogs, cookies, Powerade … stuff like that," Scrimsher said. "We'll give him a check. We haven't given it to him yet, but we'll give him that check and try to offset some of his costs."
While the entrepreneurship class concluded sales at semester, there are other opportunities for students and the public to donate. The next planned event for Linquist will be tonight's "Orange Out Night" at Perry-Lecompton's boys' basketball game against Sabetha.
"All the proceeds are going to go to him," Hawkins said. "There is going to be a taco feed, and there are going to be a lot of activities for kids to do. The whole school put an order in for orange shirts, so everybody is going to be wearing orange shirts."
Hawkins admitted that he did not have much orange in his wardrobe until recently. He received an orange dress shirt and tie from his mother-in-law for Christmas, which he plans to don tonight.
"I was like, 'Man, I don't know what I'm going to wear it for.' So it has been sitting in the package," Hawkins said. "I don't even know if I would have broke it out this year, but when I heard about the event, I was like, 'It must be fate because that is probably what it was for.'"
The Kaws enter the game with a record of 6-8 overall but are 5-2 in league play. Despite battling leukemia, Linquist is pleased with how the Kaws' season is going.
"We've come together as a team," Linquist said. "This is my first year in my high school years that we've actually started to find success and taste success. We're hoping to finish the season right."
Linquist's presence on the basketball court has been felt this season even more than years past, but Hawkins realizes the dual-sport athlete's true calling is baseball.
"The cool thing about Linquist is that we know at the end of the day that basketball, he loves it, but his main love is baseball," Hawkins said.
"He's a stud. He's a stud pitcher in baseball. I got a chance to see him play last year, and the kid ... he is just so lanky."
Linquist plans to pitch for Washburn University and play for his grandfather and Ichabods head coach Steve Anson.
"They've offered me a scholarship that I will soon accept," Linquist said. "That's what I'm going to go through."
While Linquist sets his eyes on his future and wraps up his senior seasons at Perry-Lecompton, he does so while being gracious for the support he has received from his friends, family, coaches and teammates since his diagnosis.
"It has been really easy with them having my back in everything and the diagnosis that I've been going through," Linquist said. "It's definitely a lot easier."
Those who would like to donate to the Zach Linquist Medical Fund can do so at the First State Bank of Perry, which is located at 402 Plaza Dr. Perry, KS 66073.