Thursday, February 6, 2014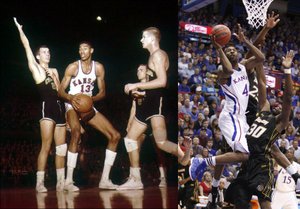 Kansas University senior basketball forward Justin Wesley will not be scouring any of the trade magazines for possible reviews of his portrayal of legend Wilt Chamberlain in the movie "Jayhawkers."
"I did it for fun without any prior acting experience, no acting school or anything like that. Not too many people can go and do that," said Wesley, who is looking forward to walking the red carpet before the film's premiere at 7 p.m., a week from today at Lied Center.
"If I get negative reviews or whatever the case may be, hey, you show me you can do a better job," Wesley added, smiling.
Wesley — "second lead" next to Kip Niven's Phog Allen character — earned high marks from director Kevin Willmott in a film that depicts the "story of a group of unlikely allies who modernized college sports and changed a small Midwestern town, serving as a parallel to the Civil Rights movement that would transform the entire American society."
"I don't think there's anyone in the country who would have been as good as Justin is in the film," Willmott said in a story on the movie that will appear in Sunday's Journal-World and ljworld.com.
Wesley, a 6-foot-9 forward from Fort Worth, Texas, was recommended for the part by KU coach Bill Self, who was asked by Willmott during the 2011-12 season if he knew of anybody who might be a slam-dunk hit as Chamberlain.
"When coach approached me, it was one of those things I didn't really know what I was getting myself into. At the same time, I didn't think I could say no," Wesley said. "At that time, clearly I didn't understand the magnitude of it or how big it was going to be. I'm glad about the decision I made."
He didn't read up much on Chamberlain for his scenes that were filmed in the summer and fall of 2012, merely watched a couple of Chamberlain's interviews on youtube.com and closely followed the direction of Willmott.
"Only one day I had a really hard time memorizing the lines. I think I had 10 takes in a row," Wesley said. "Other than that, it wasn't too bad. I don't want to toot my own horn or anything, (but) it didn't take me many tries to get it right."
Wesley sounds like a Hollywood actor on a late-night talk show when discussing his character, however.
"When Wilt came to KU, he was more than a player, he was more like a celebrity, like a movie star. You could compare him to that kind of figure at that time," Wesley said. "People gravitated toward him. It was a big adjustment for him (after graduating high school in Philadelphia). He was seen as a celebrity but still had to abide by segregation rules."
Wesley said the KU team will attend the premiere, as will his mom and stepdad. Other screenings are set for 9 p.m., Feb. 14; 11 a.m., 7 p.m. and 9 p.m., Feb. 15; and 1, 4 and 7 p.m., Feb. 16 at Lied Center. Tickets are available at Lied Center box office.
"I'm excited to see it," Self said. "I'm excited to see Justin's acting debut. I know he enjoyed it. He is a cool kid. He can go overseas and make some money (as pro player next year). He's such a great athlete. He's gotten better. He's just caught in a numbers game (at his position at KU). He'll be a success in whatever he chooses."
Wesley, who has played sparingly this season, said he might go on to play pro ball. First up, however, will be his second movie role. Yes, he's going to apply for his Screen Actors Guild card and act again.
"Kevin came to me about another film (that) he asked me to be leading role in after the season," Wesley said, not revealing specifics. "I accepted that. I definitely was flattered when he asked me. I guess I did a good job in the first one. It is encouraging and makes me think maybe I can do this."
For Wesley the actor ... it figures to be a long wait until next Friday.
"Anxious and nervous would be the right words," he said. "I haven't seen any of the movie yet, so I'm pretty excited."
This, that: Former KU guard Ben McLemore of the Sacramento Kings will participate in the 2014 Sprite Slam Dunk contest, to be held Feb. 15 at the NBA All-Star Weekend in New Orleans, the NBA has announced. ... No. 8-ranked KU (17-5, 8-1) will meet unranked West Virginia (14-9, 6-4) at 3 p.m. Saturday in Allen. Saturday's game will celebrate the 40th anniversary of KU's 1974 Final Four team. Head coach Ted Owens and players will be on hand and recognized during the game.