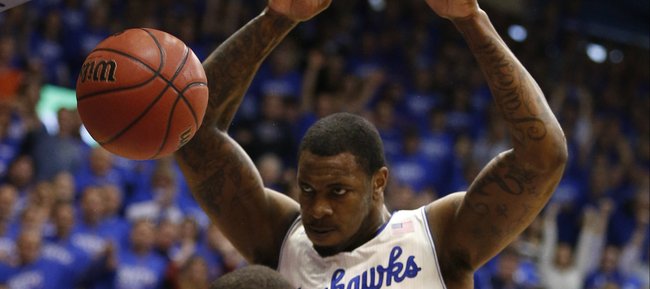 An imposing 6-foot-9, 260-pounder who likes to rebound, but also possesses a soft shooting touch around the rim, Tarik Black figures to make some money next season playing basketball in Europe, if not the NBA.
"If I was him, I'd try out for an NFL team, though," KU coach Bill Self said Wednesday on his weekly "Hawk Talk" radio show.
"Aaron Rodgers told me when he was here, 'I promise you he has a tryout with us,'" Self added of the Green Bay Packers quarterback who attended KU hoops practice on Jan. 17 and the KU-Oklahoma State game a day later.
"He said, 'I want to try that guy at tight end,'" Self added of Black, KU's senior pivot from Memphis. "I said, 'Tight end? He can't go across the middle and get hit.' But then I started thinking about it ... they (NFL teams) love to have basketball players. He (Rodgers) said, 'I want to throw balls at him and see what he can do.' Certainly (Black) is a phenomenal athlete for his size."
There have been some success stories regarding basketball players competing in the NFL. Denver Broncos tight end Julius Thomas played basketball and football at Portland State. Atlanta tight end Tony Gonzalez played both at Cal-Berkeley. Chargers tight end deluxe Antonio Gates played basketball at Kent State.
Black, who averages 3.7 points and 2.7 boards while logging 10.3 minutes per game, scored six points and grabbed nine rebounds while playing 23 minutes in Tuesday's 69-52 victory at Baylor. He was pivotal on a night Joel Embiid suffered from foul problems.
"He gave us a beastly presence when we needed one, especially with (Rico) Gathers in the game," Self said of Black. "He's getting more comfortable even though he hasn't played the last couple weeks because of his (sprained) ankle. You can just tell his confidence is starting to rise."
Black said he's close to 100 percent healed from the ankle injury he suffered against Baylor on Jan. 20 in Allen Fieldhouse.
"It's doing a lot better, obviously," Black said. "I'm getting back on it, playing hard, not trying to be soft on it. I'm going to go hard. If it hurts, it hurts."
Of his nine boards Tuesday, he said: "As a big man, that's your job. We have a lot of offensive weapons. Defense is obviously most important. When the shot goes up, it's important for us big men to get the rebound. We put a lot of emphasis on that."
Injuries: KU red-shirt freshman center Landen Lucas reported on Twitter that he had an MRI on Wednesday. Self said Lucas' back has been sore, but he shouldn't miss any practice time. Self said Lucas was available to play against Baylor. ... KU senior forward Justin Wesley figures to miss about a week because of a sprained knee, Self indicated.
KU returns safely: The Jayhawks spent Tuesday night in Waco because of heavy snow in Lawrence. The squad was back in Lawrence via charter flight early Wednesday afternoon.
"Today was an off day anyway. We didn't have school. Nothing was lost. We took our time and enjoyed each other a bit," Self said of an unplanned overnight stay in Waco.
No news: Self said he's amazed at the attention ESPN's report that Joel Embiid is considering returning to KU for his sophomore season has received. Embiid told reporters after the game he'd turn pro after this season if he felt he was mentally and physically ready for the NBA. Earlier he'd told ESPN he was strongly considering returning for a second campaign.
"It's absolutely not newsworthy at all. Of course he's considering staying. It's what everybody is doing right now. Guys are worried about their (college) teams," Self said of top prospects. "The situation with Joel is that (money) is not the concern, so Jo should go whenever Jo is the most prepared to go. If he wants to be a player, he needs to be a player where he is prepared to play in the league. I think he is without question the best big guy I've ever been around. He amazes me on a daily basis. (But) we saw heavy bodies lay on him in certain games and (he) was not effective, so there's a lot of things he has to do to improve, too.
"That (ESPN) story was absolutely nothing. If you are not definite, of course you are considering staying. He could also say he's considering leaving, because if he is considering leaving, it's not definite either."
Next year looking good: KU thus far has signed big man Cliff Alexander and wing Kelly Oubre in recruiting. "They are as good of prospects as we have in America. They will come in and impact it (program)," Self said. "We always think about next year from a recruiting standpoint, but I believe this ... if things fall right, I think we'll be better next year than we are this year. That's exciting to me because we have so many young kids."
Halfcourt heroics: Andrew Wiggins hit a halfcourt shot to beat the buzzer on Tuesday, leading one to wonder if KU practices the play. "The ones on our team that are best at it ... (Conner) Frankamp is really good at it. Evan Manning, Niko (Roberts) and Tyler (Self) are actually pretty good at it. I don't know if you'd consider it practicing it. They are just jacking around, (but) they're pretty good at knocking in the long one," Self said.