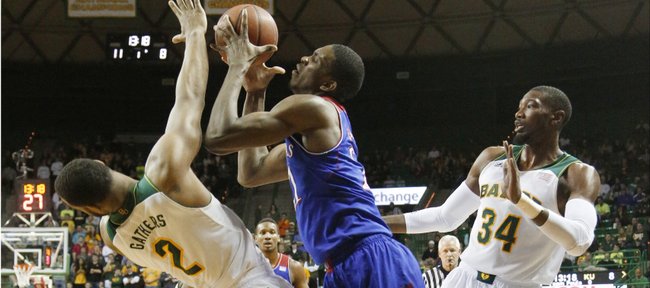 Photo Gallery
Kansas basketball v. Baylor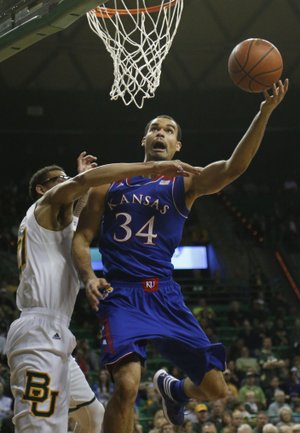 Images from Tuesday night's game between the Jayhawks and Bears in Waco, Texas.
Podcast episode
Bill Self talks Tharpe, Wiggins, defense after 69-52 victory at Baylor.
KEEGAN RATINGS
KANSAS 69, BAYLOR 52
Waco, Texas — Kansas University freshman Joel Embiid caused quite a stir on Tuesday when he told ESPN's Jeff Goodman he was strongly considering returning to school for his sophomore season.
So what's up with that, Joel?
"As the season goes ... my development physically, mentally if I feel like I'm ready I'm going to leave (for NBA)," Embiid told reporters after scoring five points off 1-of-6 shooting in KU's 69-52 win over Baylor in Ferrell Center.
"Right now I'm not thinking about that. I'm thinking about winning the Big 12 and the national championship. I'll start thinking about it when we win here."
As far as returning being an intriguing possibility, Embiid said: "I mean, like I said, I am not thinking about that yet. I could come back, but I am not thinking about that right now."
KU coach Bill Self said the whole topic is ridiculous.
"The whole thing about the report ... what else could Joel say?" Self said. "If anybody thinks that (ESPN report) is breaking news, they don't understand it because there is a chance he could come back. There is a chance Jabari (Parker) could come back. There is a chance (Aaron) Gordon could come back. There is a chance Wiggs (Andrew Wiggins) could come back. There is always a chance that somebody could come back. I will say this: Joel will not make his decision based on money. He'll make it on, is he prepared?"
Asked about his sprained knee, Embiid said: "It feels good. The brace (he wears) helps it. I have to wear it. I wear it for protection."
KU's players did not fly back to Kansas via charter after the game.
"We're stuck here. We're staying tonight," Self said, not wanting to fight the snow.
"I'm glad we're staying," said center Tarik Black. "No need to take off with all that snow."
Injuries: Senior Justin Wesley did not suit up because of a knee injury. Self said he's day to day. He was hurt at practice Monday. Self said Conner Frankamp (knee) could have played in the game.
Vaughn to decide: Rashad Vaughn, a 6-foot-5 senior shooting guard from Findlay Prep in Henderson, Nev., will announce his college choice on Saturday, zagsblog.com reported on Tuesday afternoon.
Vaughn, who has a final list of UNLV, Iowa State, Kansas, Kentucky and North Carolina earlier Tuesday Tweeted, "Will be Announcing my decision this weekend!"
Vaughn, who is originally from Minnesota, has visited Iowa State and UNLV. Rivals.com's No. 7-rated player nationally has canceled a visit to North Carolina that was set for Feb. 15.
"I have already been there on a visit and my family and the UNC staff have a close relationship," he told Zagsblog.com.
KU is considered a long shot at best to land Vaughn.
"Good bet it will be either Iowa State or UNLV," said Jon Rothstein of College Basketball Insider CBS Sports Network.
BU's travel woes: Baylor's basketball team was happy to be home Tuesday after encountering some travel problems en route to last Saturday's game at Oklahoma State. On Friday, the Bears' charter plane was re-routed from Stillwater to Oklahoma City where the team had to wait an hour and a half for a bus to drive to Stillwater, Okla.
On Saturday morning, the team bus malfunctioned and plodded 5 mph to Gallagher-Iba Arena, the Waco Tribune reported. 
Baylor went on to win the game, 76-70.
"Everything that could go wrong. ..." coach Scott Drew said. "Everything that looked like we'd be in trouble kept happening. I've never been on a bus when the light turns green you are hoping to make it through the intersection before it turns red.
"That was a different experience. The team bonded together. When you have adversity like that, you can use it as an excuse or rise up. I thought our guys stuck together and took the challenge, didn't use any excuses, took it as an opportunity to show their heart. As a coach, you are proud and happy when guys lay it on the line and are rewarded with a win."
Slow starting Bears: Baylor entered Tuesday's game with a 2-6 league mark.
"The difference between the Big 12 this year is in years past you'd have two to three teams having down years or struggling where you could get healthy and get four to six wins and not play good ball," Drew said. "This year, if you don't play good basketball, you will not win any conference games. The margin of error is not there for a lot of teams. (It's) the parity of the Big 12. We got off to a great start in non-conference. In conference we've struggled. We hope to finish on high note and each day get better."
BU sophomore Isaiah Austin spoke to the Journal-World at Big 12 Media Day about KU.
"Their fans are amazing. Any time you can pack out a home game all the time is crazy," said the 7-footer from Arlington, Texas. "We have nothing but respect for the Jayhawks.
"They haven't lost a Big 12 title in years. It's always our goal to go in there and try to beat them. It's all competitive. At the end of the day we're cool off the court. On the court we like to battle."
Asked about the publicity surrounding frosh Andrew Wiggins, Austin, who was ranked No. 4 nationally in the Class of 2012 by Rivals.com, said: "He's deserving of it. He had a great high school career. I've seen his highlights. He's a great player. I don't look at publicity like that. I just play basketball. I'm not into all that media, getting hype and all that."
Big 12 tickets: Tickets for the 2014 Big 12 basketball championship go on sale to the general public at 10 a.m., Friday, online only, at SprintCenter.com. A special pre-sale is scheduled for Sprint Center's "Connection Newsletter" subscribers at 10 a.m., Thursday. Each ticket includes all sessions for the four-day tourney, slated for March 12-15, in KC's Sprint Center.