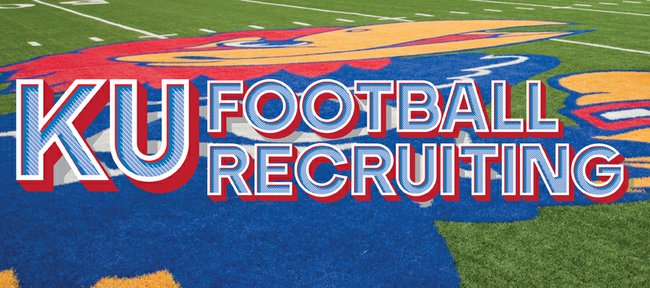 Whether it's self-appointed or handed down from an outside source, just about every recruiting class has something for which it is known.
For the Kansas University football class of 2014, which is expected to sign 20 letters of intent today on national signing day, it's substance over style.
A year after the "Dream Team 2013" hashtag dominated recruiting talk about the Jayhawks, several members of KU's latest class have followed suit and created a hashtag for the 2014 version. However, instead of being rooted in glitz, glamour and potential, this one comes from the heart.
#PlayforDre is the slogan that this group has adopted to honor the late Andre Maloney, a defensive back from Shawnee Mission West High who committed to KU last June but passed away after suffering a stroke and collapsing on the field following a long touchdown during a game in early October.
"That'll be a big motivation point for us," said East St. Louis, Ill., linebacker Kyron Watson, a three-star prospect who said he became close with Maloney during visits. "We'll use the PlayforDre hashtag and No. 29. That's gonna be the thing for our class for sure."
One member of the class will take paying homage to Maloney to another level.
Free State High standout Joe Dineen, a three-star defensive back who was named the Kansas Gatorade Player of the Year, already has reached out to Kansas coach Charlie Weis about his idea to honor Maloney.
"When I went into a meeting with coach Weis, he originally had me as No. 17, but I had in the back of my mind that I wanted to represent Andre in some way," said Dineen, who seeks to wear No. 29 in memory of Maloney. "He would've been a huge addition to the recruiting class on defense. And I wanted to memorialize him in some way."
The mere mention of Maloney's name sends Dineen on a tribute tangent that seems both heartfelt and full of heartache.
"Whenever I think things are getting tough, I just think what he would do to be in my shoes one more day," Dineen said. "And that's enough motivation to get you through anything."
Dineen, who once called Maloney "the kind of player who would come in and start as a true freshman," said he and the others members of the 2014 class he has become close with often mix Maloney into their conversations.
"We'll always have the memories of how great of a football player he was," Dineen said. "From what I hear from the Shawnee Mission West guys, he was kind of a quieter guy, and he kept to himself a little bit. But we'll always remember what he did on the field. He was a stud."
Here's a quick look at players expected to make their commitments official by signing letters of intent today:
• Corey Avery – 5-10, 170-pound athlete from Dallas' Carter High. Avery was the last in the class to commit, picking KU over Nebraska and Texas. The dynamic player with speed and play-making skills figures to play in the slot for the Jayhawks.
• Matthew Boateng — 6-foot, 180-pound defensive back from IMG Academy in Bradenton, Fla. Two-star prospect committed to KU in December and picked the Jayhawks over Ball State, Indiana, Marshall, Nevada and Wake Forest.
• Jacob Bragg — 6-4, 308-pound center from Nacogdoches (Texas) High who is ranked as the 11th best center in the country. Three-star offensive lineman committed to KU last June and played in the UnderArmor All-American game this winter.
• Darious Crawley – 5-11, 191-pound wide receiver from Cypress Ridge High in Houston. Three-star wide receiver, who also played quarterback his senior season, credited his connection with the KU coaching staff along with KU's presence in the Big 12 as the deciding factors. Chose KU over Michigan State.
• Joe Dineen — 6-2, 197-pound defensive back from Free State High in Lawrence. Three-star athlete was the Gatorade Kansas player of the year in 2013.
• Josh Ehambe — 6-3, 230-pound linebacker from Prime Prep Academy in Arlington, Texas. Two-star prospect committed to KU last week and picked the Jayhawks over offers from Colorado State, Louisiana Tech, New Mexico, SMU, Washington State and others.
• Kapil Fletcher — 6-4, 255-pound defensive end from Hartnell Community College in California. Two-star player committed to KU last week and picked Kansas over offers from Colorado, Hawaii, Mississippi State, New Mexico and others.
• Bobby Hartzog – 5-11, 182-pound wide receiver from Westside High in Houston. Two-star athlete committed to KU in September, picking Kansas over Houston, Iowa State, Utah and others. Has been clocked in the 4.46-second 40-yard dash range.
• Lay'Trion Jones – 6-3, 285-pound defensive tackle from Garland (Texas) High. Three-star prospect committed to KU earlier this week and chose Kansas over New Mexico, UTEP and others. Comes from a big-time high school program.
• DeAndre Mann – 5-10, 205-pound running back from Hartnell C.C. Earned first-team juco All-American honors after rushing for 1,706 yards and 30 touchdowns for Hartnell during 2013, said the opportunity to be tutored by coaches with NFL ties and test himself in a power conference played big roles in his decision. Chose KU over Georgia State, Miami (Fla.) and Purdue.
• Damani Mosby – 6-3, 235-pound defensive end from Mesa Community College. Three-star prospect committed to KU in November, picking Kansas over Hawaii, Kansas State, New Mexico and North Texas.
• Derrick Neal – 5-10, 155-pound wide receiver from Lincoln High in Dallas. Three-star prospect is ranked as the 90th best player in Texas. Committed to KU last weekend after official visit over offers from New Mexico and interest from Baylor and TCU.
• Anthony Olobia – 6-5, 240-pound defensive end from Arizona Western C.C. Chose Kansas over offers from Oklahoma, Texas Tech and Utah. Made an official visit to Auburn in December and later described the experience as "the perfect visit." Despite Auburn's interest, the Rivals.com database shows no offer was ever extended, which helped KU land Olobia.
• Tyler Patrick – 5-11, 171-pound wide receiver from The Woodlands (Texas) High. Two-star prospect with great athleticism committed to KU last July.
• Apa Visinia – 6-5, 380-pound offensive lineman from Grandview (Mo.) High. Two-star prospect regarded as one of the strongest players in the state, picked KU over Oklahoma State. Visinia committed to KU last June.
• Kyron Watson – 6-foot, 226-pound linebacker from East St. Louis High. Three-star prospect is the 22nd ranked linebacker in the nation according to Rivals.com and the 21st-rated player in Illinois. Committed to KU last May over offers from Cal, Cincinnati, Illinois, Indiana, Iowa State, Michigan, Minnesota, Missouri, Purdue, Syracuse and TCU. Without question one of the gems of this class.
• D.J. Williams – 6-3, 270-pound defensive tackle from Lufkin (Texas) High. Three-star monster ranked as the 38th best DT in the country and 78th best player in Texas chose KU over Houston, Miami (Fla.), Missouri and Oklahoma. Another big-time pick-up for KU.
• Devon Williams — 6-5, 335-pound offensive tackle from Georgia Military College. One of two GMC linemen to commit to Kansas (Keyon Haughton), the two-star Williams picked KU over Florida A&M;, South Alabama, Troy and Tulane.
• Daniel Wise – 6-2, 242-pound defensive end from Hebron High in Lewisville, Texas. Two-star prospect committed to KU last week and picked the Jayhawks over Colorado, Louisiana Tech, Missouri, SMU and Texas Tech.
• Traevohn Wrench – 6-foot, 180-pound running back from nearby Gardner-Edgerton High. Four-star back had offers from Iowa, Kansas State, Missouri and Nebraska and interest from seemingly everyone on the planet. Ranked as the 25th best running back in the country and the second best player in Kansas, Wrench is definitely a headliner in KU's current class.