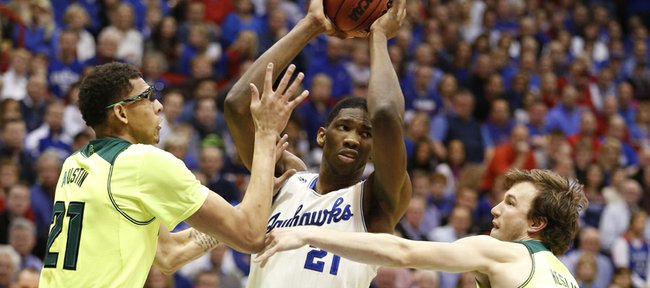 Waco, Texas — Kansas University basketball coach Bill Self gave his Jayhawks a bit of a pep talk this week following their first loss in Big 12 Conference play.
"I told our team, 'Guys, you weren't going to run the table and might not lose just one, may not lose just two, who knows?"' Self said Monday, referring to his frank message to the 2013-14 Jayhawks, a bit shell-shocked after Saturday's 81-69 setback against Texas in Austin.
"When you play teams as good as we have in our league, losses are going to occur," Self added after his Jayhawks fell to 16-5 overall and 7-1 in the conference and saw their lead over the second-place Longhorns shrink to one game.
"I tell our guys, 'Hey, just try not to let one become two, two become three.' We've been in situations in the league where we've had three to four losses, and the leader had two or three. We've needed a little help, and it seems to me in this league the help usually comes because people lose away from home. I don't think it's a panic-mode deal at all.
"I tell my guys, 'Hey, other people still have to go to Austin, other people still have to go to Ames, other teams still have to go to Stillwater, so let's just get better from this point forward, get momentum back and understand that 14-4, 13-5 would be an unbelievable record in this league.'"
Today, the Jayhawks continue their quest for a 10th-straight league title as they head to Waco, Texas, where Baylor (14-7, 2-6) awaits following Saturday's surprising victory at Oklahoma State. Tip is 6 p.m., in Ferrell Center.
"We last year started 7-0 and lost three in a row," Self said, hoping to avoid consecutive losses tonight. "The year we won it in '08, we lost three out of five. It's certainly not the end of the earth. What you do is you put yourself in a situation where there's less margin for error. Everything is still possible. Every goal you have is still attainable. You have to lower your neck and be better with the way our league goes."
Texas and third-place Oklahoma (two games behind KU) still have to play games vs. KU in Allen Fieldhouse.
"I'd say I like where we are in the league race, obviously," Self said. "From a negative, we performed below expectations Saturday against a really, really good Texas team. I think it's going to be a great race. I think it'll go down to the last week like they all do. Right now, I don't feel great about us like I did before because the last taste in my mouth is negative. I do like how we play. I don't like how we competed or with the energy we played with Saturday against Texas."
He did like the team's response at Sunday's practice.
"We didn't go long yesterday," Self said Monday. "Even though you want to kill 'em, you can't because we play Tuesday, so we didn't go long. Their attitudes are great. Watching tape, we didn't play well. We weren't as prepared to play mentally as what we have been in the past. It seems like it had a different feel to it a little bit. I think our guys understand that.
"We were humbled, and that may end up being good for us."
He believes intangibles cost the Jayhawks in their first league setback.
"We shot a poor percentage and everything (38.5), but the reason why we didn't play well ... when you go on the road, you can't rely on making shots all the time. You have to make the other team uncomfortable and not play well. We let them beat us to 80 percent of the 50/50 balls. They were just quicker and more aggressive. We did nothing to make 'em play poorly," Self said.
Baylor, behind the 20-point outing of Brady Heslip and 14-point performance of Rico Gathers, may have had its best game of the conference season in downing OSU, 76-70, Saturday in Stillwater. The Bears were playing without point guard Kenny Chery, who is a game-time decision tonight (foot injury).
"That was a helluva win they had. They played with poise," Self said of the Bears, who fell at KU, 78-68, on Jan. 20. "Doing it without Chery I thought made it even more impressive. That's the Baylor team that is capable of beating anybody in the country. On Saturday, they may well could have beaten any team.
"They obviously are as talented as anybody in our league. I'm sure they'll have their mojo back. We'll have to play a ton better (than against UT)."
Baylor coach Scott Drew said his team, which had hoped to contend for the league title, is primed for a big second half of league play.
"At the end of the day, if I could have gone back in time and done one thing different, I'd have made sure I'd prepared us for the physicality of league play," said Drew, whose Bears went 12-1 nonconference. "I thought it took us a couple games to adjust to that. That's something that will haunt me for many years, and I'll make sure I don't make that mistake again."
BU, which outrebounded KU in Lawrence, 31-29, leads the league in rebound margin at +8.6. The Bears also lead the Big 12 in three-point field-goal percentage (40.1) and are third in the conference in scoring defense (67.8) and assists (15.1). Senior forward Cory Jefferson averages a team-leading 12.5 points and 8.4 boards a game. He had 16 points and six boards vs. KU in Allen. Heslip — he hit six threes vs. KU on Jan. 20 — averages 11.3 ppg and hits 47.3 percent of his threes.
Injury update: Self said Conner Frankamp (knee bruise), Joel Embiid (knee sprain) and Tarik Black (ankle sprain) practiced Monday and will play tonight.
This, that: KU leads the series, 20-4. The teams have split the last four meetings. ... KU is 8-2 in Ferrell Center. ... Self is 12-4 vs. Baylor, including 12-3 while at KU; Drew is 3-12 versus KU.
Last year revisited: BU clobbered KU, 81-58, last season in Waco. "People talk about that. That doesn't have anything to do with this year's team just because they won there last year," Self said. "We'll show them (Jayhawks) highlights of that, but I'm more concerned with how we're prepared this year than what happened last year."
NBA talk with Seth: KU coach Bill Self was asked about perhaps coaching in the NBA someday, Monday on Seth Davis' Yahoo Sports radio show.
"No, I haven't gotten any offers. I've had a few people talk to me generically, but nothing from an interview standpoint at all," Self said. "It really isn't anything that I would say at this moment interests me much at all. I've said I could be interested, so people say I'm looking. I'm not looking at all. I really believe I've got one of the better coaching jobs in America, pro or college, right here in Lawrence, Kansas. So it would take something really special, and my mind-set would have to change. Right now I'm really enjoying trying to get college kids better. That, to me, is something we take great pride in and all enjoy doing."