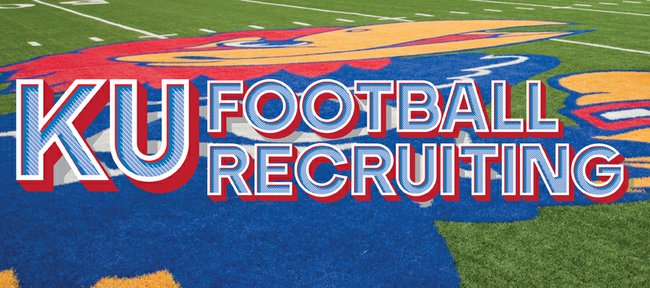 A little more than 24 hours before the arrival of signing day, the Kansas University football program got some huge news when Dallas Carter High athlete Corey Avery orally committed to the Jayhawks on live television in his hometown.
Avery, a 5-foot-10, 170-pound three-star prospect who ranks as the 87th best player in Texas and the 43rd best "athlete" in the nation, chose Kansas via the hat ceremony live on a Dallas news station.
Avery, who played safety and running back in high school, had three hats on the table in front of him — Kansas, Nebraska and Texas.
After first eliminating Texas, he then picked up the KU hat and placed it on his head.
Avery, who is known by friends and teammates as "Superman," wore Superman's signature look, with the red S against the gold and blue background, at the ceremony.
Avery originally had planned to announce his decision Tuesday night via Twitter but bumped up things when the opportunity to do it on live television became available. Avery is one of the top players in the Dallas area and his decision came at the end of a wild month in which he made four visits — Texas, Nebraska, SMU and Kansas — and ultimately chose KU because of the strength of the program's facilities and his strong bond with KU running backs coach Reggie Mitchell.
While it remains to be seen what position Avery will play at Kansas, slot receiver seems like the most likely option.
Avery becomes the 24th member of the Class of 2014 to commit to Kansas. He is the fourth member of Rivals.com's Texas Top 100 to commit to KU this offseason.
Of those 24 prospects, three (juco prospects Ronnie Davis, DB, Keyon Haughton, OL, and Fish Smithson, S) signed in December as mid-year transfers. Another, former Florida tight end Kent Taylor, joined the team in January. And Avery, along with the 19 other oral commitments in the class, is expected to make things official throughout the day Wednesday on national signing day.