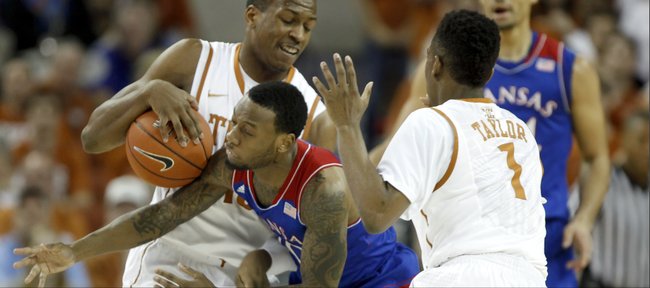 Kansas University starting point guard Naadir Tharpe had plenty of time to reflect on his performance as he sat the final 9 minutes, 42 seconds of Saturday's 81-69 loss to Texas in Austin.
"Just how I didn't contribute or help the team," the 5-foot-11 junior said of the source of his greatest frustration as he rode the pine while cheering on backup Frank Mason. "How my man was getting too many easy shots."
Texas freshman Isaiah Taylor scored 23 points off 7-of-14 shooting. He had no assists and two turnovers in 36 minutes. Tharpe had three points off 1-of-4 shooting with three turnovers against two assists in 26 minutes.
He has taken just 13 shots the last four games, scoring three points versus Texas, 12 against Iowa State, none versus TCU and six against Baylor. The ISU, TCU and BU games were all KU victories.
Prior to that, he scored 21 against Oklahoma State off 7-of-8 shooting and 23 against Iowa State off 7-of-9 shooting.
"It doesn't matter. It all depends on how the flow of the game is going," Tharpe said Saturday, asked if he should be taking a certain amount of shots a game.
While KU coach Bill Self has been quite pleased with Tharpe, reminding reporters "he was national player of the week a couple weeks ago," the coach nonetheless was troubled by his play Saturday, hence the benching.
"The reason he was not in the game late is because I felt he wasn't impacting the game on either end," Self said.
Of course, Tharpe wasn't the only KU player to have an off game on a day the Jayhawks dropped their first league contest against seven victories. KU's Wayne Selden and Perry Ellis combined for 32 points off 12-of-25 shooting (48 percent), the rest of the team 37 points off 13-of-40 marksmanship (32.5 percent).
"That was definitely the toughest team we played, probably even out of some of our regular-season (nonconference) games we had," Tharpe said of UT (17-4, 6-2). "That was a good team there. We've got to give credit to them, the point guard as well. They played a great game."
Tharpe is confident the Jayhawks (16-5, 7-1) will bounce back during Tuesday's 6 p.m. game at Baylor (14-7, 2-6). A year ago, KU won its first seven league games, then lost three straight.
"I feel these dudes, going into practice after a game like this, I feel they're going to want to change it. They are not going to want this to happen again because it's not fun at all losing," Tharpe said. "They don't like the feeling. We had a couple losses in the regular season (noncon) as well, so I feel we are going to turn it around right away."
Tharpe, by the way, averages 8.9 points off 48.3 percent shooting (29-for-65 threes for 44.6 percent) with 105 assists against 39 turnovers entering the BU game. He has the respect of sophomore Jamari Traylor, who like Tharpe has been at KU three seasons.
"If he's doing well, he gets a pat on the back (from fans), but if he's doing bad it comes ... scrutiny I guess," Traylor said. "Like Elijah (Johnson) and Tyshawn (Taylor), if we lose, some people gave them an earful some of the time. It's hard to deal with as a person. Only strong people get through that. It's not the game you play if you want people to be throwing (praise) all the time.
"I'm always telling him, 'You're our leader, go-to guy.' Coach is always telling him he's head of the team. All our confidence was in him at all times."
Hectic slate: The Jayhawks, who returned from Texas via charter Saturday night after the Texas game, will fly to Waco after practice today in advance of Tuesday's game. Self was asked if the Jayhawks would have simply remained in Texas for the two-game road trip and not returned to Lawrence had charters not been available.
"I'd say if it were Saturday/Monday, we'd stay regardless of charter or commercial," Self said. Then after pausing, he added: "I would say we still would have come back because the game would have been over early enough we probably could have gotten a commercial flight. If we couldn't get back until Sunday, of course we'd have stayed."