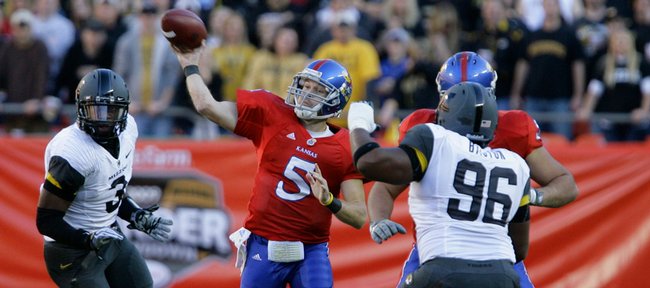 Austin, Texas — As I sit here in my hotel room a day after the Kansas University basketball team lost to Texas, the Jayhawks abused by a guard who didn't merit a top-300 ranking by recruiting evaluators, I wonder how many other deserving athletes were bypassed.
Isaiah Taylor, ranked No. 302 in the nation by one service, torched KU for 23 points, one game after he lit up Baylor for 27. The freshman has changed the tone of the Big 12 race, making the Longhorns the favorite to finish second.
How did that happen?
"If I'm not mistaken, most players who rate these people are media people," Texas coach Rick Barnes said.
Good point, but even the professional evaluators make mistakes. Joe Montana was selected in the third round of the NFL Draft, Tom Brady in the sixth. Some believe they are the two greatest quarterbacks of all-time.
And now Russell Wilson, all 5-foot-11, 206 pounds of him and a third-round draft choice of the Seattle Seahawks in 2012, has won a Super Bowl.
Watching Russell, so short by NFL standards and not blessed with terrific speed, make all the plays on the way to the Seahawks' 43-8 Super Bowl blowout victory, it became clear he has eyes in the back of his head, which help him evade tacklers. They also enable him to keep the eyes under his forehead trained down-field in case a receiver should pop open.
Comparisons to a college standout never given a shot by even the Canadian Football League, much less the NFL, popped into my head repeatedly throughout the game. And when they spilled back out, the announcers brought them back, talking about how Wilson fell so far short of the measurable qualities NFL teams typically seek in quarterbacks.
The question might seem crazy to some, probably most, but I couldn't purge it from my thoughts: Had he been given a shot, could that have been Todd Reesing leading his team to a Super Bowl victory?
We'll never know the answer to that.
Reesing's listed height was the same as Wilson's, his weight six pounds lighter. Both great scramblers were a lot faster when being chased by big guys than when timed by watches. Reesing threw accurate long balls, one of Wilson's greatest strengths. Great leaders, both of them.
Reesing was cut by a CFL team before he had a chance to show what he could do in training camp.
The combined numbers of Wilson's two best college seasons — as a sophomore at North Carolina State and a senior at Wisconsin — closely resemble those of Reesing's two best, his sophomore and junior years at Kansas University.
Wilson: 449 of 687, 65.3 completion percentage, 6,202 yards, 9.0 yards per attempt, 64 touchdowns, 15 interceptions.
Reesing: 605 of 941, 64.2 pct., 7,374 yards, 7.8 yards per attempt, 65 touchdowns, 20 interceptions.
Wilson's numbers, especially yards per attempt, are better, but not by a long shot.
So what kept Reesing from getting a shot that Wilson earned, even though he should have been drafted two rounds sooner?
I always felt Reesing's arm strength was underrated, but passing against NFL defenses that are so much faster than college ones, requires zipping passes into such tight spots. Wilson has more zip than Reesing had, which is probably the difference. Wilson has an accurate cannon. Reesing had a strong, accurate arm.
Both squeezed every ounce of talent out of their abilities, the ultimate compliment for an athlete.