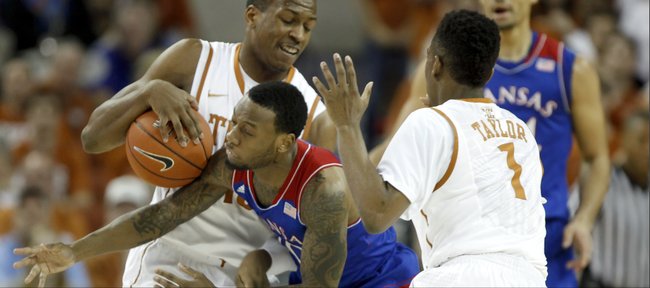 Photo Gallery
Kansas basketball v. Texas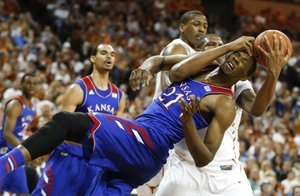 Images from Saturday's game between the Jayhawks and Longhorns at Erwin Center in Austin, Texas.
Podcast episode
Bill Self says Texas the hungrier team won at Texas
Podcast episode
Perry Ellis and Wayne Selden discuss 81-69 loss to Texas
Podcast episode
Texas coach Rick Barnes blasts the "Overrated!" chant.
TEXAS 81, KANSAS 69
KEEGAN RATINGS
Austin, Texas — Wayne Selden did his best to offer an explanation for Kansas University's double-digit loss to Texas on Saturday afternoon in Erwin Center.
"It's a mindset. We came out real flat. We came out dull. We didn't play Kansas basketball. We weren't focused," the freshman guard said after scoring a team-high 21 points off 8-of-16 shooting in an 81-69 loss that dropped KU to 7-1 in Big 12 play, compared to UT's 6-2 mark.
"We didn't compete. We didn't play."
Why? That is the question.
"It's a long season. We might have gotten caught up (in all the positive things people have been saying)," Selden said.
KU hit just eight of 31 first-half shots and finished the game at 38.5 percent.
"We were trying to get shots. We weren't making shots. It happens," sophomore Perry Ellis said after hitting four of nine shots and scoring 11 points. "We have to make up for that on the defensive end. We didn't do that."
Asked if Texas, which had 12 blocks, surprised the Jayhawks Ellis said: "I wouldn't say surprise. it's just ... it happens. We have to come prepared next time. We have to fight each game."
Black plays: KU senior Tarik Black, who had missed the last two games because of a sprained ankle, scored two points with two boards and a steal in six minutes.
Frosh Conner Frankamp missed his second straight game because of a knee bruise. "He hasn't practiced," Self said. "He'll be able to play some Tuesday (at Baylor, 6 p.m.).
Overrated chant bugs coach: Texas coach Rick Barnes waved his arms, asking his student to stop chanting, "Overrated" at the No. 6-ranked Jayhawks with three minutes left and No. 25 UT up by 16.
"I really think that's the dumbest thing fans have done. You just beat a team that's no good?" Barnes said. "I've never understood that. Kansas is not overrated. Why would you chant that?"
This, that: Texas has won four straight games against ranked teams for the first time in school history. Earlier this year, KU also won four in a row versus ranked teams. Prior to that, North Carolina (1997) was the last to accomplish that feat. ... KU had its longest win streak of the season snapped at seven. ... KU had won five in a row vs. Texas. ... Bill Self is 12-8 all-time against UT (12-6 while at KU) ... The loss marked KU's first Big 12 double-digit defeat in the regular season since an 81-58 loss at Baylor last season. ... KU's 20-point deficit in the second half marked its largest this season and the most since trailing by 18 at Florida. ... The 15-point halftime deficit tied KU's largest of the season (15 at Florida). It also marked the biggest halftime deficit against a conference opponent since trailing, 45-29, at Oklahoma State on Feb. 27, 2010. ... KU began the game 4-for-4 from the field and closed the first half 4-for-27. The 8-for-31 (25.8 percent) is KU's lowest in a conference half this season. KU's previous conference low for a half was 44.0 (at Oklahoma). ... KU's 38.5 shooting percentage (25-for-65) was the second-lowest of the season (San Diego State, 29.8 percent). ... Texas out-blocked the Jayhawks, 12-4. The 12 blocks are the most in a conference game since Texas tallied the same amount on Feb. 8, 2010 and the second-most overall (13, Kentucky, 11/15/11). ... UT's 30 free throws were the most by an opponent this season (29 vs. Oklahoma). ... KU tied a season-low with its 13 makes from the free-throw line.
Individual notes: Brannen Greene hit a three-pointer for the fifth-straight game. ... After back-to-back career-high scoring efforts, Andrew Wiggins went 0-for-9 from the floor before hitting his first shot with 12:06 remaining. He finished 2-for-12 with seven points before fouling out for the first time in his career. ... Joel Embiid, who had two blocks, has 56 blocks, passing Darrell Arthur (54) for second on the all-time freshman blocks list, trailing only Eric Chenowith (62, 1998). Embiid now has a block in 15 straight games. ... Jamari Traylor grabbed six rebounds, his third six-board effort of the conference season.