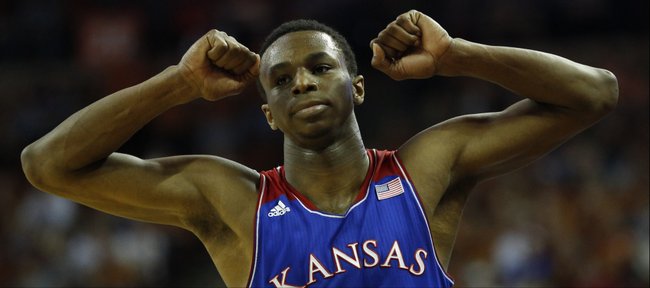 Photo Gallery
Kansas basketball v. Texas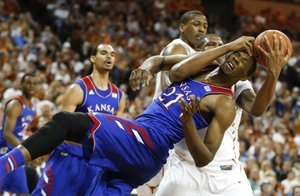 Images from Saturday's game between the Jayhawks and Longhorns at Erwin Center in Austin, Texas.
Podcast episode
Bill Self says Texas the hungrier team won at Texas
Podcast episode
Perry Ellis and Wayne Selden discuss 81-69 loss to Texas
Podcast episode
Texas coach Rick Barnes blasts the "Overrated!" chant.
TEXAS 81, KANSAS 69
KEEGAN RATINGS
Austin, Texas — The most misleading number on the box score of Saturday's 81-69 Texas victory against Kansas University revealed the point total for Longhorns guard Demarcus Holland, a 6-foot-2 sophomore.
He scored four points. More telling numbers as to his value: He had 11 rebounds, three assists and two steals. The man he guarded, KU's leading scorer, Andrew Wiggins, scored seven points on 2-for-12 shooting.
"I knew my teammates would have my back," Holland said of checking Wiggins. "I knew he would try to be aggressive and try to put fouls on me to get me out of the game. I knew he likes to crash the boards, so I tried to box him out every opportunity I got."
And he knew the six inches he gave up to Wiggins weren't that relevant.
"Cam Ridley and Prince Ebeh were scaring him so he started settling for jump shots," Holland said of teammates who had four blocked shots apiece among the Longhorns' dozen blocks.
Holland paid Wiggins a compliment, calling him, "a very good player. He's expected to be a lottery pick. He's really skilled. He's a winner, so I respect him."
Texas coach Rick Barnes' face lit up every time someone asked him about Holland's performance.
"He was outstanding," Barnes said. "All year long, I'm not sure people appreciate what he's done. I'm telling you, his teammates and our staff appreciate him. He does it every day. That's how he practices every day. Him coming up with offensive rebounds, getting those extra possessions at the times he did, that was great."
Texas held Kansas to 23 first-half points and Holland had as big a hand in that as anybody. He plays a role similar to that played for KU by Travis Releford in his final two seasons.
"I always like to be involved in the impact plays that are not in the box scores all the time," Holland said. "On good teams, you always have to have that guy who is always in the right spot, always trying to get an offensive rebound and trying to box out a key player, trying to contain a good player on another team. I think that's what I do every game."
He did it to near-perfection in helping his team to knock off the perennial Big 12 champion.