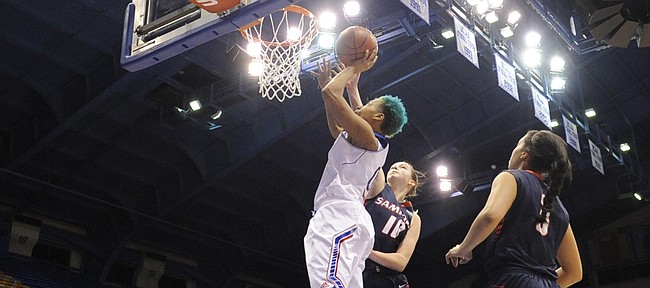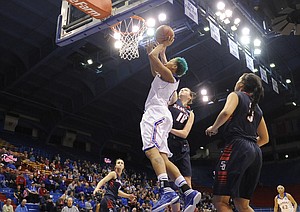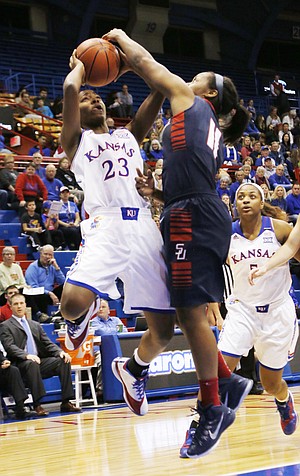 Kansas University women's basketball coach Bonnie Henrickson remembers exactly where she was when she first saw senior forward Asia Boyd hit Allen Fieldhouse with her new-look, "snow cone" hair-do.
"While walking through the tunnel on the 26th," Henrickson recalled following KU's 66-44 victory over Samford, in which Boyd led the Jayhawks with 13 points in 22 minutes. "I told her she needed three offensive rebounds to keep it, but she did get three steals, so she might live to have it for another game."
The look, which Boyd said was born out of a desire to do "something different," may not have had a direct impact on the way she filled up the stat sheet Monday night, but it certainly did not hurt.
Samford coach Mike Morris called Boyd the game's X-factor and said her versatility and ability to shoot from the outside and drive it to the rim made the KU senior a nightmare match-up for his Bulldogs.
Morris was not the only one impressed by Boyd's effort in KU's latest victory.
"I thought her effort was better, and she made better decisions," Henrickson said of the Detroit native.
Not content to deliver vague generalities, Henrickson rehashed one exchange in which Boyd made a strong defensive play on one end of the floor and then raced to the other end to finish the job on offense. The assist came from senior guard Natalie Knight — one of her team-high five dimes on the night — and Henrickson had a sneaking suspicion how Knight found Boyd so easily.
"It might have been the hair that made it so obvious to see her on the weak side," she joked. "I think the color caught her attention. But that was a great effort play, and she should be rewarded."
If someone had taken the numbers and names off of the backs of the KU uniforms on Monday night, it might have been tough to pick which Jayhawks had won Big 12 weekly honors.
Just a few hours after learning that Knight had earned Big 12 player-of-the-week honors and Terriell Bradley had been named the conference's freshman of the week, Knight, Bradley and their teammates spread the wealth during the easy victory that closed KU's nonconference schedule.
Four Jayhawks reached double figures in scoring, with Boyd and Knight each dropping in 13 points and freshmen Lauren Aldridge and Chayla Cheadle scoring 10 apiece.
"I think it's really good for us just to be able to play everybody a lot of minutes," said Knight, who shrugged when asked about being named the Big 12 player of the week. "I don't really think about those things because, as a team, we have bigger goals in mind."
One of those goals was to atone for the tough, three-point overtime road loss at Creighton the Jayhawks suffered a week ago. After a slow start, in which Samford trailed just 17-16 with 11:03 to play in the first half, the Jayhawks' turned up their intensity and ripped off an 11-0 run that gave the home team all the lead it needed. Samford (6-7) did not score again in the first half until the 3:59 mark, and KU led 35-20 at halftime.
"Better effort, better energy," said Henrickson, whose team forced 19 turnovers and outrebounded the Bulldogs 34-26. "It was good for us to fly around defensively a little bit."
Added Morris, when asked about the crucial first-half run: "I just noticed our (intensity) went down, probably because theirs went up. That's what good teams can do. When they stepped it up, we couldn't match it."
KU (9-4) will kick off Big 12 Conference play with a road match-up with Texas at 7 p.m. Saturday.
"It'll be a good challenge for us," Knight said. "The first game (in conference play) is always pretty tough no matter who you're playing, so we're gonna have to come out ready for that one."