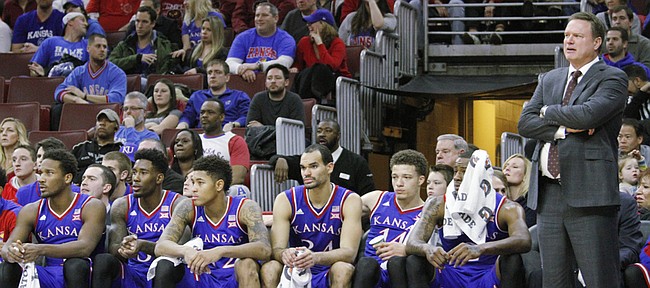 Though they currently may be dazed and confused following a 25-point loss to unranked Temple, Kansas University's basketball players nonetheless figure to be refreshed and ready to go for the remaining three months of the marathon 2014-15 season following what they hope is a relaxing three-day Christmas vacation.
At least that's the plan and the way it's generally worked out in past seasons, 12th-year coach Bill Self's Jayhawks traditionally getting a lot accomplished between semesters when practice time is unlimited according to NCAA rules.
Self can hold two-a-day workouts, even three-a-days if he wishes, all the way until Jan. 20 — first day of second semester.
Of course, the 9-2 Jayhawks have games to play in that span, as well.
"I hope so. I like to say academics weighs on our guys on a daily basis in a big-time way," Self said, asked if the players figure to make strides in coming weeks as they concentrate solely on hoops. "I think we had a really good week of final exams (last week).
"They can focus in, relax and play. Our teams in the past ... it hasn't always worked out (that way). Sometimes you think you are getting better and maybe you are not gaining on it the same way you think you are. This has always been an important stretch for us, getting ready the couple weeks we have before conference. We seem to make a lot of strides and seem to put in the few extra things we need to put in to get us ready for conference play. Hopefully that will be the case," he added.
The Jayhawks will gather for practice on Friday night, hold a clinic for youths Dec. 28 and play their next game versus Kent State at 7 p.m., Dec. 30, in Allen.
"I think it's good timing," sophomore Landen Lucas said of a three-day break followed by weeks of basketball with no classes on campus. "Before the season, you just want to get to the games. Around this time, it's good to look at things you need to improve on after the first couple of games. Going into a tough league schedule it's time that can really become helpful for us."
KU's Big 12 opener is Jan. 7 at Baylor.
Self on KU's 9-2 start: "I didn't put a number on it (before season). The schedule has been hard. We've done some really good things for a young team. I also think we've done some things pretty poorly, too, regardless of age. We have to tighten some things up. One thing about playing a hard schedule, it tells you who you are. It exposes you. We have to tighten up some things to get ready for conference play."
Of scheduling, he added: "I think there is a strategy to scheduling. There's an RPI strategy. There's a record strategy. There's a confidence strategy. There's little things like how much preparation before certain teams. Georgetown was a smart scheduling game for us. We played Friday and Wednesday and that gave us four complete days to prepare. They are completely different than anybody else. If it had been one-day prep it would have been much harder."
KU had little prep time for Temple after playing Lafayette on Saturday. Self, however, said he watched extensive film on the Owls and he and his players were aware of the opponent's tendencies. KU will also play Saturday/Monday games in the upcoming Big 12 season.
"I think we say, 'Let's just play a good schedule. Let's play teams that will finish real high in their conference, have a chance to play in the NCAA Tournament eventually.' If you do those things, your RPI will finish pretty high," Self said.
Embiid attitude is positive: Former KU center Joel Embiid, an injured rookie with the Philadelphia 76ers, recently put a smile on the face of his coach, Brett Brown.
"It was one of the greatest things a young player has said to me. I asked Joel Embiid who are the players in the league you look at and really aspire to be like," Brown told csnphilly.com. "He said Al Jefferson and my jaw almost fell to the floor. Al is just so old-school, and clearly Joel was saying I want to be a post player.
"That is a dying breed and Al is one of the best. He is so skilled on the block, and when Joel said that, I loved him even more."
Embiid may return in February from foot surgery, or may make his debut at the start of next season.
"He is a stone-cold centerpiece, a crown jewel to a program when you can post him. The other stuff is gravy," Brown told csnphilly.
"He wants to do that," Brown added of also shooting jumpers on the perimeter. "You all see him warm up and you get tricked. I think it is the last place that we want him to be at this moment and the last place that you want him to think he should be at this moment."