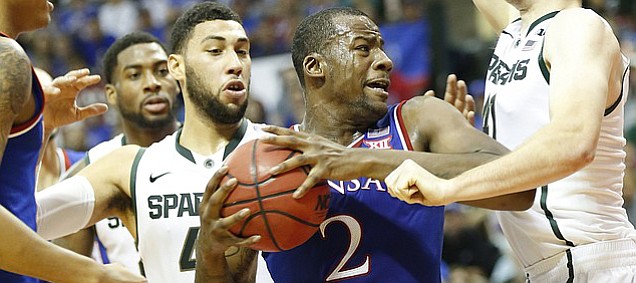 That stretch between semesters is improvement time for college basketball squads across America because restrictions on practice time are when student-athletes take a hiatus from the first half of their titles and focus on making their games better.
Since Kansas University has a better basketball coach than most, the Jayhawks improve at a more rapid pace than most.
Much of the improvement that takes place has to do with teams as a group meshing, but individual improvement takes place as well.
Obviously, now that he is in the rotation, Kelly Oubre will steadily improve. But so will Cliff Alexander.
His minutes limited by foul trouble, Alexander is averaging 8.7 points and 6.4 rebounds, strong numbers, especially the rebounds, considering he's playing 19 minutes a game.
"I think that he's probably played as well as any inside player we've had this year," Kansas coach Bill Self said recently. "In all honesty, Perry (Ellis) has played well, but a lot of Perry's stuff is done on the perimeter, too."
Alexander already has shown strides, but with all the practice time coming up, he seems primed to make even louder contributions.
"His passing has improved dramatically," Self said. "His rebounding outside the area has improved dramatically. He's getting a better understanding of what we're trying to do offensively and defensively, whereas early on he was just out there. Now he's actually out there with a purpose. So I've been really pleased with him."
But the 6-foot-8 freshman from Chicago did not arrive as a polished low-post scorer. He has a long way to go and the right attitude to get there.
"Cliff is as coachable as anybody we've had here," Self said. "He's trying to be a sponge. Some guys, because of backgrounds or whatever, where they played before, it's just natural for them to instantly ... you show them one move and they pick it up."
For comparison purposes, Self talked about a pair of former Kansas big men with great feel for the game.
"Joel (Embiid) was one of those guys," Self said. "Nobody is going to be like Joel ever again. He's smarter than the coaches. Joel gets it. Joel was Danny (Manning). Danny had that same type of mindset. Some guys it takes a little bit longer and they learn through repetition. They learn through being visual or whatnot. Cliff is one of those guys that's going to learn through repetition. Once he gets enough reps, he's going to be fabulous."
For basketball players, the semester break is all about reps.