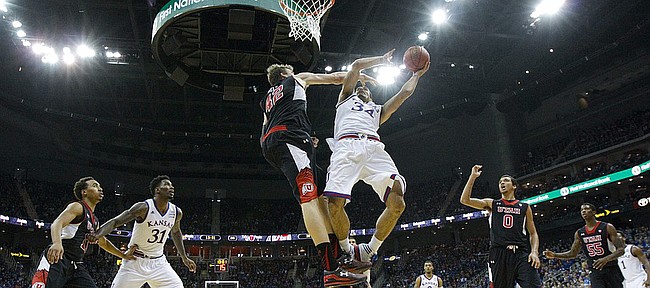 Kansas University basketball coach Bill Self's Christmas wish list for his players includes ...
"Our guys having confidence and understanding where our shots are coming from and that they are confident we can get good shots," Self, KU's 12th-year coach, said Tuesday, choosing improvement on the offensive end during a morning spot on KC-610 radio.
The Jayhawks have hit 41.4 percent of their shots while averaging 69.3 points in storming to an 8-1 record.
"Sometimes you run offense to run offense as opposed to running offense to score. The other thing," Self added, "is I'd like to see us be more aggressive. I think we are passive in some ways as far as going after the ball. We're not getting enough 50/50 balls, not creating extra possessions with our aggressiveness."
He said the defense was definitely ahead of the offense heading into Saturday's 2 p.m. home game against Lafayette.
"Gosh I hope so. We had nine points in 15 minutes (second half) the other day," Self cracked. "I don't consider us great on either end."
KU has allowed 63.2 points a game off 40 percent shooting.
"I think coaching defense is much easier," Self said, asked specifically about instructing players on both ends of the court. "Defense ... getting guys to buy in, playing a certain way, understanding how teams score and taking that away ... to me that's a little bit easier than getting guys to put the ball in the basket, because regardless of what you run offensively, there's still a skill involved to finishing the possession.
"Good coaches get teams to play on both ends. A lot of times good offensive teams lack the other or lose because they score so easy they don't put as much emphasis on the defensive end. So if I had to pick one to be great at, I would say the defensive end gives you a better chance night in and out," Self added.
As far as individual improvement ... one player on the upswing appears to be freshman wing Kelly Oubre, who scored nine points and grabbed three rebounds while playing 17 minutes in a 63-60 win over Utah on Saturday in Sprint Center. He had seven points and five boards in 16 minutes in last Wednesday's 75-70 win at Georgetown.
"He's doing well. He was one of the better performers in the last two games," Self said of the 6-7, 200-pounder from New Orleans who averages 3.4 points and 2.2 boards. "He seems to be gaining confidence. He's one of those guys who probably was laboring the most of our young kids. It's hard to put a guy in games you've got to win, that are tight ballgames a lot of times when you are not real confident.
"I'm seeing the lid come off the basket for him. I'm seeing renewed energy. I'm seeing a different look in his face from a confidence standpoint. I think he's becoming more and more comfortable. I think there's some things going on with him real positive that will definitely enhance our team."
Freshman wing Sviatoslav Mykhailiuk has had two points in 15 minutes the last two contests.
"He's going to be great. He's so young," Self said of the 17-year old from Ukraine who has averaged 4.8 points and 2.2 boards. "He's not really had a coming-out party yet. That's going to happen, kind of like Brannen (Greene, five threes) had against Georgetown. Svi's going to have a game like that. It'll be much easier moving forward when he sees some good things happen like that.
"He plays well in practice, wants to fit in too much, wants to please too much rather than just go do it sometimes. What a great kid and what a future he's got."
More on Graham: Self commented on how the loss of freshman point guard Devonté Graham for at least a month will affect the team. Graham suffered a severely sprained right big toe last Wednesday at Georgetown.
"Obviously we have to monitor Frank's minutes," he said of Frank Mason III. "We have to develop a backup point. It changes our team quite a bit. That was probably the deepest position we had, that and big wing. Now it's the thinnest position we have basically in a span of a month. Creating more havoc defensively, pressing, picking up full court, that will not be done quite as much with certain situations because Frank will have to play 33, 35 minutes a game," he added.