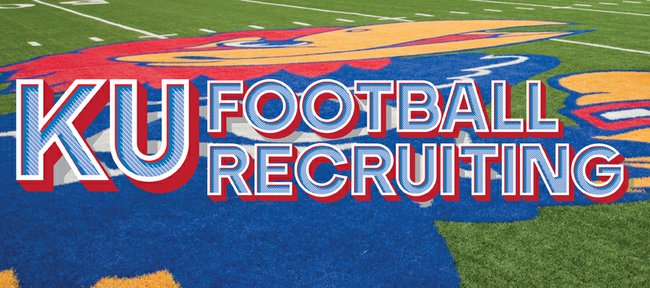 A little more than a week ago, Kilgore College cornerback M.J. Mathis had his entire world turned upside down.
After being locked in as a solid oral commitment with the Kansas University football coaching staff since August, Mathis heard chatter that he might not be in KU's future plans after news broke about the hiring of new head coach David Beaty.
"I was told that he was gonna go a different route," Mathis said. "So I had de-committed from them for maybe four hours at the most and then he called."
As it turned out, what Mathis heard was not true, and Beaty, on the same day he was hired at Kansas, did his best to convince the 6-foot-2, 205-pound cornerback he was still wanted.
"He was just like, 'I need you to get back on board because you have a scholarship here and I've watched your highlights and need you to be a part of this team,'" recalled Mathis of Beaty's initial words. "As a recruit, when you're committed to a school and they go through a coaching change, sometimes you wonder if they're going to keep you or not and it felt good to have him call me up and let me know that he still wanted me to be a part of the Jayhawk family."
Mathis is one of a handful of transfers expected to make his addition to the KU roster official today, when mid-year transfers are first eligible to sign their letters of intent.
Navarro College running back Ke'aun Kinner (5-10, 185) Blinn College offensive lineman Jayson Rhodes (6-3, 290) and one or two others also officially may join the Jayhawks today.
Mathis said the past couple of months had been stressful but he praised former interim coach and current defensive coordinator/assistant head coach Clint Bowen for helping him remain comfortable with Kansas during the final two months of the season.
Mathis' official visit to KU came in late September, for the Texas game, and, despite the change in leadership, he said the things that sold him on KU remained in place.
"The atmosphere is great out there," the Crosby, Texas native said. "It's very different from Texas, and the fan base and everything is very cool. On my visit, we stood behind the student section and I love how they stood the entire game."
Jumping on board in time for spring practices figures to give Mathis a chance to compete for immediate playing time, something he said was important to him.
"When I looked into schools, that was the first thing I looked at, who were they bringing in and who they had left because I've only got two years left and I want to play as quickly as I can," he said. "Of course, I know I still have to show up and work hard, though, and I'm down for competition."