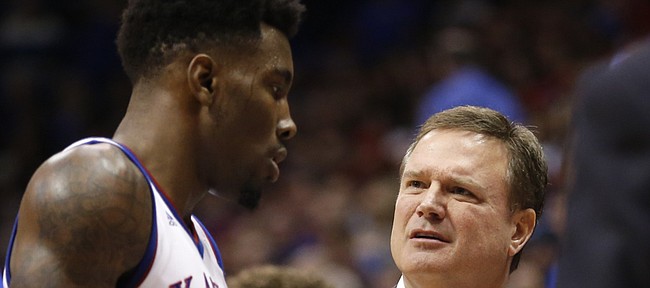 Kansas University's basketball players enter finals week having earned a passing grade on the hardwood.
"I would never have thought before the season we'd be 8-1 at this juncture, playing the schedule we've played with this many young kids," KU coach Bill Self said, looking at the big picture following Saturday's 63-60 victory over No. 13 Utah in Sprint Center.
"I think Fran (Frachilla, ESPN) said we have the 11th-youngest team in the country, and we probably play younger than anybody right now. Even though statistically we're not as good as some people in our league, we've played a good schedule so far. We're learning how to win ugly, which is still winning. You get confidence through that."
The No. 10-ranked Jayhawks, who have four nonconference games remaining (Lafayette, Kent State, UNLV at home; Temple on road), have excelled on defense (63.2 ppg allowed off 40 percent shooting) while struggling mightily on offense.
KU, which is two games better than last year's nine-game mark of 6-3, averages 69.3 points a game, compared to the Andrew Wiggins-led Jayhawks' 77.1 mark at this stage a year ago.
"We make some mental mistakes," said Self, whose squad ranks ninth in the league in field-goal percentage (41.4). "We've always played to get angles in the post, throw it in there, they trap you then you play out of it. If they don't, you play behind it. We don't have a real good passing team, obviously (eighth in league in assists with 11.8 per game). We have to figure a way to do some things. We've got to become a ball-moving team or catch-it-and-driving team. We have to find a way to open up some driving lanes, the same thing all coaches (are trying to) do."
"The guys believe we can win. Georgetown was a grind-it-out win (75-70). Michigan State was a grind-it-out win (61-56). Tennessee was a grind-it-out win (82-67). Florida was a grind-it-out win (71-65). We're learning how to win grind-it-out games. I just wish our offense could get where we're a little bit more fluid and we can play inside-out a little bit better," added Self, whose squad is an impressive plus-6 in rebound margin.
Saturday, the Jayhawk defense clamped down on Utah's final offensive possession. Utes standout guard Delon Wright said he and fellow three-point threat Dakarai Tucker were shadowed so closely, the ball found 7-footer Jakob Poetl, who didn't even draw iron on a last-second, potential game-tying three.
"It was just one of our many sets, trying to get Dakarai a look," coach Larry Krystkowiak told the Salt Lake Tribune. "It's not like you wanted to give Jakob a look, but we managed a second shot at it. We'll move on."
Scouts galore: Scouts from 13 NBA teams attended Saturday's KU-Utah game.
"I thought it would be one of the better games in the country today," Walt Perrin, Jazz vice president of player personnel, told the Deseret News. "There's quite a few of them, but I happen to also be in this Midwest area so it fit in my plans."
Welcome home, Bill: Bill Riley, a 1992 KU graduate and 1988 graduate of Olathe South, worked Saturday's KU-Utah game for Utah's radio network. Riley, who has worked in Utah since 2001, also is the voice of Real Salt Lake soccer. He's been a play-by-play announcer for Jacksonville University and also hosted talk shows in Florida and Utah.
Semi on the market: Former Ottawa High forward Semi Ojeleye is leaving Duke. The 6-foot-7, 230-pound sophomore forward averaged 3.0 points and 2.3 rebounds in six games for the second-ranked Blue Devils (8-0).
"We want to thank Semi and his family for their commitment to the Duke program for the last year and a half. He has been an excellent student and a great representative of our school and basketball program. He has been granted a full release and we definitely wish him the best," Duke head coach Mike Krzyzewski said in a statement.
He chose Duke over Oregon, Stanford, Indiana, Arizona, Illinois and Wisconsin out of high school. He will have 2 1/2 seasons of eligibility remaining if he enrolls at a school before start of second semester.