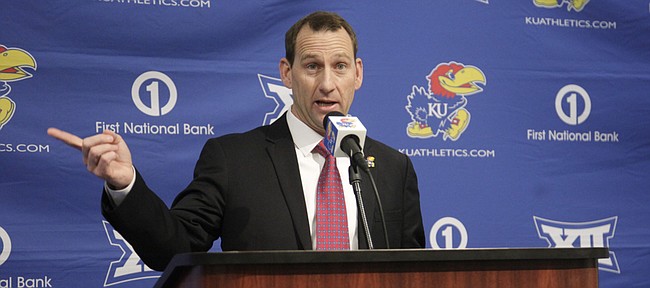 In true Texan style, newly named Kansas University football coach David Beaty has an arsenal of catchy clichés and funny phrases that help explain who he is as a football coach, a father and a man.
But Beaty used few of them Monday morning at Mrkonic Auditorium in the Anderson Family Football Complex during the news conference at which he officially was introduced as KU's 38th football coach.
Instead, Beaty showed why the KU search committee that played a big role in his hiring directed KU athletic director Sheahon Zenger to, "End the search and go get David Beaty."
"We were looking for someone who carried himself confidently, yet with a humble nature," Zenger said Monday, "someone who valued substance over style, someone who would undersell and overproduce, and, finally, just work hard."
Beaty, a former Texas high school coach who comes to Kansas after a three-year run as an assistant at Texas A&M; and six years at KU and Rice, never had interviewed for a college head-coaching gig before last week.
He prepared for the interview by skipping sleep, studying the KU program and sifting through two decades of lessons and experiences. For Beaty, it was nirvana. But even though he was confident he could do the job and desperately wanted a crack at it, he had his own message for the committee because of his deep love for KU.
"My goal and my comment was, 'Choose the right guy,'" Beaty said.
Zenger and company believe they did just that, and on Monday Beaty touched on the elements he thought were important in KU's latest attempt to rebuild.
He talked about bringing in a top-notch staff that could recruit well and develop players. He talked about creating a walk-on program that would add depth and talent to a depleted roster and said the program would be built on high school players he could develop.
"Something we can build to last," he said.
He called Kansas athletes a top priority and said his staff's greatest recruiting efforts would take place in Texas, Oklahoma, Missouri and "in our backyard."
He spoke of an offense that would be both innovative and fun to watch, a defense that would attack and put opponents in tough spots and special teams that would carry as much importance as the other two aspects of the game.
Through it all, one theme continued to surface: the importance of hard work and genuine relationships.
"We have some really good friends out there that want to see us do well here," he said. "And I'm looking forward to calling on those relationships."
While those connections figure to come on the recruiting trail, Beaty's endeavors with his new team already have begun. His first team meeting came Friday in the weight room. And he's in the process of getting to know each of his new players personally.
Several current Jayhawks already have taken a liking to the things that motivate their new coach.
"He is a genuine guy," quarterback Michael Cummings said. "He's honest. He is going to tell you how it is and shoot you straight. You may not like it at the time, but nine times out of 10 it is going to be the thing you need to hear."
Added linebacker Jake Love: "Change is always exciting. You can either get better or worse from it, and I think we have a lot of guys here that want to win and do whatever it takes, and I think coach Beaty is going to lead us that way."
One of the big reasons Beaty believes he can get Kansas rolling again is his love of the program. He was here under Mark Mangino from 2008-09 and spent a year coaching at Kansas under Turner Gill in 2011. During each of those stints, he and his family made strong friendships that continued after he left.
Beaty said he expected that comfort and familiarity, along with an understanding of the culture of Kansas football, to give him a head-start in his new job. It was also one of the reasons he chose to accept KU's offer so quickly.
"It took us no time because we absolutely love this place," Beaty said. "One of the things I love is that hard work and humility is a minimum expectation. And that is something we identify with."
In the end, it was KU's ability to identify with those same things in Beaty that made Zenger and the committee deem him "the right fit" for the program.
"As one committee member so aptly put it," Zenger said. "'I would fight with some coaches. I would fight for David Beaty.'"
Beaty on Monday made no promises about how many games KU would win on his watch, transforming the culture or pulling the program out of the rut it has been in for the past several seasons. He merely promised to work a lot, sleep a little and do all he could to bring pride and passion back to Kansas football.
But he did offer one note of caution while doing it.
"It's a process, not an event," Beaty said. "Let it take hold."
Contract talk
Zenger said the five-year contract Beaty signed to take over the Kansas program included an annual base salary of $800,000, with incentives that could exceed $1.5 million.
In addition, Zenger said Beaty would have at his disposal a pool of $2.1-2.4 million to pay his coaching staff, which includes nine full-time assistant coaches.
As of Monday, the only known members of Beaty's staff were defensive coordinator/assistant coach Clint Bowen and running backs coach/recruiting coordinator Reggie Mitchell.
Snell passes
Former KU fullback Arnold Snell, who played for the Jayhawks from 1986-88, died Saturday morning. Snell served as a team captain during his three seasons as a Jayhawk and rushed for 1,762 career yards, which ranks 15th on the KU career rushing list.
Services will take place Saturday at Greater Penecostal Temple in Kansas City, Kansas.