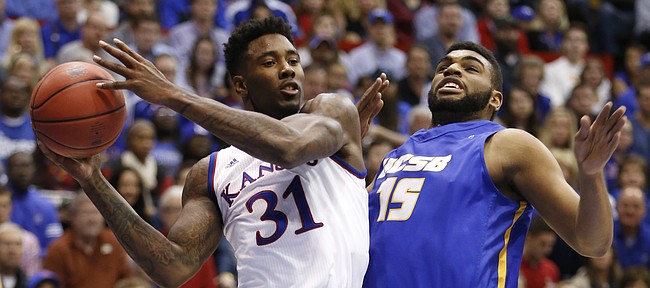 Podcast episode
Kansas University men's basketball coach Bill Self opened his Monday afternoon press conference by addressing the weekend arrest of junior forward Jamari Traylor. Self will hold the backup post player out of Wednesday's game in Washington D.C. The coach also spoke about the matchup problems the Hoyas provide.
Jamari Traylor's weekend arrest has resulted in a one-game suspension, meaning the Kansas University junior forward won't play in Wednesday's 6 p.m. game against Georgetown in the Verizon Center in Washington, D.C.
The 6-foot-8 Chicago native, who was charged with interfering with duties of an officer at the scene of a fight outside The Cave nightclub, will make the trip to support his teammates on the bench.
"Jamari and I have talked. I'm going to hold him out of the game. He's going to travel with us. Hopefully it'll be a situation where we can put it behind us, even though he's still got some legal obligations ahead of him," coach Bill Self said Monday.
"I know that hindsight being 20/20, he realizes he should have handled the situation differently. But he's a good kid, made a bad, bad choice, certainly brought some negative attention on him and our program. But he will not play against Georgetown."
Of this issue, Self added: "This is a particular instance in which, when you deal with youngsters, especially deal with numbers, obviously there's going to be some times when you have to deal with situations. That's the way it is in every family. Certainly this is one that could have easily been avoided because obviously he wasn't a part of anything going on there. He was just there.
"Of course, you guys have read the report. He just didn't handle it very well when he was asked to do something," Self added.
One source close to the situation indicated Traylor failed to provide identification when asked and was generally uncooperative at least for a time after police arrived at the scene. The report the police issued on the disturbance did not identify Traylor by name, merely indicating "several individuals interfered with officers' duties as they tried to question suspects and make arrests."
"He understands. 'Mari gets it. 'Mari, certainly after the initial thing, realization of the ramifications, something made out of something so small, he realizes he was wrong," Self said. "But we'll deal with it just like we would with anybody. He feels bad about what happened, certainly understands why he won't play. But (he's) got to somehow take this and learn from it and be stronger for it, identify any reasons on why it occurred, eliminate that from your thought process moving forward, become a better man because of it. Certainly it's a great learning lesson to our other guys, as well."
Mason practices: Sophomore guard Frank Mason III, who suffered an ankle sprain in Friday's victory over Florida, practiced "50 percent of the time" Monday, Self said on his "Hawk Talk" radio show.
"He should be a 'go' Wednesday, no question," Self said of Mason playing against the Hoyas (5-2), who also have defeated Florida this season. "Frank is a different dude. Yesterday we were talking. I said, 'Frank, you are not going to practice.' He said, 'I want to practice. My goal was never to miss a practice.' That's how he does think. He wants to be out there all the time."
Off to D.C.: The Jayhawks will leave for Washington D.C. after a morning practice today. Several Jayhawks will have family members and friends at the game, including Mason, who hails from Petersburg, Virginia, and Devonté Graham, who is from Raleigh, North Carolina.
"My mom, grandma, uncles, cousins, friends, coaches will be there," Graham said, noting it is about a 41⁄2-hour drive from his hometown. "I think I'll be a little more excited about them being in the crowd. I know Frank has a lot of people coming, I think Wayne (Selden, Roxbury, Massachusetts), too."
Quite a duo: New KU football coach David Beaty joined Self for a segment on Self's "Hawk Talk" radio show.
"I'm sure his (first news conference at KU) was a lot better than mine. This is a guy who I get a call from late at night. He didn't have to do that. He doesn't realize how encouraging that was," Beaty said of Self calling to congratulate Beaty on getting the job. "He was getting ready for the big game, which is always the next game on the schedule. Means a lot to me."
Self cracked: "I had to call you. You texted me and woke me up. Why wouldn't I call?"
Self said at his weekly news conference: "I can tell he (Beaty) is excited. I heard the press conference today went well. I'm sure it did. It's nice to see guys with energy. I'm sure that will feed off on many others. I'm happy for him. Like I said before, I'm happy for Clint (Bowen, defensive coordinator, assistant head coach). Clint did a great job. Happy for him, that he's going to be a part of us moving forward. He's obviously a big part of Kansas football."