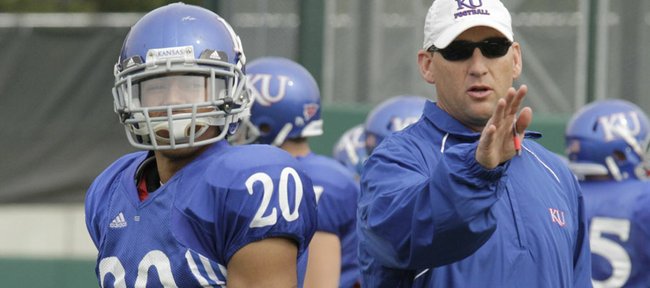 It looks like the timeline for the the Kansas University coaching hire has moved up drastically and, according to multiple sources, an announcement could come as soon as this afternoon.
It looks as if Texas A&M; recruiting coordinator and wide receivers coach David Beaty has emerged as the clear leader for the job and may be named the 38th coach in KU history before the end of the day.
According to a source, the KU assistant coaches were asked to leave the football complex today because someone of some importance was coming through later. According to online flight tracking, there is a plane en route to Lawrence from College Station, Texas.
Beaty was believed to be a strong candidate throughout the process, with his recruiting ties in Texas and past experience at KU giving him two important qualities for the job based on what KU athletic director Sheahon Zenger outlined as key factors before the search fully began.
Beaty, 44, worked on the staff of Mark Mangino at Kansas from 2008-09 and for one year under Turner Gill in 2011.
According to USA Today, he made $359,500 at A&M; in 2013. He is expected to make at least twice as much as that plus incentives at KU.
Stay tuned for more updates as this story develops.