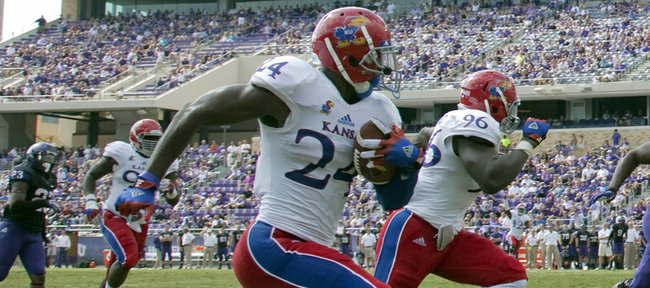 Kansas University senior JaCorey Shepherd was born to be kind.
His parents, Jonathan Shepherd and RoShunda Smith, knew this at an early age. And they watched with amazement as their oldest son with the soft heart and puppy dog eyes repeatedly showed compassion for friends, family and even strangers.
Shepherd's kindness surfaced so often throughout his childhood that his parents became immune to its existence. They never took their son's sweet soul for granted, but always marveled at its sincerity and reached the point where they expected him to be a ray of sunshine in everyone's life.
That's why they didn't bat an eye upon hearing the good fortune tossed Shepherd's way in the weeks leading up to his senior season with the KU football program.
The 5-foot-11, 195-pound wide receiver turned defensive back was the athletic department's choice, among all KU student-athletes, to be nominated for this year's Allstate AFCA Good Works Team. He also was the no-brainer pick to represent Kansas in the voting for the Football Senior CLASS Award. Both honors, which will be whittled down to finalists and eventually a winner, celebrate athletes who perform well and strive for success both on and off the field. Few KU athletes embody that ideal like Shepherd.
Early start
The first signs of Shepherd's big heart showed at a young age.
There were common instances, like handing out smiles and hugs everywhere he went and flashing good manners whether in church or at Pizza Hut. And there were other moments that led Shepherd's parents to believe their son simply was born that way.
The first such example came when Shepherd was in sixth grade, shortly after the family moved from Colorado Springs to Dallas.
One day, while JaCorey was out playing with new friends in the neighborhood, Jonathan looked out the window and saw his son scurrying home with a dog in his arms.
"I said, 'Corey, whose dog is that?'" Jonathan recalled. "He said, 'I don't know Dad but the other kids were being mean to him.' His eyes were all watery like he wasn't gonna let that happen."
A few years later, as a standout athlete at Mesquite (Texas) Horn High, RoShunda learned even more about her son's grace through his dealings with his friend, Vince.
Unlike Shepherd, Vince had a rough upbringing and tangled with a tough crowd. Shepherd knew that. He also new Vince had potential and wanted to be good, so he did all he could to show him the way.
"When he went to workout, Vince went to workout," RoShunda recalled. "Whatever he had going on, he made sure Vince was involved so he didn't have any spare time to get himself in trouble."
Providing a better place for Vince to spend his time was only half of Shepherd's plan.
"One day, 'Corey told me, 'Mom, Vince is coming to workout but he's been wearing these shoes that are too little and his feet are all crammed up and I want to help him out,'" RoShunda remembered, pride building in her voice. "So we went to the store and got Vince some new shoes. He was so excited because he couldn't believe that somebody else cared enough to do something like that for him. I told 'Corey, 'That's something that should stick with you. Those are the types of things you want to do. It might be something small to you, but it could make the biggest difference to them.'"
RoShunda did not just preach that do-unto-others mentality. She also practiced it. Often.
"I would pick up all the kids after his basketball games and football games and we'd take 'em out to eat," she began. "We would see someone homeless and I'd tell 'Corey, 'Give him your burger and fries and we'll get you another one.' His friends would be like, 'Your momma know him?' And he'd say, 'No, she does that all the time, don't worry about it. I'm used to it.'"
He comes by it honestly
Shepherd will be the first to tell you that his family made him this way. Whether the influence came from his parents, grandparents or even uncles, Kelvin and Eric Walker, who were more like brothers given the 3-5-year differences in their ages, Shepherd tried to live his life by their example.
"Give back when you can, be respectful of others, don't showboat, good sportsmanship, pay attention, yes ma'am, no ma'am, please and thank you, all that," he said. "It's just ingrained in my head."
When Shepherd was young, his father, an only child raised by a single mother and grandparents, served in the Air Force. So on top of the foundation of good manners and the golden rule that made Shepherd the young man he is today, military-style discipline sharpened his edges.
"I feel like I matured a lot earlier than most people," Shepherd said. "They taught me the dos and don'ts and pretty much let me figure out things on my own from there."
There was one significant exception to Shepherd's self discovery. A few days before he left for college, RoShunda gave him a few final words of wisdom, a challenge, really — Do something nice for somebody at least two times a month.
"I've always told him, 'It never costs you anything to be nice to somebody, to smile, to speak, to just say hello,'" RoShunda said. "And you never know what it could do for that person.'"
While his mother's challenge inspired Shepherd to reach local children, including his "Little Brother" Christopher with whom he has become close while serving as a "Big" in the Douglas County-based Big Brothers Big Sisters program, it also spread to other less fortunate families and children in Lawrence and even teammates Tre' Parmalee, Tony Pierson and others in the weeks that followed his switch from wide receiver to cornerback.
"That was a hard pill to swallow," Jonathan said. "He wasn't happy at first. Those guys were essentially taking his job. But if they wanted to learn and take any kind of knowledge that he had, he was doing it."
The reason for all of Shepherd's unselfish actions is simple and the same.
"It's pretty important to me, just knowing that I have the opportunity to impact someone else's life," he said.
'He's a good kid'
That thought, that feeling, has been the driving force behind all that Shepherd has done throughout most of his life. Give back when you can. Be respectful of others. Don't showboat. Good sportsmanship. Pay attention. Yes ma'am, no ma'am. Please and thank you. His parents never had to worry about any of that.
"People always want to ask, 'What did you do,'" Jonathan said. "But, for the most part, man, God gave it to him. He came out like that."
Added RoShunda: "He's a good kid. I couldn't have asked for anything better. And it makes me feel good to know that he was listening, he took note and he's following through."
As a child, all Shepherd dreamed of being was the next LaDainian Tomlinson or Terrell Davis. He was a running back then, and he thought following in the footsteps of those former NFL greats was possible. Now, thanks to his ever-improving skills, huge heart and approach to life, it's Shepherd that others aspire to be.
"I am very proud of him," Jonathan said. "But more than anything I'm just proud that I didn't screw it up. You would have to be a really, really bad parent to mess him up."