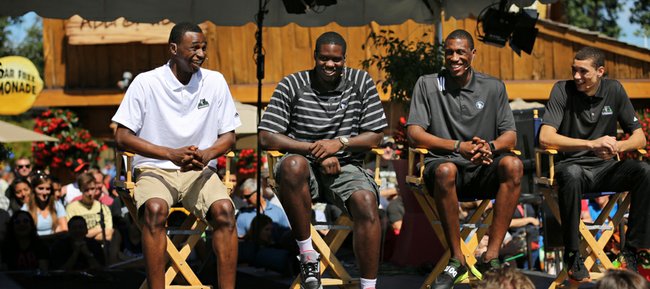 From former Kansas University basketball player/current Minnesota Timberwolves GM Milt Newton greeting him at the airport Monday, to receiving a hero's welcome Tuesday at the Minnesota State Fair, Andrew Wiggins is definitely feeling appreciated following his trade from Cleveland.
"It's been a crazy summer, really up and down. Kind of lost, not really knowing where I'm going," the 6-foot-8 Wiggins said at a Tuesday news conference at the fair in Falcon Heights, Minnesota.
"But I wanted to play for a team that wanted me. It's all good now. I'm excited for this season. I'm very excited to be here, excited to get to work, building up the whole chemistry on the whole team. It's a new group of guys. I'm looking forward to working hard with them, getting to know all of them off the court and on the court."
Wiggins joins fellow Canadian Anthony Bennett on the Wolves' roster, as well as draft pick Zach LaVine and former Sixer Thaddeus Young, who all attended the Tuesday festivities after being involved in the trade that sent Kevin Love to Cleveland.
Wiggins, the top overall pick in the 2014 Draft, autographed photos at the fair and was followed around by hundreds of fans. At one point, he and LaVine descended a giant slide.
"For me, it's not really hard to accept it," Wiggins said of the trade. "I'm the type of guy that I go to where I'm needed. I go to where I'm wanted, really. That's what I like. I landed in the best situation I can be in."
Of parts of his game he'd like to improve, he said: "You can never perfect anything, so my jump shot, my handling, moving without the ball, everything that's possible on offense."
Before heading to the fair, Wiggins visited Target Center, home of the Wolves, wore a No. 22 jersey and sat in front of his new locker.
An Associated Press writer said, at that point, he let out a sigh.
"It was a big relief," Wiggins told the AP. "Now it's solidified. I'm situated in a spot where I know I'm going to be at for a very, very long time. It's comforting."
Of Wiggins, KU coach Bill Self said: "He says he's happy. So if he's happy, everybody should be happy. I'm excited for him. They do have a pretty athletic bunch in Minnesota. When you talk about Andrew and Zach LaVine and some other things they've got going, they are going to be ridiculously young, but hopefully it'll be a good foundation for his future."
New comparisons: Former NBA player/current NBA-TV analyst Stu Jackson compares Wiggins to Dominique Wilkins, who also never played for the team that drafted him. He was dealt by Utah to Atlanta back in 1982.
"He has the huge, athletic wow factor that Dominique always had," Jackson told twincities.com. "He has the ability to create shots that most other players can only dream of creating: the step-back, the spins, the one-foot takeoff, the two-foot takeoff. In other words, his skills are innate, while not polished. His ability to slash to the basket, put the ball on the floor, his intuitive sense and habit of creating space on his jump shot."
Recruiting: Trae Young, a 6-foot-1 sophomore shooting guard from Norman (Oklahoma) North High, will attend the Oct. 10 Late Night in the Phog on an unofficial recruiting visit, jayhawkslant.com reports.