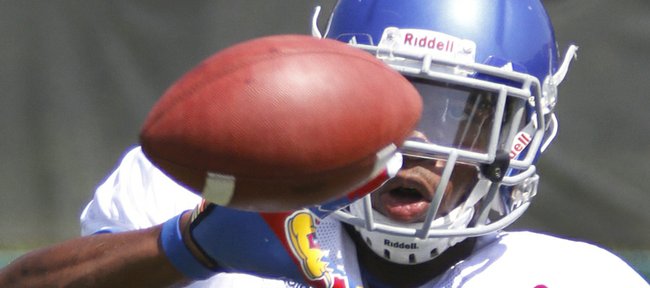 It's a good thing Victor Simmons does not fear change, because the Kansas University senior has experienced nothing but transition since joining the program.
Wouldn't you know it? After 61 tackles, 2.5 sacks and a team-leading three forced fumbles in 2013, this past offseason brought another move for the 6-foot-1 1/2 jack-of-all-defensive trades. Simmons can now call himself a "buck" (a hybrid linebacker/defensive end position in KU's scheme).
All he could do was embrace the ongoing changeover. Simmons said his freshman-year experience of fighting for a spot and doing all he could to get on the field — something new for the high school star — ended up shaping how he approached the game. Back in 2011, he determined the best way to climb the depth chart was to learn as much as he could.
"My strategy worked," Simmons said. "So when I had to switch positions again, I was like, 'Well, let's try this again.'"
Headed into his final fall with the Jayhawks, Simmons opened preseason camp at No. 2 on the buck depth chart, behind fellow senior Michael Reynolds. KU defensive coordinator Clint Bowen thinks Reynolds could have a "special" season. But the staff has worked to develop more players who can apply pressure on opposing quarterbacks. Bowen said Simmons has acclimated himself since switching spots again.
"Victor's a really good athlete, has a really good speed burst," Bowen said. "He's a guy who made a lot of progress in the spring time."
Bowen said before preseason camp that Reynolds and Simmons were clearly the team's two best bucks, adding, "We'll see who else shows up and what they do."
Rushing the passer is a far different responsibility than playing free safety, Simmons' initial function at KU. But his main goal every time he has switched to something new has been to maintain a balance of speed and size. He wanted to add muscle, but not at the expense of his quickness.
His teammate, senior defensive end Ben Goodman, can relate. A former buck, he, too, has done an about-face on more than one occasion. Goodman said he and Simmons joke about their adaptability.
"He looks like a really good player out there," Goodman added.
Of Simmons' new defensive obligations, one is the glaringly different.
"Every position has their thing that is physically demanding, mentally demanding, whatever," the senior said. "When I have to fight with the (offensive) tackles, that's no fun. So I choose to run past them."
His acceleration remains his go-to weapon, because most plays call for him to race down the quarterback from an edge — usually with a 6-8, 350-pound mountain blocking his path. In comparison, Simmons said other scheme responsibilities don't seem that complicated, even if they are relatively new to him.
"The change isn't a big deal to me," he said. "Now that I'm settled into this buck position, it's almost weird now, to have a home."
Simmons loves variation, and that's exactly why he also fits in so well at his latest defensive post.
"I could line up against the same guy every snap of the game," Simmons said, "and every single snap will be completely different."